Protecting California's Spectacular Desert Heritage
Legislation would expand Death Valley and Joshua Tree national parks and protect lands for recreation, wildlife, and tourism
A new bill in Congress would increase protections for approximately 1.6 million acres of desert landscapes across Southern California. The California Desert Conservation and Recreation Act, introduced by Sen. Dianne Feinstein (D-CA), and co-sponsored by Sen. Barbara Boxer (D-CA), comprises areas that represent an important part of America's natural heritage, contribute to the regional economy, and promote public enjoyment of shared resources. Community, business, and conservation leaders from the California desert region are applauding the legislation and urging their members of Congress to add support.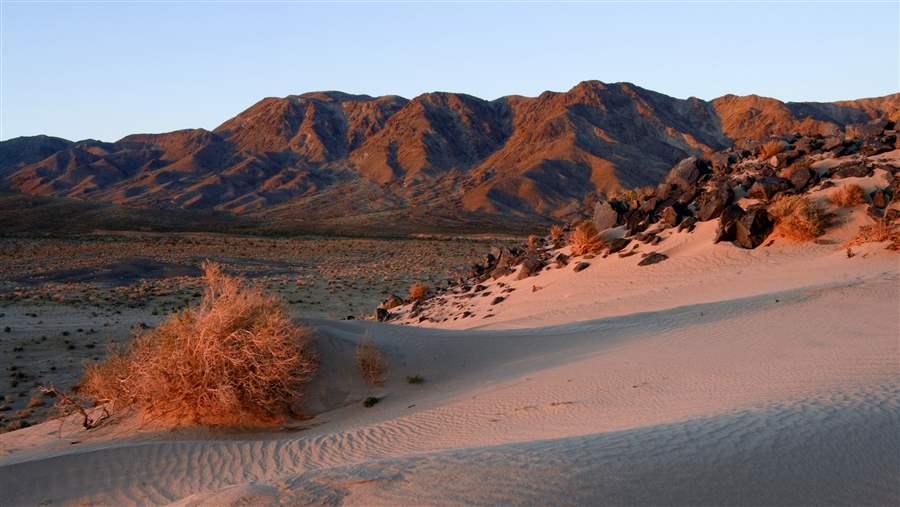 © John Dittli
A view of the Soda Mountains from the Cronise Sand Dunes in southern California's Mojave Desert.
The legislation would create or expand eight wilderness areas totaling 349,197 acres and another 49,300 acres of potential wilderness, designate two new national monuments—the Mojave Trails and the Sand to Snow national monuments—and expand Joshua Tree and Death Valley national parks and the Mojave National Preserve. It would also help protect key waterways such as the Amargosa River and Deep Creek as wild and scenic rivers while leaving open other areas that are suitable for renewable energy development.
Jim Mathews, an officer with the U.S. public lands program at The Pew Charitable Trusts, said: "The vast California desert landscape hides in plain sight many extraordinary, wild areas that are in need of protection. We are grateful for Sen. Feinstein's longstanding commitment to the region, and encouraged by her continuing efforts to safeguard the desert for future generations."
Bordering the southern edge of Death Valley National Park is the 87,700-acre proposed Avawatz Mountains Wilderness. These rugged mountains rise 6,100 feet above the Silurian Valley that separates Death Valley National Park from the Mojave National Preserve. A number of springs nourish desert oases that provide water for bighorn sheep, coyotes, and roadrunners.
Just a few miles to the south, the 79,990-acre proposed Soda Mountains Wilderness—a scenic, horseshoe-shaped range—provides habitat for wintering and migrating waterfowl and shorebirds, including the endangered Yuma clapper rail.
Tourism is central to the local economies in Imperial, Inyo, Riverside, and San Bernardino counties, and this legislation would boost that sector. In San Bernardino County alone, visitors generated $52.5 million in local tax receipts in 2010, providing much-needed revenue to the county and its cities.