Gold Butte: Nevada's Piece of the Grand Canyon
Gold Butte—tucked between the Grand Canyon-Parashant National Monument in Arizona and Lake Mead National Recreation Area in Nevada—is named for the historic mining town of the early 1900s. However, this piece of the Mojave Desert is much more than the scattered remnants of early mining. It is 350,000 acres of mountains, Joshua trees and Mojave yucca forests, panels of petroglyphs, and outcroppings of sandstone.
For more than a decade, public lands advocates in southern Nevada have been working to protect Gold Butte, which stretches from the Bureau of Land Management's Black Ridge and Virgin Peak in the north to Hell's Kitchen, managed by the National Park Service, in the southern reaches.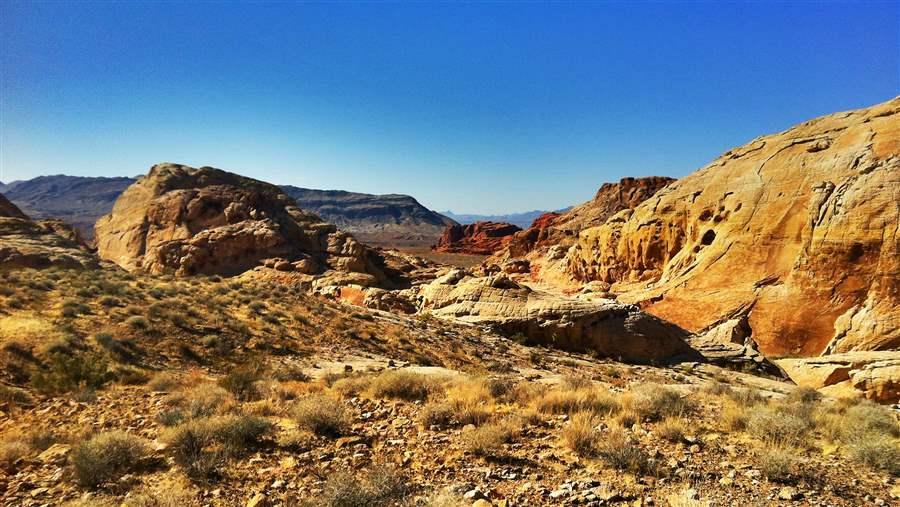 © Brian Geiger, The Pew Charitable Trusts
Gold Butte, in southern Nevada, is home to stunning rock formations.
Native Americans have been connected to Gold Butte for more than 3,000 years. The area is scattered with artifacts and ancient writings telling the stories of their past. To the Moapa band of Paiutes, Gold Butte is known as the body, mind, and soul. Evidence of earlier settlement can be found in rock shelters, grinding stones, and the remnants of ancient pottery and tools. Stunning rock art can be found throughout Gold Butte, with panels up to 90 feet long.
Although mining is thought to have begun in the area as early as the 1700s, the discovery of gold in 1906 caused Gold Butte's population to rise sharply to 2,000. The town soon went bust, however, but mining continued, providing much of the copper needed for World War I. Ranching in the Mojave Desert was difficult in the early 1900s, but pioneers succeeded through ingenuity. Remnants of corrals, water improvements, and fencing are still evident.
Today, Gold Butte is a desert lover's paradise. Opportunities abound to meander through slot canyons and along red rock formations, hike through braided washes, or bird-watch in the Mesquite woodlands. At higher elevations among peaks of pinyon and juniper, desert bighorn sheep can be seen grazing along rocky slopes. In the spring, it becomes a garden of colorful wildflowers, with sand dune primrose, desert poppies, and cactus in full bloom. In the winter, blankets of snow cover the Virgin Mountains, Billy Goat Peak, and Bitter Ridge.
Gold Butte is a destination for hunters of big game and birds and is also valuable habitat for other species, such as the threatened desert tortoise and many migratory birds. The unfragmented habitat of the region provides an important connection to the adjacent 600,000-acre Grand Canyon-Parashant National Monument.
Those wishing to experience Gold Butte on two or four wheels can ride over 500 miles of designated roads, including the 62-mile Gold Butte Backcountry Byway. From this perspective, visitors can experience vast expanses of rugged mountains, sweeping vistas down to Lake Mead, and colorful sandstone rock formations.
Unfortunately, the biological, cultural, and historical resources are threatened by overuse and insufficient management. The area lacks information signs to explain to visitors its history and fragile resources. A shortage of law enforcement results in artifacts being stolen or destroyed, and damage to the fragile desert landscape is occurring at an alarming rate.
Advocates are working hard to gain permanent protection for Gold Butte to safeguard the wildest and roadless lands while allowing for visitor and vehicular access that does not threaten the area's natural state. Gold Butte—Nevada's piece of the Grand Canyon—offers a little something for everyone.