Use of Vote Centers on the Rise Nationwide
Over the past 10 years, vote centers—central polling locations that allow a voter to cast a ballot anywhere in the county—have become a popular alternative to traditional polling places. Larimer County, Colorado, became the first jurisdiction to use them in 2003, and by the 2014 general election, they were in use in jurisdictions in 10 states, including Iowa, which allows vote centers only in certain local elections.
Vote centers are even more popular in states that offer early voting. In 2014, jurisdictions in 20 states and the District of Columbia used them during early voting.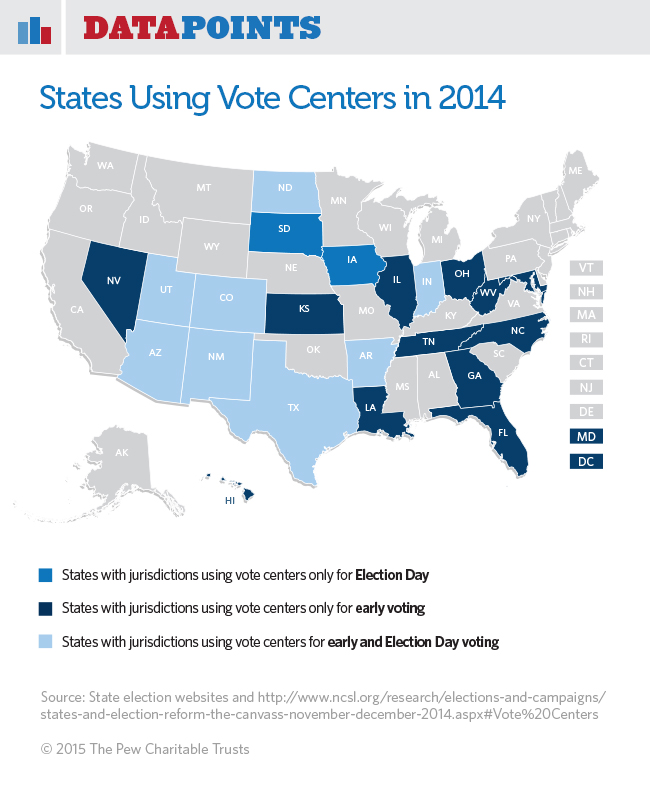 Some evidence suggests that vote centers are more cost-effective than traditional polling places because they involve fewer locations and need less staff and fewer machines. Because they eliminate the requirement that voters cast ballots at a specific location, vote centers also reduce the use of provisional ballots, which are used when a voter goes to the wrong polling place and which contribute to longer lines and additional administrative costs for ballot processing.
Vote centers often require an up-front investment in updated technology, particularly voting machines that can produce the correct ballot for each precinct and electronic poll books that update voter records in real time across all locations.
Follow us on Twitter using #electiondata and get the latest data dispatches, research, and news by subscribing today.