An Ancient Landscape in Western Nevada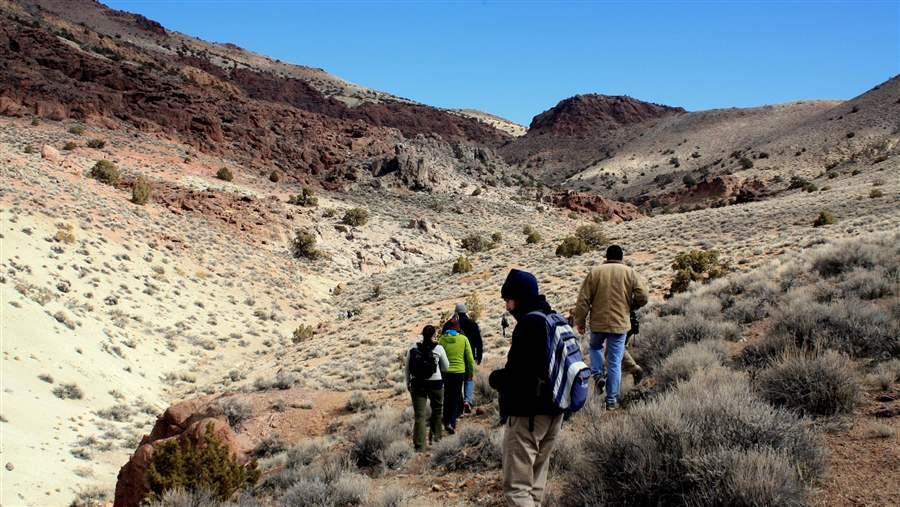 © The Pew Charitable Trusts
Western Nevada
The lands of Western Nevada provide more opportunities to explore the impressive collection of colors splashed across the landscape.
Lying in the rain shadow of California's Sierra Nevada Mountains, western Nevada's mountain islands and desert seas offer a glimpse into an ancient world. There are soaring forested peaks and searing hot, dry lakebeds; wild lands offering something for all adventure seekers.
From Pyramid Lake north of Reno, west to the Clan Alpine Mountains, and south to the town of Mina, this western portion of the Great Basin Desert is largely composed of federal public lands managed by the U.S. Bureau of Land Management (BLM). In all, more than 4.8 million acres sprawl across this diverse landscape. These lands are designated for a variety of uses ranging from mining and cattle ranching to wilderness and recreation.
On Nov. 28, the BLM released a draft land use plan revising its management of these public lands, deciding what areas would be conserved for their natural or recreational values as well as identifying places that would be available for development—such as mining and renewable energy generation projects. The preferred plan proposes to protect 332,600 acres, or 7 percent of the planning area, for their wilderness characteristics although key areas have been omitted from the plan, such as Petersen Mountain. Called the Carson City resource management plan, this planning process is open for review and comment by the public before being finalized. When finished, it will serve as an overarching management framework for the next 20 years.
The Pew Charitable Trusts, along with local and national partners, is engaging in this planning process to ensure an appropriate balance between conservation and development. Pew has partnered with the locally- based Friends of Nevada Wilderness to complete a citizen's inventory of wilderness quality lands, which has revealed roughly 400,000 acres of such lands. These regions with wilderness characteristics are generally unprotected lands that host the same qualities as formal wilderness areas, but have not been designated by Congress as formal protected areas. While only Congress has the authority to create new wilderness areas, the BLM has the responsibility to identify lands that are similar in extent and values, in addition to making management decisions about whether they will oversee these lands to safeguard their distinctive features.
As the management planning process unfolds, the public should take advantage of numerous opportunities to make its voice heard on how the area should be managed. The public comment period ends April 4, 2015. You can find more information about the Carson City management plan online.