First Ship Routes Recommended for the Bering Strait
This week, after years of planning, the U.S. Coast Guard released draft recommendations for the first shipping routes through the Bering Strait, the gateway between the Pacific and Arctic oceans. As decreasing sea ice makes resource development and related vessel activity possible, more ships are transiting the strait. According to the U.S. Coast Guard, the considerable increase in ship traffic from 2008 to 2013 was driven by tankers, cargo ships, and tugs.
The Bering Strait is part of a highly productive marine ecosystem that supports polar bears, walrus, ice seals, gray whales, beluga whales, an estimated 12 million seabirds, and the biannual migration of thousands of western Arctic bowhead whales. It is also home to indigenous communities that have an extensive knowledge of the region, its ecosystem, and its diverse wildlife. The subsistence traditions of these communities involve traveling many miles from shore in small open skiffs and rely on a safe and healthy marine environment.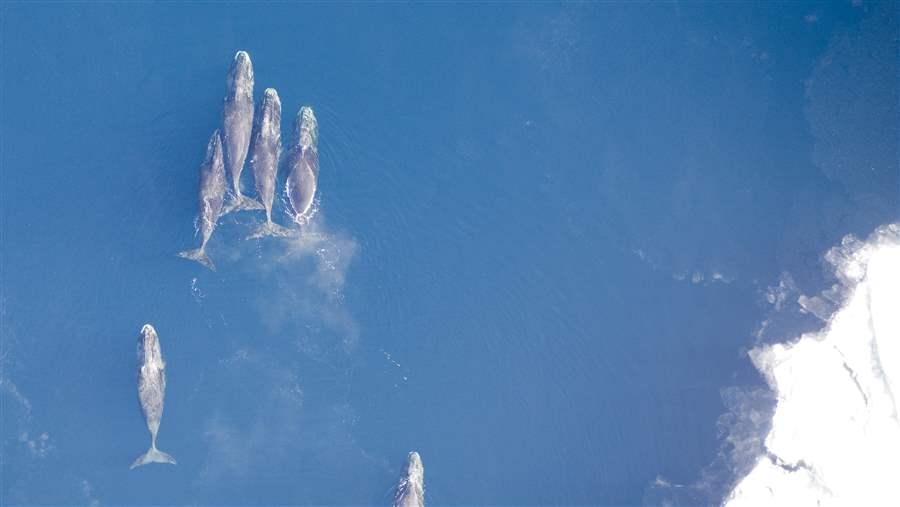 NOAA
Almost the entire population of western Arctic bowhead whales migrates through the Bering Strait twice a year, along with walrus, ice seals, and millions of seabirds.
The Coast Guard is recommending that the first "rules of the road" include:
Two 4-mile wide, two-way ship routes. One proposed route would take ships from the Aleutian Islands, the other from the western side of Saint Lawrence Island; these routes converge to take one path through the Strait. In this narrowest area, the lane operates like a two-lane road for cars, pointing ships to the most efficient and least-hazardous path.
4 Precautionary Areas. To increase vessel safety, ships would be required to navigate with particular caution in these four areas, each one 8 miles across. They are located at the start and end of the proposed routes, where they converge to one.
These recommended routing measures are an important first step to prevent and limit the problems increased shipping could cause. Still, more guidelines are needed to ensure a safe voyage for ships and protection for the region, especially because extreme weather, dense fog, ice, and rough seas heighten the chance of a spill or accident, and create new obstacles for response.
To promote safe shipping and minimize the inherent risks, Pew recommends:
Updating charts: Bering Strait navigational charts are inadequate and outdated; the majority predate 1970. The National Oceanic and Atmospheric Administration's plan for updating them has already been cut back due to funding shortages. Charting should be promptly completed and updated on a regular basis.
Identifying areas to be avoided: Communities and scientists should be consulted about which areas to avoid to protect subsistence activities and the vulnerable marine ecosystem. Keeping ships away from coastal communities would lessen the impact of shipping on the people who live there and would reduce the odds that a disabled vessel would drift ashore before help arrived.
Developing more prevention and response capability: No icebreakers are stationed in or near the U.S. Arctic, which limits response and rescue operations. The closest vessel is the U.S. Coast Guard's Healy, which operates out of Seattle. Similarly, no tug is permanently stationed in the Bering Strait to help in an emergency. There is only one spill response organization for the entire Bering Sea, so much more nearby support is needed.
Preventing vessel pollution: The Bering Strait should not be a dumping zone. Ships should be prohibited from dumping in these rich marine waters that provide food to indigenous peoples and harbor millions of fish, birds, and marine mammals.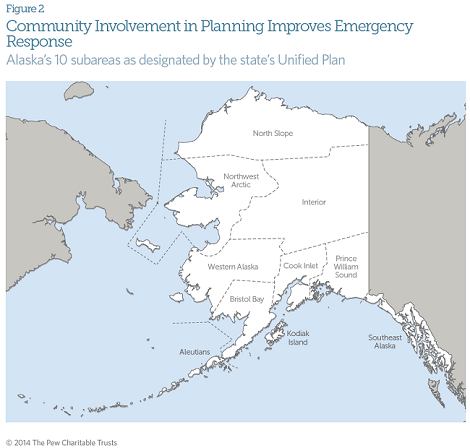 Communities in the five western subareas of Alaska, from the Aleutians to the North Slope, are especially affected by ships transiting the Bering Strait.