Pastoral Lease Reform: Opportunity Knocks for Western Australia
Western Australia, the nation's largest state, contains the biggest expanse of Outback and has a number of pastoral leases, accounting for more than 30 percent of its land.
In June 2015, all of the state's pastoral leases expire, and the government has committed to a review. The approach decided upon in Western Australia stands to lead the way in land management reform for the entire country.
A new report by The Pew Charitable Trusts, The Modern Outback: Nature, People and the Future of Remote Australia, outlines a number of challenges faced in the WA Outback and provides a timely insight into the direction this reform needs to take.
Australia's pastoral lease system
Under the pastoral lease system, leaseholder uses are restricted to livestock grazing and related pastoral activities for up to 50 years. However, because much of the land is no longer able to support commercial grazing operations, leaseholders have unofficially branched out into other pursuits, including mining, conservation programs and tourism.
With an unclear legal basis for allowing non-grazing activities in these regions, land usage and management are often limited and uncertain.
Between 60 and 70 percent of the continent is managed through pastoral leases; WA's will expire in 2015, and the rest will do so in the years that follow. Therefore, the review of the system and expected reform in WA is expected to have a national impact.
"WA has a real opportunity to take a lead on how the nation structures pastoral leases into the future," said David Mackenzie, Pew's manager for Western Australia Outback. "Simply rolling over these leases without a commitment to long-overdue reforms is not environmentally or commercially tenable. There was a time when the system worked, but that's clearly no longer the case. Evidence shows the continuing collapse of much of the southern pastoral industry and unsustainability under pastoral land use."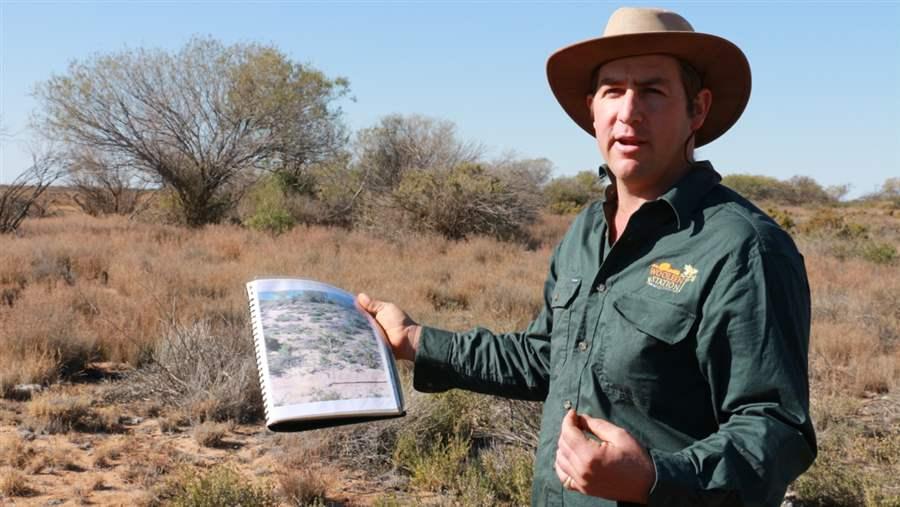 © Sue Vittori
Pastoralist David Pollock holds a photograph taken six years earlier in the same place, to illustrate the slow-but-sure regeneration of saltbush and other native vegetation since reducing sheep and cattle numbers on his leasehold property on the Murchison River in Outback Western Australia.
The Modern Outback report recommends making a diversity of options available for pastoral lease lands and ensuring good governance with a focus on sustainable management, population support, and economic viability.
"One of the fundamental challenges in the Outback is maintaining people and communities, economically, socially and environmentally, so that they are able to continue to manage the land," said Barry Traill, director of Pew's Outback Australia program. "But we also have many success stories to draw on, such as the successful Indigenous Ranger program and Indigenous Protected Areas.
"The stark reality is that a new approach is needed. Fortunately, we now have an opportunity to dramatically improve the sustainability of a significant proportion of our Outback while supporting those who manage these lands."