Michigan's Manufacturing Heritage Helps Fuel Wind Power
History in automotive field yields clean energy opportunities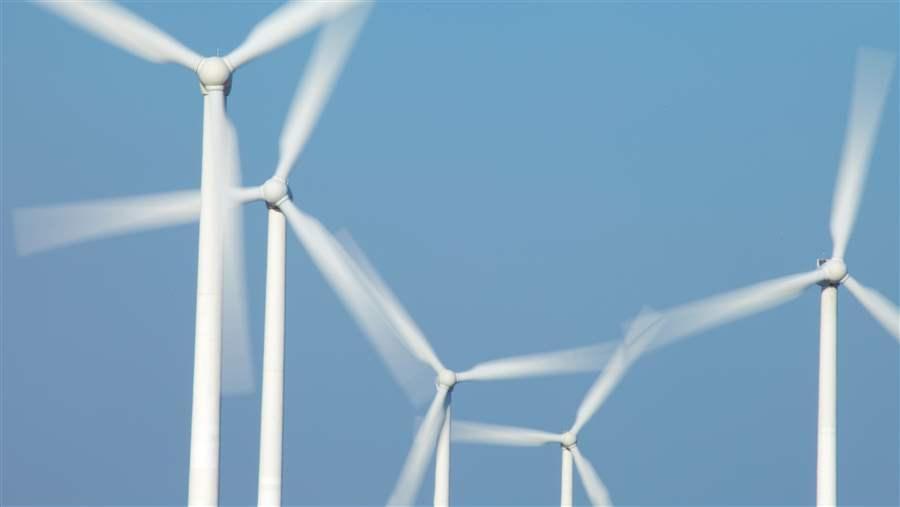 © Getty Images
In 2013, wind projects accounted for more than 90 percent of Michigan's clean energy installations.
Michigan has capitalized on more than a century of innovation and manufacturing expertise in the automotive industry to build its clean energy economy. New research from The Pew Charitable Trusts finds that policy—coupled with the state's infrastructure and technological know-how, skilled workforce, and export markets in port cities along the Great Lakes—helped Michigan attract more than $2 billion in clean energy investment from 2009 to 2013. Over the next decade, investments are expected to grow by $2.9 billion.
"The Pew Charitable Trusts' new research on Michigan's clean energy economy reinforces the importance of collaborative efforts among policymakers, private businesses, and researchers to capitalize on the economic, security, and environmental benefits that flow from the transition to a clean energy economy," said Mayor George Heartwell of Grand Rapids, Michigan. Heartwell was one of several advocates who discussed the research during a Grand Rapids roundtable sponsored by Pew and the Michigan Energy Innovation Business Council.
Michigan was one of the first Midwestern states to prioritize clean energy, establishing a renewable portfolio standard—the Clean, Renewable, and Efficient Energy Act—in 2008 that requires state electricity providers to generate 10 percent of their sales from renewable resources by 2015. Wind power accounts for 95 percent of Michigan's renewable energy capacity installed from 2009 to 2013, providing more than 1.2 gigawatts (GW)—enough to power 300,000 homes. The state ranks 16th nationwide in wind energy capacity.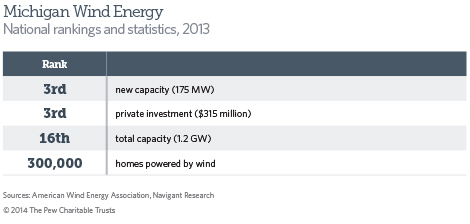 "Michigan's renewable portfolio standard has helped grow the state's wind industry, and the federal Production Tax Credit has had a significant impact on attracting private investment," said Tom Swanson, manager of Pew's clean energy initiative. "This federal incentive, however, has been episodic, which hinders the growth of the wind industry nationwide. Long-term policy creates certainty for businesses and investors and helps create jobs."
The strength of Michigan's automotive manufacturing industry also contributes to the clean energy economy in other states. Many workers have been retrained in wind power technologies and are applying their automotive knowledge to the renewable energy sector. For example, the Wind Turbine Technician Academy at the Kalamazoo Valley Groves Center offers accelerated training programs in all aspects of wind power technology and turbine maintenance. Its graduates work throughout North America.
Advanced biofuels innovation
Another promising clean energy technology in Michigan is advanced biofuels. Industries, universities, and their partners are working together to understand and improve biofuel efficiency while minimizing the environmental impact. The Great Lakes Bioenergy Research Center, a partnership of Michigan State University, the University of Wisconsin, and others, studies approaches to converting nonfood plants and biomass into transportation fuels and is one of three national centers funded by the U.S. Department of Energy. Innovations developed at the center could lead to the next generation of drop-in advanced biofuels to power auto engines. Michigan's automotive legacy helps the state attract private investment in this area.
"Ongoing investment in the state's strengths of manufacturing, innovation, and collaborative research will allow Michigan to fully capitalize on the deployment, discovery, and production of clean energy technologies," Swanson added.
Additional Resources