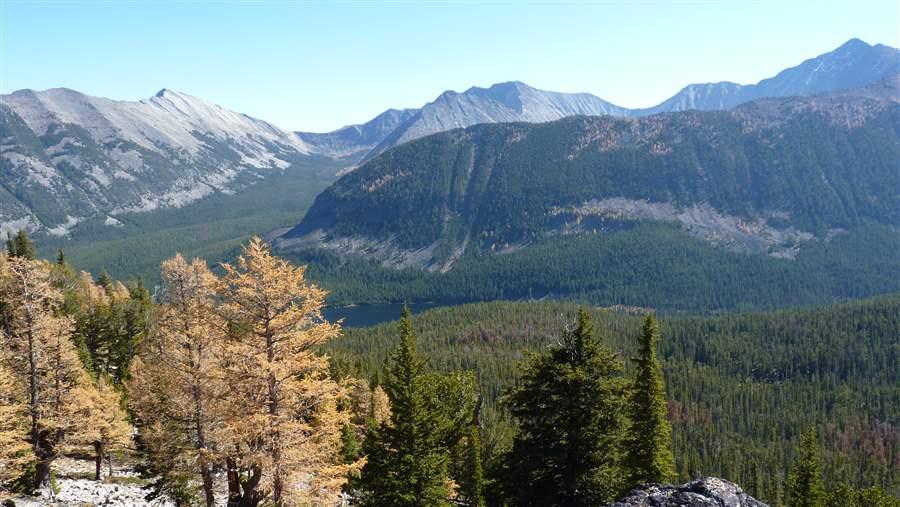 ©John Gatchell
The Forest Jobs and Recreation Act designates nearly 700,000 acres of wilderness across three national forests in Montana.
There is a reason that Montana is known as "Big Sky" country. At a sprawling 150,000 square miles, the state boasts expansive mountain ranges, forests, and wildlife populations.
The Forest Jobs and Recreation Act (S. 37), introduced by Senator Jon Tester, would protect nearly 700,000 acres of Montana's land in the western part of the state as wilderness. Within this swath is ecologically diverse acreage of three national forests—Kootenai, Lolo, and Beaverhead-Deerlodge—which are home to resonant landscapes such as the East and West Pioneer Mountains; the Sapphire Mountains; the Lost Cabin and Lima Peaks; and additions to the Lee Metcalf, Anaconda-Pintlar, and North Fork Blackfoot Monture Creek Wilderness areas.
Conserving portions of the Kootenai, Lolo, and Beaverhead-Deerlodge forests would improve their health and that of their fish and wildlife habitats, while also safeguarding lands used for recreational activities such as hunting, fishing, hiking, and horseback riding. The Forest Jobs and Recreation Act balances these needs by designating areas for both backcountry recreation and forest stewardship.
The three forests are remarkable for their quiet solitude, outstanding recreational areas, and economic opportunities—distinctive characteristics of Montana's heritage. Each also features unique landscapes worthy of preservation, which is why Montanans from all walks of life have come together to advocate for the protection of these lands and waters. In fact, a 2009 poll found that 70 percent of Montanans approved of the Forest Jobs and Recreation Act, and every major Montana newspaper has editorialized in support.
The Kootenai National Forest, known for its mountains of steep rugged peaks and amazing views, lies in the northwestern corner of Montana. It contains over 100 lakes, and the Kootenai and Clark Fork rivers flow through it. Because of its location and climate, the Kootenai National Forest is one of the few places in the Lower 48 where grizzly and black bears, elk, and wolves roam. The Kootenai is not only a haven for wildlife, but also for people. Visitors come to camp and hike, hunt and fish, horseback ride, paddle, and ski and snowshoe in the winter months. The Forest Jobs and Recreation Act would protect 30,000 acres of the Kootenai National Forest as wilderness, establish a special management area to be used for motorized and nonmotorized recreation, and create a balanced timber and restoration program for the forest.
On the border of Idaho and just outside of Missoula is the Lolo National Forest. This lush region varies from wet low areas to high alpine peaks and is home to a wide range of wildlife, including elk, bear, mule deer, and lynx. Given its proximity to town, the forest is frequented by hikers, campers, cross-country skiers, hunters, and anglers. In fact, Lolo's Rock Creek is one of the best trout streams in western Montana. Under the Forest Jobs and Recreation Act, 83,000 acres of wilderness would be added to its Bob Marshall and Mission Mountains Wilderness areas. The legislation would also allow for timber harvesting in certain sections and would encourage collaboration between the timber industry and conservationists to guide forest management and restoration projects.
The third national forest—the Beaverhead-Deerlodge—is in the far southwestern part of the state. As Montana's largest national forest, the area holds eight mountain ranges that are made up of a mix of high alpine zones, grass ranges, wetlands, lakes, and streams. Its 3.2 million acres are home to 246 species of birds, 15 species of reptiles and amphibians, and 85 species of mammals, including grizzly bears, wolves, and wolverines. The forest's vast expanse provides opportunities every season for a variety of recreational experiences, such as camping and hiking, biking and horseback riding, fishing and hunting, padding and waterskiing, and snowmobiling and snowshoeing. The Forest Jobs and Recreation Act would designate over roughly 505,000 acres as wilderness, while creating recreational areas for motorized vehicles such as snowmobiles and establishing zones where sustainable timber harvest could occur.
The Forest Jobs and Recreation Act would designate new wilderness areas in Montana for the first time in 30 years. For more than a decade, The Pew Charitable Trusts has worked with partners in the state, including timber interests, business leaders, sportsmen, and conservationists, to build support for this legislation. Pew joins communities on the ground in asking Congress to safeguard Montana's diverse local economy, wildlife, and way of life by passing this measure this year.