Manhattan's Marine Mammals Make a Meal of Menhaden
New York might not be the first place you'd think of for a nature experience, but wildlife lovers there are thrilling to the sight of whales and dolphins within view of the city's skyline. And the resurgence of these magnificent animals is partly due to the humble fish called menhaden.
Photographer Artie Raslich of the conservation group Gotham Whale captured some fantastic images of a humpback whale rising from the water against the backdrop of the Empire State Building. But what really caught my eye were Raslich's shots showing dozens of menhaden spilling from the whale's mouth.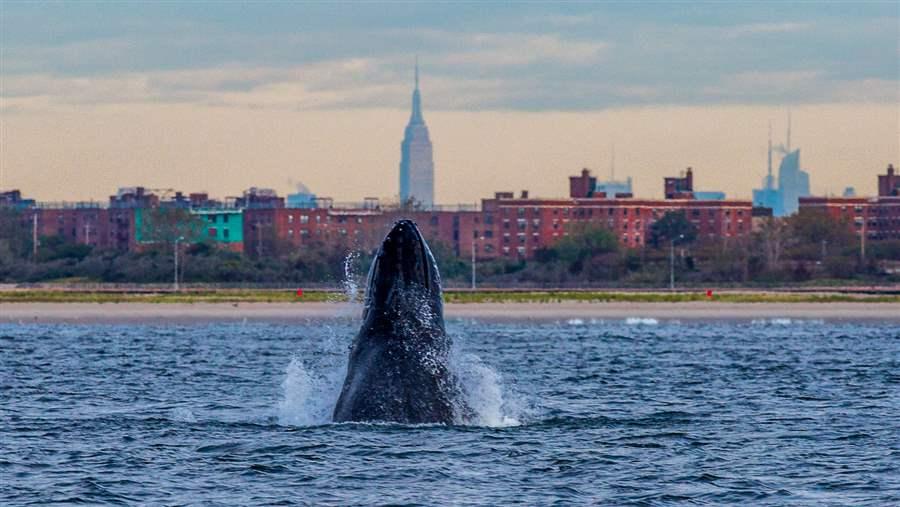 © Artie Raslich
Herring Alliance members at "Gotham Whale" captured this image of a humpback whale feasting on Atlantic menhaden with the New York skyline as a backdrop.
When columnist Joe Reynolds wrote in the Atlantic Highlands Herald about the return of bottlenose dolphins to New York Harbor, he noted the "improved water quality and fishing restrictions on menhaden" as factors favoring the dolphins.
Menhaden are sometimes called "the most important fish in the sea" because of their vital role in the ocean food web—which is to be eaten. These smallish fish school in huge numbers, consuming mass quantities of plankton and converting it into the type of protein and fat that other animals depend upon. That makes Atlantic menhaden a key forage species for whales, dolphins, and many other predators.
Unfortunately, the Atlantic menhaden population had plummeted to just about 10 percent of historic levels. That's why The Pew Charitable Trusts and many other conservation groups fought for the catch limit that fishery managers implemented a little over a year ago. Thanks to that action, fishing for menhaden has been reduced by about 25 percent. In the catch limit's first year of operation, we had roughly 300 million more of these little fish in the water, and that's good news for Gotham whales, dining dolphins, and the rest of the animals that depend on them for food.
Of course we still have a long way to go to bring Atlantic menhaden's numbers back to what they once were. But the ocean wildlife New Yorkers have been enjoying is an early sign of the healthy, vibrant waters we can expect when forage fish are more abundant.