No End to Overfishing of Tuna and Sharks in Eastern Pacific
Fishery Commission Chips Away at Illegal Fishing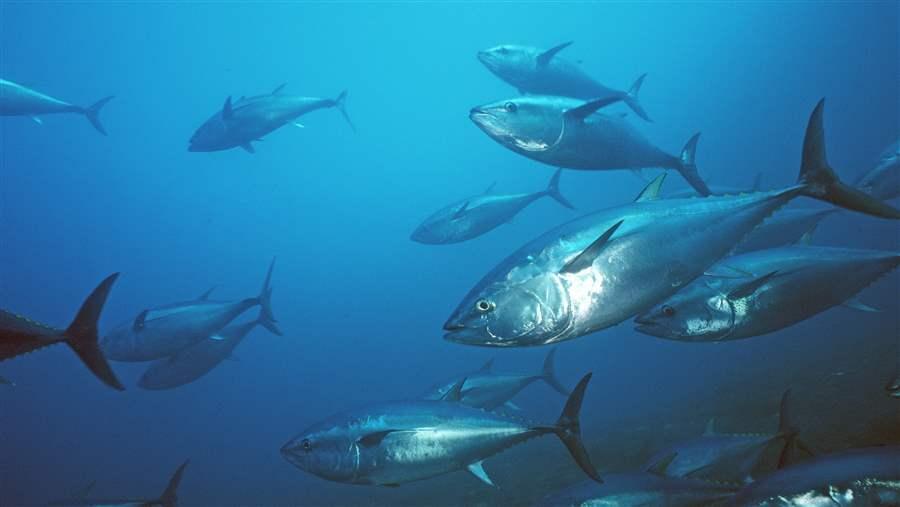 © 2014 Richard Hermann
Pacific bluefin tuna swim in the ocean.
Nations that fish for tuna in the eastern Pacific Ocean made no progress on ending overfishing during this week's meeting of the Inter-American Tropical Tuna Commission (IATTC) in Lima, Peru. They did not embrace scientific recommendations to stem the near collapse of the Pacific bluefin tuna population and could not reach consensus on a measure to protect silky sharks from overfishing. The commission did agree, however, on measures to help fight illegal fishing in the region.
"In general, IATTC members pressed the pause button on implementing science-based measures to tackle a host of challenges from overfishing in this region," said Elizabeth Wilson, director of international ocean policy for The Pew Charitable Trusts. "Unfortunately, as a result, another year will go by without the steps needed to stop the dramatic decline of some tuna and shark populations"
Action stalled on several critical conservation issues, including how best to stem overfishing of the severely depleted Pacific bluefin. The scientific advice provided to member countries by the International Scientific Committee for Tuna and Tuna-like Species in the North Pacific Ocean called for a yearly catch limit for all fishing of not more than 2,750 metric tons in the eastern tropical Pacific, the region managed by the IATTC. Ultimately, nations could not agree on a measure and put off a decision until October.
Scientists say the Pacific bluefin population has declined by 96 percent from original levels, meaning that just 4 percent are left in the water. Without stronger measures, the long-term viability of this species is threatened.
"Once again, fishing nations have ignored the scientific evidence before them and will allow this decimated population to continue to be overfished, despite dire warnings that it is on the edge of collapse," said Amanda Nickson, director of Pew's global tuna conservation work. "Pacific bluefin tuna needs an oceanwide recovery plan. This lack of action shows that a suspension of the Pacific bluefin tuna fishery may be the only way to save this species."
The lack of action by the IATTC increases the pressure to act on the Western and Central Pacific Fisheries Commission (WCPFC), which is responsible for management of bluefin in the western and central Pacific. The WCPFC meets in December to discuss possible management actions for the species.
No new protections for sharks
IATTC members failed to take management action to protect sharks that are in severe decline because of overfishing in the region. Pew had highlighted clear scientific evidence that the stock of the silky shark has dropped significantly, and argued that management measures are urgently needed. All sharks should be treated as the highly vulnerable marine species they are. They should be released whenever caught, until precautionary management measures are in place to guarantee that all shark catch is sustainable.
"Action is needed at the earliest possibility through the IATTC and other bodies that manage sharks in the Eastern Pacific and worldwide," said Wilson. "Sharks are of irreplaceable value to the ecosystems and economies of coastal states. Governments cannot continue to ignore their responsibilities to manage silky, hammerhead and other sharks that play key roles in the marine ecosystem."
New vessel requirements to curb illegal fishing
To help fight illegal fishing, members approved a requirement that all fishing vessels weighing over 100 gross tons obtain International Maritime Organization (IMO) numbers. This unique identifier remains with a vessel until it is scrapped or permanently taken out of service. Other fishing identifiers, including a vessel's name, radio call sign, and flag of registration, can be changed easily, making it hard for authorities to prove that a vessel was used in illegal, unreported, and unregulated fishing.
This move by the IATTC will help authorities and fisheries managers quickly and positively identify vessels fishing in commission waters and, in turn, help reduce illegal fishing by holding vessel owners accountable. Every IMO number must be published in the IATTC Register of Vessels and all affected vessels must have the numbers by Jan.1, 2016. IATTC is the sixth regional fisheries management organization (RFMO) to mandate these numbers for some or all vessels.