One More Reason to Build Ocean Resilience: Dissolving Pteropods
As an avid fisherman and advocate for healthy oceans, I was concerned to read this week's news coverage about a new finding by federal researchers on the West Coast.
For the first time, scientists with the National Oceanic and Atmospheric Administration, or NOAA, documented the fact that souring seas are dissolving the shells of pteropods —a tiny translucent sea butterfly that is a key link in the food web here along the Pacific coast. These fingernail-size creatures are eaten by young salmon in the ocean, and their demise may reverberate throughout the food web.
This is yet another signal that big changes are under way in our oceans due to climate change.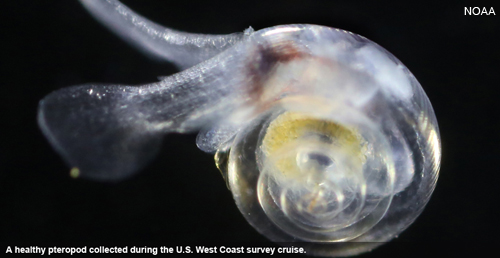 It also underscores the validity of Pacific fishery managers' efforts to embark on an ecosystem-based approach to managing the catch of key species off the coast of California, Oregon, and Washington. The Pacific Fishery Management Council unanimously adopted its first Fishery Ecosystem Plan a year ago, which prompts managers to look at how everything is connected in the ocean. Just last month the council took a major step toward fulfilling that plan's first initiative—protecting forage species like sand lance and saury that aren't yet being fished on the West Coast. Making sure we leave enough prey fish in the water is a fundamental principle of ecosystem-based management .
We now see first-hand evidence that oceans are becoming more acidic as they absorb increasing levels of carbon dioxide. This presents an inescapable threat to marine creatures that form shells, from the tiny pteropods examined by the NOAA researchers to oysters savored by seafood lovers around the world.
Those changes aren't a theoretical guess about what might happen in the future. They're happening right now.
Scientists say that even if all the greenhouse gas pollution stopped tomorrow, we couldn't immediately reverse the effect on our oceans from the carbon dioxide that's already accumulated in the atmosphere. That's why it makes sense for fishery managers to do everything they can to help our ocean ecosystems adapt by understanding the changes under way and making sure we adopt ecosystem-based fisheries management measures -- like protections for forage fish species —that will be more important than ever for an ecosystem under stress.
Pacific fishery managers are wise to act with foresight and precaution.
Paul Shively manages ocean conservation efforts for The Pew Charitable Trusts along the West Coast.