Spotlight On: Five Female Conservation Leaders
Women have played an invaluable role in safeguarding our land, air, and water. During Women's History Month, we are celebrating five women who have helped to shape the nation's distinct conservation ethic and continue to guide the movement into the future.
Margaret "Mardy" Murie (1902–2003)
Known as the grandmother of the conservation movement, Mardy Murie worked in Alaska with her husband, Olaus Murie, to realize some of the greatest conservation achievements in American history. She helped establish, protect, and expand the Arctic National Wildlife Refuge and stood beside President Lyndon B. Johnson when he signed the Wilderness Act of 1964. She fought for America's wilderness until her death in 2003 at age 101.
Celia Hunter (1910–2001)
Celia Hunter was a true innovator. A member of Women Airforce Service Pilots (WASP) in World War II, Hunter flew to Alaska, where she found her calling. She pioneered ecotourism in Denali, fought alongside Mardy and Olaus Murie to safeguard the Arctic National Wildlife Refuge, and became the first female president of a national environmental organization, The Wilderness Society. The day she died, she was writing a letter urging Congress to protect the Arctic Refuge from oil drilling.
Rachel Carson (1907–1964)
Rachel Carson was one of the founders of the modern environmental movement. Trained as a marine biologist and employed by the U.S. Fish and Wildlife Service, Carson published Under the Sea-wind (1941), The Sea Around Us (1952), a prize-winning study of the ocean, and The Edge of the Sea (1955). She resigned her job to write about conservation full-time. Her best-known book, Silent Spring (1962), challenged the way humans interact with the Earth—specifically with pesticides—and still serves as inspiration for environmental advocates today.
Terry Tempest Williams
Terry Tempest Williams is a modern-day conservationist and author of more than a dozen books who focuses on environmental and social causes. In her writing, she describes America's wilderness through poetic prose. Williams' work depicts the beautiful, natural places that inspire her while illustrating the importance of civic engagement.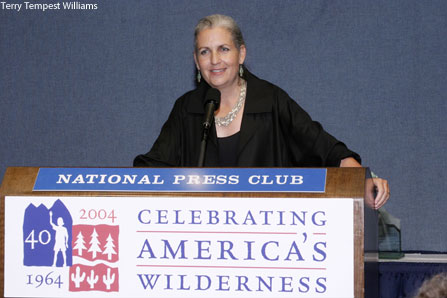 Marge Sill
Marge Sill has worked as a staunch advocate of conservation in California and Nevada for decades. After moving to Nevada in 1959, Sill joined the Toiyabe Chapter of the Sierra Club and continues to work on the organization's behalf. She helped secure several conservation victories, including the 1984 California Wilderness Act, the 1989 Nevada Wilderness Act, and the 1994 California Desert Protection Act. She remains on the forefront of protecting wilderness in the West for future generations.