Orange County, CA, Voters Turn to the Internet First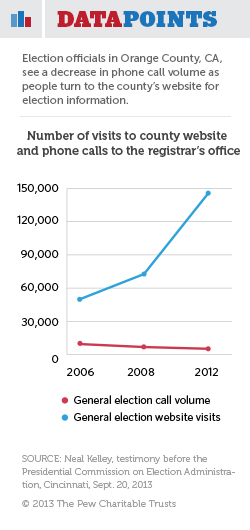 The voter registration office in Orange County, CA, has dramatically changed the way it communicates with voters, Registrar Neal Kelley recently told the Presidential Commission on Election Administration.
In 2011, the county redesigned its website to create "voter portals" that allow residents to register to vote, verify and update registration information, check the status of provisional ballots, and view individualized sample ballots and other precinct-level data. The county promoted its website in the media and through email communications and targeted sample ballots.
Orange County examines how people interact with their election agency by collecting data on the volume of visits to its election website and phone calls to the registrar's office. During the 2008 general election, the office received 6,814 phone calls and 72,692 website visits. In 2012, as a result of efforts by county officials, the phone volume dropped to 5,240 calls, and website visits rose to 145,699.
In addition to promoting the website through voter outreach, election officials attribute part of this shift to residents' natural transition to the Internet for information.
Follow us on Twitter using #electiondata and get the latest data dispatches, research, and news by subscribing today.