Hospitals Make the Switch to Meat Raised Without Antibiotics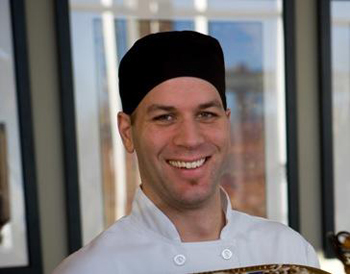 Chris Linaman, executive chef at Overlake Medical Center in Bellevue, WA, is dedicated to creating a more sustainable food system by supporting growers and producers who raise food without the routine use of antibiotics that endanger the public's health. Working in partnership with Health Care Without Harm and Overlake's administration, Chris has created a comprehensive sustainable food purchasing policy for Overlake Hospital that has resulted in many impressive achievements in just a short time.
Chris didn't just meet his goal for the amount of meat raised without antibiotics that was served in the hospital's cafes and patient rooms this past quarter—he far surpassed it! Sustainably produced meat now accounts for nearly 45 percent of the beef, pork, turkey, and chicken that is supplied to the hospital (compared with only 19 percent for last fiscal year). This accomplishment is especially impressive considering that Chris only began shifting his procurement in 2011.
Learn more in our Q&A with Chris Linaman.
Congratulations on the new benchmark! How have you made so much progress in serving meat raised without antibiotics in such a short time?
"We are quickly slipping into a post-antibiotic era, a fact that should move us all to action."
A: By June 2014, my goal was for 30 percent of the meat we served to be raised without antibiotics. I was very excited when I realized that we had already reached nearly 45 percent. Overlake has the privilege to work with some outstanding partners that are very willing to serve more meat raised without antibiotics. Better yet, they are willing to do the legwork to find the product, as well. Thanks to our great partners, the enthusiastic support of Health Care Without Harm's Kathy Pryor, and my own deep drive to do the right thing, we have the energy to move forward quickly.
What spurred you to create Overlake's sustainable food purchasing policy?
A: In the fall of 2011, I attended the 2011 FoodMed Conference here in Seattle. I was surprised that the conference was not just another opportunity for people to bemoan our current food supply challenges. Instead, it was a celebration, in many ways, of the great things that are already going on. Of course, there was also the challenge presented to do even more to help create a more sustainable and balanced food system. I embraced the information and stories about many issues including local procurement, sustainability, fair food, and nontherapeutic antibiotic use. I practically ran back to my office and created (with some help from the work that others had done) Overlake's "Comprehensive Food Policy to Promote Individual and Environmental Health." The final document was officially approved in December 2011.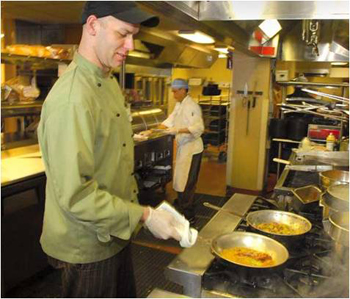 What advice would you offer to other hospitals that are hoping to serve more meat raised without antibiotics?
A: Take small steps at first. Switch out your burger patties to an organic option. Work with your current vendors to see what they can source for you. At the same time, take some initiative and do independent research to find out what products are available.

And always remember that this is a matter of public health. Antibiotic-resistant microbes are becoming more and more of a health risk to people, as nontherapeutic antibiotic use in agriculture continues without meaningful regulation. We are quickly slipping into a post-antibiotic era, a fact that should move us all to action. I bet everybody can think of somebody they know who has dealt with some sort of antibiotic-resistant infection.
What has been the most challenging part of serving sustainably raised meat at Overlake?
A: Realizing that these meats do tend to cost more, I have had to find different ways to remain within constantly shrinking budgetary constraints. These have included controlling protein portion sizes, looking for cost savings on disposable materials, and eliminating costly convenience foods in favor of made-from-scratch menu items. As a result of our careful and intentional purchasing, Overlake's dining departments continue to perform well and within our budget.

Marketing what you are doing is also very important. Customers are far less likely to complain about modest pricing increases if you are able to effectively communicate the reason for the changes. Take the opportunity to share what you're doing with whomever you can, whenever you can, however you can.
What is your favorite item on Overlake's menu?
A: One of my favorite items that we serve on our Seasons Dining (patient room service) menu is a chimichurri-marinated, grass-finished flatiron steak with roasted organic fingerling potatoes and grilled broccolini.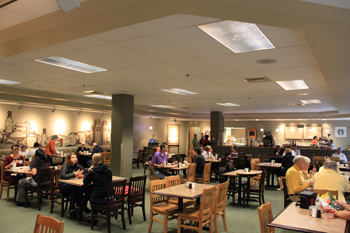 How have people reacted to Overlake's sustainability commitment?
A: Overlake has given me incredible opportunities to share our challenges and successes with local, regional, and national media. This communication has included numerous speaking engagements each year, live radio and television broadcasts, conference sessions, and more. As a result, we've been able to differentiate ourselves in a highly competitive industry. But the best reaction is the great feedback we get from our patients! Serving real food and being part of the healing process for hundreds of patients each day—that's what drives me.
All too often, hospitals end up endorsing the poor eating habits of their community by serving substandard food each day. This trend needs to be reversed. We need to become a more preventative health care system, rather than being almost exclusively reactive. That's my goal.