MGM Resorts Deploys Clean Energy CHP System at CityCenter
Clean energy perspectives
© MGM Resorts International
Cindy Ortega is senior vice president and chief sustainability officer for MGM Resorts International
Cindy Ortega is senior vice president and chief sustainability officer for MGM Resorts International, one of the world's leading global hospitality companies. She oversees the corporate sustainability division, which develops and implements strategies for environmental sustainability and awareness throughout the company, including natural resource conservation, sustainable new construction, and environmentally sensitive company operations.
In August 2013, Ortega guided representatives of The Pew Charitable Trusts on a sustainability tour of CityCenter, an unprecedented 18-million-square-foot mixed-use resort on the Las Vegas Strip. Its centerpiece is the ARIA Resort & Casino. In 2009, the U.S. Green Building Council awarded CityCenter with six individual LEED, or Leadership in Energy and Environmental Design, Gold certifications, making it the largest sustainable new construction development in the world.
Below is Pew's Question and Answer session with Ortega that took place after the sustainability tour.
Q: MGM Resorts is interested in the multiple benefits that clean and efficient energy provide, including cost savings and emissions reductions. Can you provide details on the results of these efforts, both achieved and projected, due to the innovations at the ARIA Resort and Casino?
A: We saw the development of CityCenter, with its centerpiece, the ARIA Resort and Casino, as an opportunity for MGM Resorts to be a leader to help counter public perception that business did not care about the planet or that luxury service and environmental responsibility were incompatible. We succeeded in dispelling both notions with the 2009 opening of CityCenter. Its six individual LEED Gold certifications made it the largest sustainable new construction development in the world and a model for luxury in the gaming and hospitality industry.
Sustainability and earth-friendly design were at the heart of every step in the development of CityCenter. Overall energy efficiency is a key component of its performance today. At the core of CityCenter is a state-of-the-art, 8.2-megawatt combined heat and power system. The system utilizes clean natural gas to generate electricity through two twin turbines as well as capture process waste heat to warm domestic water for hotel use. The energy performance of this combined system contributes to CityCenter being 37 percent more energy efficient overall than comparable resorts. Air emissions are reduced because CityCenter is able to avoid much of the boiler heating required by other developments.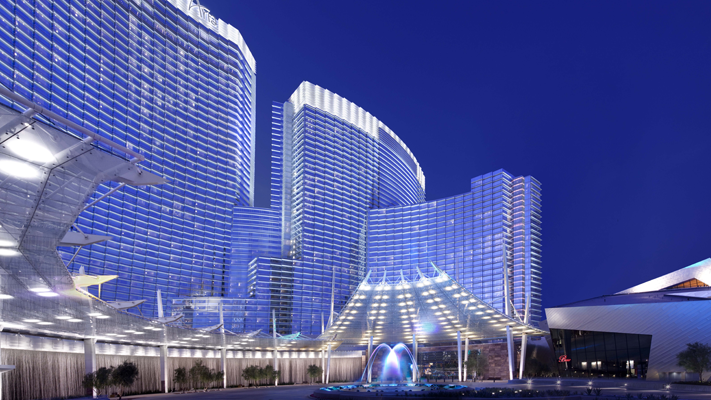 © MGM Resorts International
Q: The combined heat and power facility that operates at ARIA has the advantage of being able to access power even if the surrounding grid were to fail. How important is consistent access to power for a hotel?
A: Operating a Las Vegas resort requires consistent and reliable access to electricity for security and guest service needs. It is a critical component of operations. Our combined heat and power plant at ARIA provides more than 25 percent of the annual electricity used on the CityCenter campus. This gives CityCenter a measure of diversification from the local electricity grid not available at other resorts. In the event of a grid failure, CityCenter has this alternate resource that lessens the demand for more conventional, diesel fuel-powered standby generators. Further, operation of the combined heat and power plant lessens the overall demand on the local electricity grid, providing benefits to all system ratepayers.
Q: MGM is preparing to deploy at the Mandalay Bay Resort one of the largest rooftop solar arrays in the United States. What are the key policy factors driving that investment, and will MGM realize energy and cost savings through this project?
A: Integrating environmentally responsible practices throughout our operations is a key pillar in the strategic plan for sustainability at MGM Resorts. MGM is active on the local, state, and national levels to support legislation and public policies that serve to accelerate innovation and the adoption of leading technologies and promote and enable natural resource conservation. A key example of these responsible practices at MGM Resorts is our announcement of a partnership with NRG Energy Inc. to develop and deploy the world's largest convention center rooftop solar photovoltaic array at Mandalay Bay Resort and Casino in Las Vegas.
NRG will design, build, and operate the array, while Mandalay Bay will procure all electricity produced through a power purchase agreement. This model enables Mandalay Bay, and MGM Resorts International, to diversify a portion of our energy demand via a renewable resource. In turn, the renewable electricity production reduces the demand on the wider area electricity grid and the need to import energy into Las Vegas. This results in lower costs for all Las Vegas area electricity ratepayers.
Q: Do you suspect that other hotels and resorts are following MGM Resorts' lead of monetizing valuable assets such as flat roofs by using them to create solar arrays? Will MGM's leadership become an industry trend?
A: As a key example of sustainable operations, the recently announced partnership with NRG Energy Inc. to deploy the rooftop solar photovoltaic array at Mandalay Bay will serve to stimulate further commercial development of alternative renewable energy sources, both at MGM Resorts and other entities in the hospitality and other industries. This project will span approximately 20 acres in rooftop space and will be the first viable large-scale rooftop array in southern Nevada. Over the past five years we have examined a number of potential applications of solar photovoltaic [PV] technology, including ground-based parking garage installations and rooftop applications. This project will demonstrate in practice that a strong business case can be achieved with a large-scale rooftop solar PV application.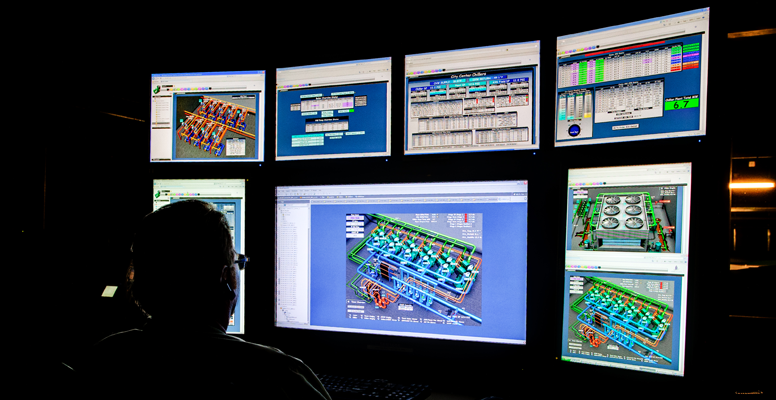 © MGM Resorts International
Combined heat and power system monitors
Q: How are customers responding to the ARIA's clean, efficient use of energy? Does it make a difference in attracting new business?
A: All segments of gaming and hospitality customers are increasingly considering a resorts' level of environmental responsibility when making their destination travel decisions. When a leisure or business guest chooses to stay at CityCenter, that guest is choosing a resort that is 37 percent more energy efficient than comparable alternatives. Further, CityCenter has adopted operating practices, also utilized throughout all MGM Resorts properties, to lessen the impact of a guest's stay on all our natural resources.
Examples include everything from towel and linen reuse programs that substantially reduce water and chemical use to more locally sourced food items that result in fewer transportation miles needed for supplies. CityCenter has been recognized, as have all other major MGM Resorts properties, by such independent organizations as Green Key Global and TripAdvisors' GreenLeaders Program for having superior sustainable operating practices. We expect that this will continue to drive business among the growing segment of environmentally responsible, discerning travelers.
Q: Are there federal policies or incentives necessary so that MGM and other businesses can continue to make these important investments in clean energy?
A: MGM Resorts is active on the local, state, and national levels in support of public policies that serve to promote the innovation and adoption of technologies and practices that reduce the impact of businesses on our finite natural resources. We believe that productive collaboration between private industry and the public sector is vital to identifying targeted incentives that are most effective in driving positive change while balancing public resources.