Voter Fraud Data in the Carolinas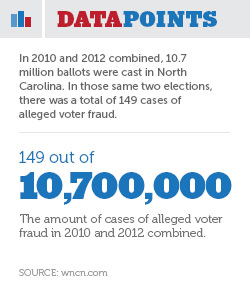 Return to Election Data Dispatches.
Recent data from both North and South Carolina provide more detail to the ongoing debates over vote fraud and voter identification laws that have been playing out across the nation.
North Carolina recently enacted a bill mandating a photo ID at the polls, among other new requirements. Numbers from the State Board of Elections show that of 6,947,317 ballots cast in two primary elections and the general election in 2012, 121 alleged cases of fraud were referred to the district attorneys' offices. In 2010, approximately 3.79 million ballots were cast, and there were 28 cases of suspected voter fraud.
More than a year ago in South Carolina, more than 950 people were flagged on the state's voter list as possibly deceased but having ballots cast in their names. A recent report from the state's Law Enforcement Division found that no one had intentionally cast a ballot in the name of a dead person.