Supermoms Against Superbugs
In 2011, drugmakers sold nearly 30 million pounds of antibiotics in the United States just for chickens, pigs, cows and other food animals.
Using these drugs to produce our meat and poultry is breeding dangerous, antibiotic-resistant superbugs that can infect people. And children, the elderly, and those with weakened immune systems are especially at risk.
Take this opportunity to join other supermoms in combatting this very serious issue.
---
Supermoms Against Superbugs Advocacy Days
On April 16, 2013, Pew hosted the second annual Supermoms Against Superbugs Advocacy Day. More than 50 concerned moms, dads and other caregivers came to the nation's capital to lobby the U.S. Food and Drug Administration, Congress and the White House to rein in the overuse of antibiotics in meat and poultry production – a practice that breeds dangerous superbugs that can infect humans. Click here to meet the 2013 Supermoms and see highlights from the advocacy day that included nearly 100 meetings with policymakers across D.C.
This event built off the successful 2012 advocacy day where 25 concerned parents spoke out on the need to stop misusing antibiotics on industrial farms to ensure that they work when we need them most. The 2012 Supermoms were chefs, pediatricians, farmers, and every day moms and dads who had a particular interest in this issue. In just eight hours, we went to 50 meetings with policymakers.
Learn more about Supermoms Against Supermoms advocacy days in our video shorts:
---
Super Madres Against Superbugs – An Initiative of the League of United Latin American Citizens (LULAC)
LULAC has launched Super Madres Against Superbugs to raise awareness in the Hispanic community and to advocate against the injudicious use of antibiotics in food animal production. LULAC and the Super Madres are united to preserve the effectiveness of antibiotics for our communities, our children and our families.
LULAC's interest in this issue stems from research that shows Hispanics are more likely to be farm workers than any other ethnic group, putting them at an increased risk of exposure to antibiotic-resistant bacteria and illness. Click here to learn more.
---
Adding Meat and Poultry Raised without Antibiotics to the School Lunch Menu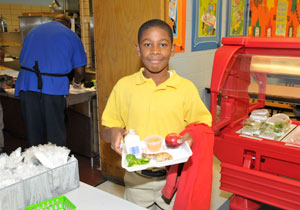 Chicago Leads the Way and Other School Districts Follow Suit
Chicago Public Schools (CPS), the third-largest school system in the country, announced in late 2011 that it had begun serving local chicken raised without antibiotics to students in 473 schools. This purchase, made through food service provider Chartwells-Thompson Hospitality, was the first of its kind. No other district in the nation is serving this kind of poultry regularly at such a scale. Since September 2010, Chartwells and CPS have examined how antibiotics are used in poultry production, through their participation in the School Food FOCUS (Food Options for Children in the United States) Learning Lab. Chartwells made the decision to buy chicken raised without antibiotics for Chicago schools with research and consulting support from the Learning Lab and The Pew Charitable Trusts. Negotiations with the producer, Miller Amish Country Poultry of Orland, Indiana, were facilitated with help from Whole Foods. Read the full press release on the announcement and view the photo essay, which provides more details on the original purchasing decision.
For the 2013-14 school year, Chicago Public Schools states in its new Request for Proposal (RFP) that poultry raised without antibiotics should be served whenever possible, but its food service provider is required to provide poultry raised without antibiotics at least once a month in both elementary and secondary schools.
To help other districts follow Chicago's lead, the School Food FOCUS Learning Lab and Pew developed purchasing guidelines for institutions and a Request for Proposals template (PDF) that any school district can adapt for its own use. School Food FOCUS is working with school districts across the country to follow in Chicago's footsteps and source meat and poultry raised without antibiotics. Stay tuned for the exciting developments!
If you are interested in doing the same in your school district, call your principal, your school board representatives, and your school superintendent, and tell them that you want what Chicago's students have: meat and poultry raised without the routine use of antibiotics. Click here to download a letter that you can send school officials, outlining what steps they can take to protect our children's health.
---
Tell Us Your Story
Why are you concerned about the misuse of antibiotics in food animal production? Why are antibiotics important to you and your family? Let us know, and we could feature you on our website and/or on our Facebook and Twitter pages!
Related Resources