Supermoms Against Superbugs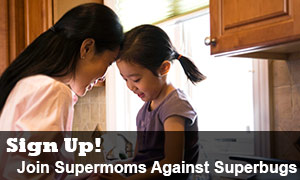 Supermoms Against Superbugs, an initiative of the Pew Campaign on Human Health and Industrial Farming, is a movement of moms, dads, grandparents, and other caregivers who want to end the overuse of antibiotics in food animal production.
This dangerous practice helps breed deadly antibiotic-resistant bacteria that can spread to humans. And children, the elderly, and those with weakened immune systems are especially at risk.
Supermoms Against Superbugs Advocacy Day
Driven by the increasing awareness of antibiotic resistance and its link to food animal production and the ever-growing demand for meat and poultry products raised without antibiotics, Pew, in partnership with the American Academy of Pediatrics, hosted a Supermoms Against Superbugs Advocacy Day on May 15, 2012, to celebrate and unite individuals across America who are working to preserve the effectiveness of antibiotics for their children and families.
A contest was held to find outstanding moms (and others concerned about their family's health) to come to Washington, DC, and meet with governmental and public health leaders to discuss the best ways to reign in the misuse and overuse of antibiotics in food animal production.
The 2012 Supermoms were chefs, pediatricians, farmers, and every day moms and dads who have a particular interest in this issue  ̶  whether they raise food animals without the routine use of antibiotics, serve meat raised without antibiotics in their restaurants and homes, work on the front line treating increasingly antibiotic-resistant infections, or have personal stories of how antibiotic resistance has impacted their lives. The Supermoms were provided with the tools and resources they need to inform, educate, and inspire others to take action.
Learn more in our video shorts:
Stay tuned for updates on the 2013 Supermoms Against Superbugs Advocacy Day and how to participate!
---

Adding Meat and Poultry Raised without Antibiotics to the School Lunch Menu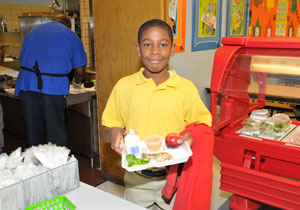 In November 2011, the Chicago Public Schools (CPS) announced it had begun serving local chicken raised without antibiotics to students in 473 schools. The district's new program includes about 1.2 million pounds from Amish farms that do not use antibiotics, for a total of about two million pounds of fresh chicken in the 2011-12 school year. CPS' enormous purchase of chicken grown without antibiotics, made through food service provider Chartwells-Thompson Hospitality, is the first of its kind. No other district in the nation is serving this kind of poultry regularly at such a scale.
Since September 2010, Chartwells and CPS have been engaged in an investigation of the use of antibiotics in poultry production, through their participation in the School Food FOCUS (Food Options for Children in the United States) Learning Lab. Chartwells made the decision to buy chicken raised without antibiotics for Chicago schools with research and consulting support from the Learning Lab and the Pew Campaign on Human Health and Industrial Farming (HHIF). Negotiations with the producer, Miller Amish Country Poultry of Orland, Indiana, were facilitated with help from Whole Foods. Read the full press release on the announcement.
To help other districts follow Chicago's lead, the School Food FOCUS Learning Lab and Pew developed purchasing guidelines for institutions and a Request for Proposals template (PDF) that any school district can adapt for its own use.
If you are interested in doing the same in your school district, call your principal, your school board representatives, and your school superintendent, and tell them that you want what Chicago's students have: meat raised without the routine use of antibiotics. Click here to download a letter that you can send school officials, outlining what steps they can take to protect our children's health.
---

Tell Us Your Story
Why are you concerned about the misuse of antibiotics in food animal production? Why are antibiotics important to you and your family? Let us know, and we could feature you on our website and/or on our Facebook and Twitter pages!