Special Ballots in the District of Columbia
Return to Election Data Dispatches.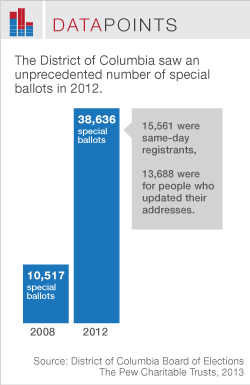 In 2012, the District of Columbia issued voters an unprecedented number of special ballots—which are the same as provisional ballots, according to the city's 2012 After-Action report. This was due in part to the city's use of Election Day registration for the first time in a presidential election. (Washington launched its Election Day registration process for the 2010 midterm elections.) In the District, Election Day registrants must vote using special ballots.
In 2008, 10,517 special ballots were issued. In 2012, 38,636 were issued, an increase of 267 percent. Of the more than 38,000 special ballots, 15,561 were same-day registrants, and another 13,688 were issued for people who updated their addresses.
Officials cite the time required to process these voters as one cause of long lines at some polling places in November. The District had the nation's second-longest average wait to vote at an average of more than 33 minutes, behind only Florida.