Troubled Drilling Season Raises Question About Arctic Readiness
The grounding of a runaway oil rig near a remote Alaska island may have been the biggest mishap of the 2012 Arctic drilling season, but it was hardly the only one. As documented below, the attempt to explore for oil in America's Arctic Ocean was characterized by problems from beginning to end. Taken together, these issues raise a serious question that goes beyond any single oil company: Is the United States ready yet to drill in such a remote and risky setting?
The drill rig Kulluk ran aground during a fierce storm in the Gulf of Alaska as it was making its way south. A U.S. Coast Guard station nearby was able to respond quickly. But the actual drill sites are 1,000 miles farther north in Alaska's Chukchi and Beaufort seas, where Arctic conditions are even harsher and distance from help that much greater. Hurricane-force winds, high seas, impenetrable fog, and shifting sea ice are common. The region has no major roads, ports, or airports. If there is an accident or an oil spill in the Arctic, getting people and equipment to such a remote location will be daunting. And even then, there is no proven method of cleaning up oil in broken ice.
America's Arctic Ocean is a national treasure. It is central to the sustenance and culture of indigenous communities that have depended on its bounty for thousands of years. Its ice-covered waters support bowhead whales, Pacific walrus, ice seals, polar bears, and other marine mammals found in no other U.S. waters. Its brief summers draw millions of migratory birds to feed and breed.
To protect this treasure, the United States needs a comprehensive science-based management plan that incorporates traditional knowledge that Arctic peoples have learned over generations and preserves ecologically important habitats. And we need Arctic-specific standards that can stand up to tough Arctic conditions. As the past season showed, we're not there yet.
December 8, 2014
Noble Drilling LLC, a Shell contractor, plead guilty to committing environmental and maritime crimes in the U.S. Arctic Ocean in 2012 and agreed to pay fines of $12.2 million. The company operated two drilling rigs, Noble Discoverer and Kulluk, which Shell used for its oil exploration in the U.S. Arctic Ocean. Violations included falsifying oil record books and failing to notify the Coast Guard of hazardous conditions aboard the Noble Discoverer. In its latest 2015 exploration plan for the Chukchi Sea, Shell stated that it plans to use the Noble Discoverer again.
January 2013
A Shell Oil drilling rig, the Kulluk, is pounded by stormy seas after grounding on New Year's Eve on the rocky shoreline of Sitkalidak Island, just southeast of Kodiak in the Gulf of Alaska. The rig, which drilled one shallow well in the U.S. Arctic Ocean in the fall, was bound for Seattle.
Here is a look back at some of the other mishaps that marred the 2012 season.

Waves crash over the conical drilling unit Kulluk where it sits aground on the southeast side of Sitkalidak Island, Alaska, Jan. 1, 2013.
---
July 5, 2012
The Coast Guard finds engineering and safety concerns with the oil-spill containment barge, the Arctic Challenger, which is awaiting certification in the Port of Bellingham, Washington.
Inspectors find over 200 deficiencies in the Arctic Challenger's construction and design, including welding, emergency systems, piping and wiring.

Additional work remains on piping, installation of catwalks, electrical wiring and positioning of lifeboats.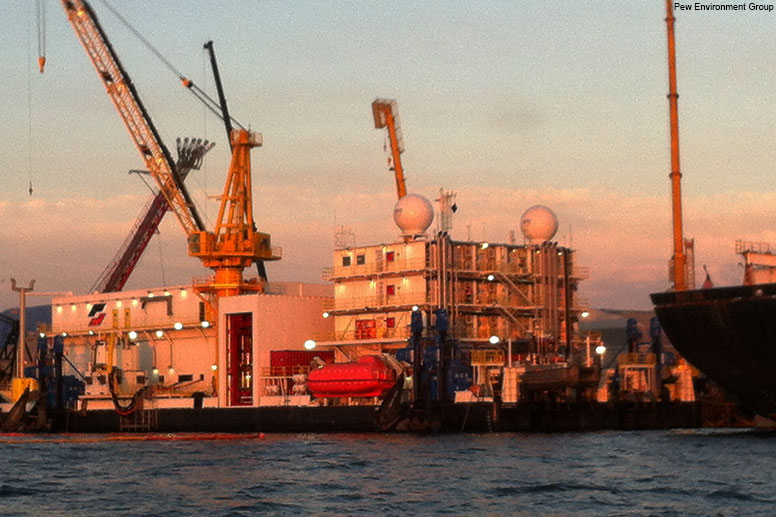 Shell's Troubled Containment Barge Undergoing Repairs in Bellingham, Washington 2012.
---
July 14, 2012
The Noble Discoverer (514' long), one of the fleet's two drilling rigs, nearly runs aground in Unalaska, Alaska, after dragging its anchor in 35-knot winds. The incident raised concerns about its ability to operate in the harsh Arctic Ocean.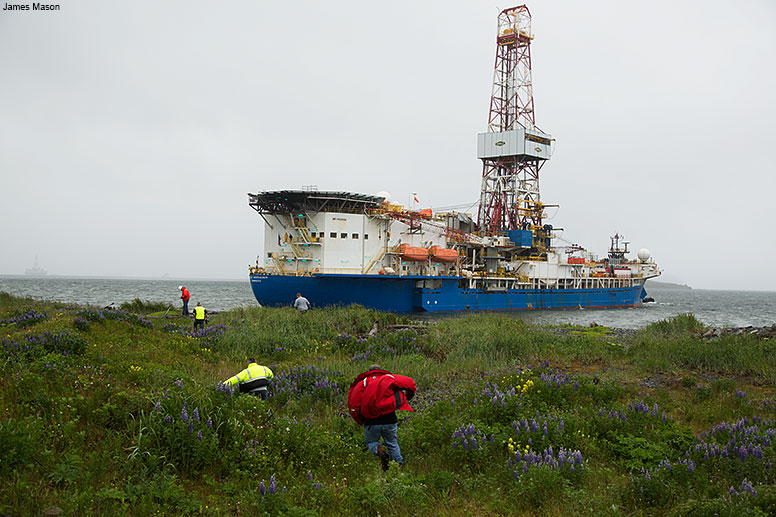 ---
Mid-July through early September
Sea ice lingers around the drilling sites longer than usual this summer and, combined with the barge problems, pushes back the start of drilling season.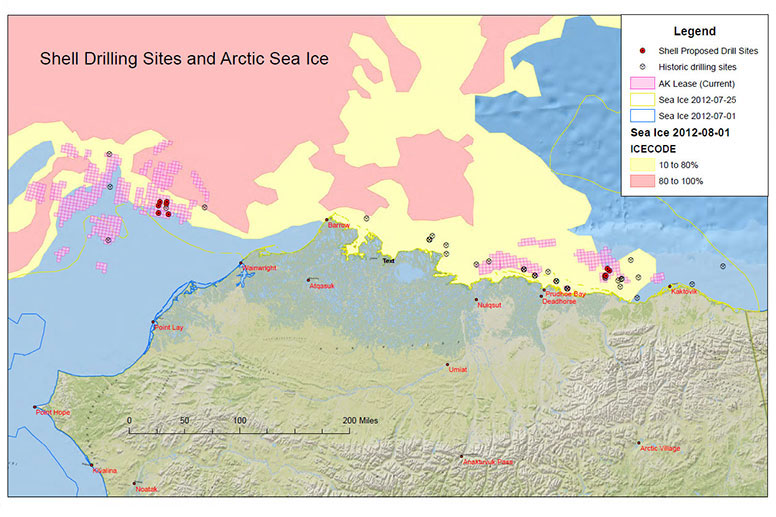 Sea ice encroachment around proposed drill site as of August 1, 2012. National Sea Ice Data Center and John McComb.
---
August 13, 2012
The Coast Guard fines the Arctic Challenger containment barge for four minor illegal fluid discharges. The containment barge remains in the Bellingham, Washington, harbor undergoing construction and installation of safety, structural, mooring, and machinery systems necessary for Coast Guard certification.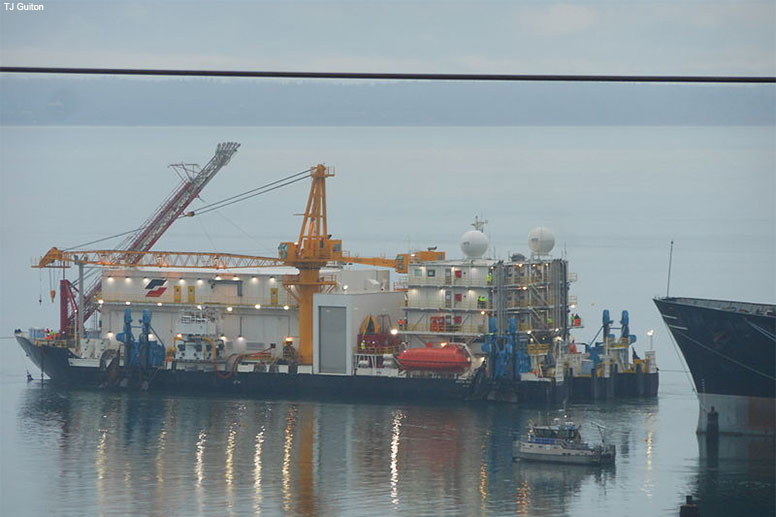 Arctic Challenger in the Port of Bellingham, WA. Shot by TJ Guiton, Wikimedia Commons, under the Creative Commons Attribution-Share Alike 3.0 Unported license.
---
August 30, 2012
Interior Secretary Ken Salazar grants the drillship Noble Discoverer conditional approval, once the ice clears, to begin preparatory drilling in the Chukchi Sea without the Arctic Challenger on site, but does not allow drilling into hydrocarbon zones because not all response equipment has been approved or put in place. The Noble Discovererbegins drilling Sept. 9.
---
September 10, 2012
On the second day of Chukchi Sea drilling, Shell shuts down operations and moves the Noble Discoverer off the drill site due to the approach of an ice floe 30 miles long, 12 miles wide and up to 82 feet thick.
---
September 17, 2012
The containment dome on the barge Arctic Challenger is damaged in testing in calm waters off Washington State.
A source told the Los Angeles Times that one of the eight winches on the dome became inoperative. A Remotely Operated Vehicle (ROV) sent to find out what was wrong got tangled in the anchor lines of the dome and sank into the silt. The incident followed weeks of delays as the company attempted to win Coast Guard certification of its problem-plagued retrofit.
Internal emails describe the containment dome as "crushed like a beer can."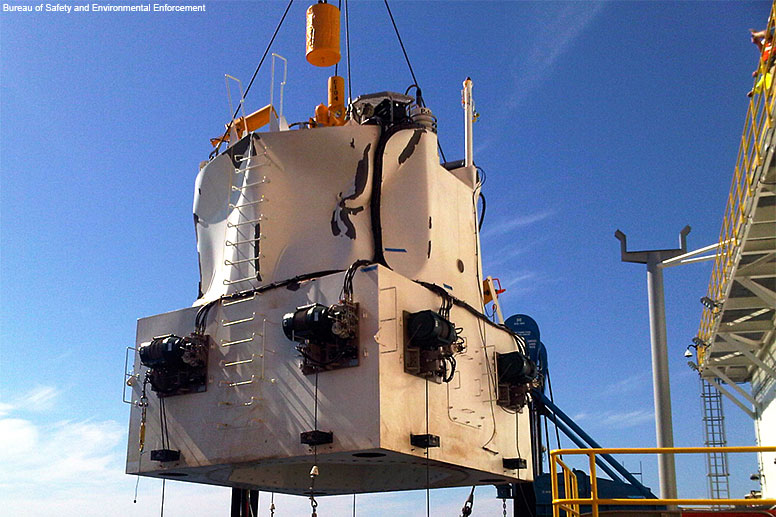 Because of the botched test, Shell says that it will not attempt to drill into hydrocarbon zones this season. It will drill "top holes" only through the end of this season's drilling window, but will not attempt to reach any oil deposits this year. On Sept. 20, Secretary Salazar grants conditional approval for the Kulluk, which begins to drill a top-hole well in the Beaufort Sea on Oct. 3.
---
October 31, 2012
Drilling season ends. This is the latest in the season that BSEE will permit any drilling in either sea. (In the Chukchi Sea, drilling into the hydrocarbon zone—had it occurred—would have had to stop by Sept. 24.) Early November typically sees the onset of "freeze up" and poses a risk to operations designed to occur in open water.
Two preliminary 1,400-foot "top holes" were drilled, one each in the Beaufort and Chukchi seas. Plans call for drilling 10 complete wells over the 2012-2013 seasons.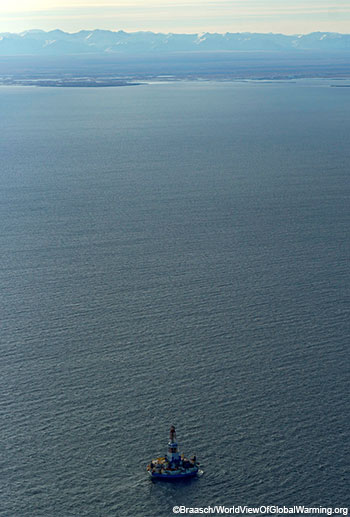 The Kulluk at its drillsite 20 miles north of the Alaska coast in the Beaufort Sea.
---
October 31 – November 6/7
The drillship Kulluk and support vessels operating in the Beaufort Sea are stuck on site for an extra week:
Unmooring operations were delayed due to cold and ice

Fog and lack of de-icing equipment delayed flights to remove crew

Kulluk's main tug needed fuel, but seas were too rough to lay the required boom for refueling

Rough seas delayed Kulluk's wastewater transfer to another vessel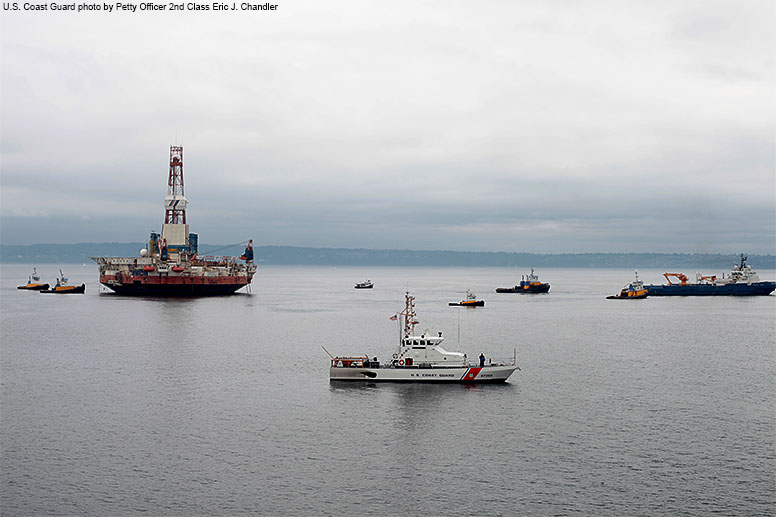 The Kulluk shown in Seattle with flotilla of support boats on July 19, 2011.
---
November 16, 2012
An explosion causes a fire onboard Shell's drillship Noble Discoverer in Dutch Harbor, Alaska.
---
Late November-December 19, 2012
The U.S. Coast Guard cites the Noble Discoverer for "discrepancies" in safety and pollution discharge equipment and orders it to remain in Seward, Alaska, until the most serious of the issues are corrected. A tug had towed the drilling rig into the Seward port after propeller vibration developed en route from Dutch Harbor. The detention order is rescinded on Dec. 19, with the ship set to sail to Seattle to undergo additional work in dry dock.

The drilling ship Noble Discoverer.
---
December 27, 2012
The Noble Corp, which owns the 47-year-old Discoverer, discloses that it has discovered additional deficiencies in its own inspections, including the possibility of unauthorized collected water discharges.
---
December 28, 2012
A towline breaks as the specially designed vessel, Aiviq, tows the Kulluk drilling unit back to Washington amid 20-foot seas and heavy winds south of Kodiak, Alaska. Shortly after towlines are reestablished, the Aiviq experiences multiple engine failures.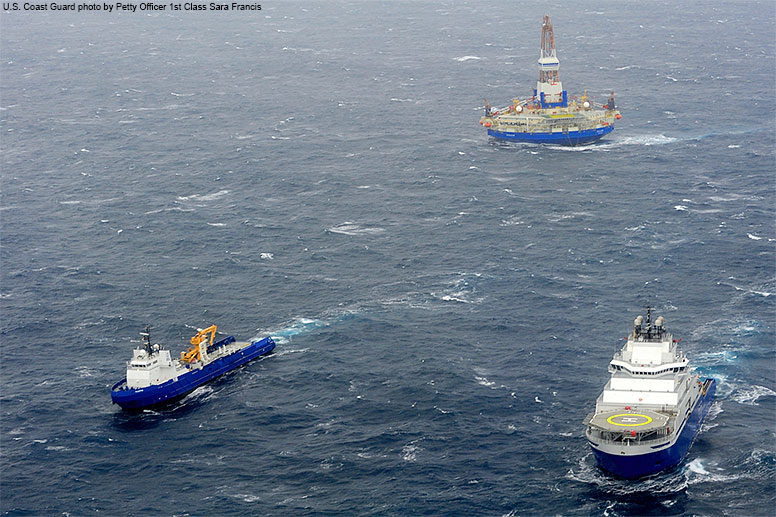 The tugs Aiviq and Nanuq with the Kulluk in the background.
---
December 29, 2012
The U.S. Coast Guard rushes to assist the stalled vessel and evacuates 18 stranded crew members from the Kulluk via helicopter amidst 20-25 foot seas and 50 mile per hour winds.

The crew of helicopter from Coast Guard Air Station Kodiak prepares to hoist the first of 18 crewmen aboard the Kulluk 80 miles southwest of Kodiak City, Alaska on Saturday, Dec. 29, 2012.
---
December 30, 2012
The Kulluk is adrift in Alaska seas after losing its towlines a second time in continuing stormy conditions.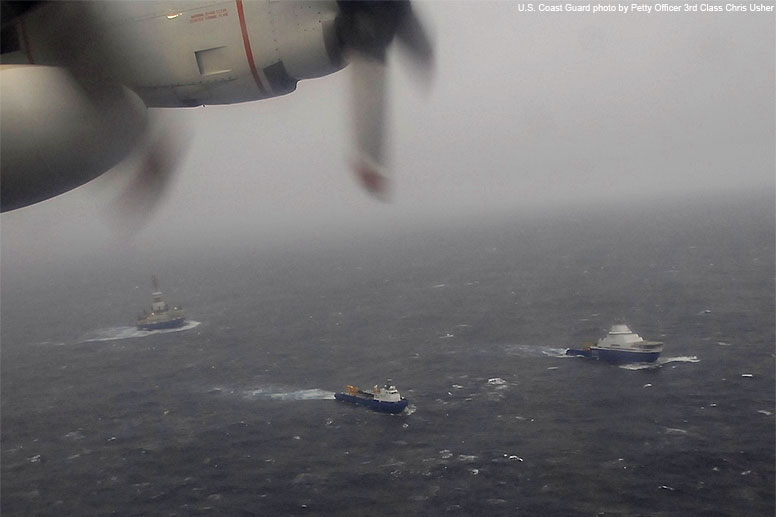 A Coast Guard aircraft from Air Station Kodiak overflies the tugs Aiviq and Nanuq (larger) tandem towing the Kulluk 116 miles southwest of Kodiak City, Alaska, Sunday, Dec. 30, 2012
---
December 31, 2012
Even with towlines reattached, the Kulluk grounds on the southeast shoreline of Sitkalidak Island. A tug boat is ordered to disconnect for the safety of its nine crew.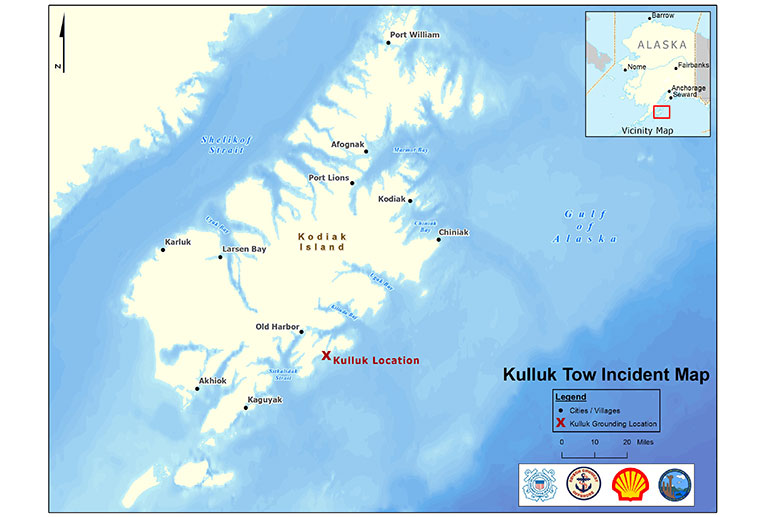 The Kulluk grounded on a small island just southeast of Kodiak Island in the Gulf of Alaska. Unified Command.
---
January 1, 2013
The drilling ship Kulluk sits aground on the southeast shore of Sitkalidak Island about 40 miles southwest of Kodiak City, Alaska, in 40 mph winds and 20-foot seas.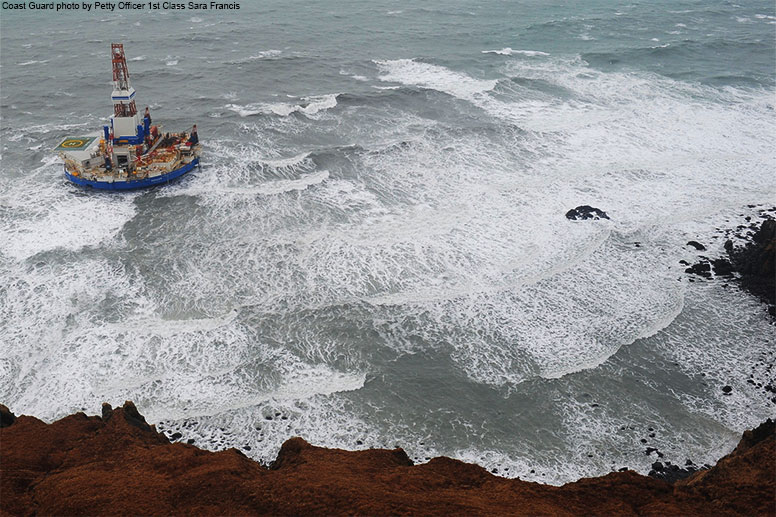 Drilling ship Kulluk sits aground on the southeast shore of Sitkalidak Island about 40 miles southwest of Kodiak City, Alaska, in 40 mph winds and 20-foot seas Tuesday, Jan. 1, 2013.
---
January 6, 2013
Following a massive salvage effort involving 730 people, the Kulluk is pulled off the rocks of Sitkalidak Island and towed to port of refuge in Kiliuda Bay off Kodiak Island, where it will remain until damages are assessed.
---
January 8, 2013
The Department of the Interior's Bureau of Ocean Energy Management announces it will conduct an "expedited, high-level assessment" of the trouble-plagued 2012 drilling season.

Noble Discover in Seward, Alaska, on Jan. 11, 2013.
---
January 10, 2013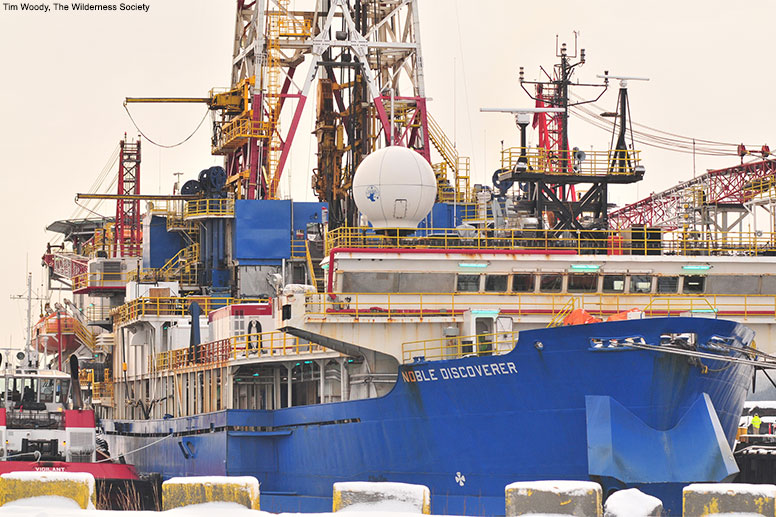 Noble Discover in Seward, Alaska, on Jan. 11, 2013.
The U.S. Environmental Protection Agency (EPA) cites both drilling rigs, the Noble Discoverer and the Kulluk, for violating numerous conditions of their air permits.
The NobleDiscoverer filed 32 reports detailing permit violations over its 43 days of operation. Violations included failure to install some required air pollution control equipment, failure to properly calibrate some air pollution monitoring equipment, the operation of unpermitted propulsion engines, and numerous instances in which emission limits were exceeded.

The emission limits were intended to prevent the rigs from polluting at unhealthy and environmentally consequential levels.
---
February 11, 2013
Shell announces that it will tow both drilling rigs, the Kulluk and the Noble Discoverer, to Asian ports for repairs and upgrades. The Kulluk needs "major repairs and further assessments" after suffering hull damage when it ran aground on New Year's Eve. It also suffered internal structural and electrical damage from seawater, officials said. The Noble Discoverer experienced propulsion problems pulling into Seward, Alaska, in November. Both rigs will be "dry-towed" using heavy-lift vessels.

A Coast Guard inspector surveys the Kulluk drilling unit for damage after a storm.
---
February 13, 2013
The Kulluk Response Unified Command stands down, saying it has met its goals of ensuring the safety of all responders, protecting the environment, and preparing the Kulluk to move to its next port. Established on Dec. 28 to oversee the response to the Kulluk grounding, the command involved the U.S. Coast Guard, the state of Alaska, Shell, a drilling contractor, and the Kodiak Island Borough. At its peak, the response effort involved 750 people.
---
February 22, 2013
Rep. Ed Markey, D-Mass., releases details of a U.S. Coast Guard inspection of the Noble Discoverer conducted in late November. The inspection uncovered 16 violations, including fire hazards and other crew safety issues, problems with the drilling rig's pollution prevention systems, and a lack of sufficient propulsion power. Among the findings: The drilling rig could not move quickly enough to safely maneuver in all the challenging conditions expected in Arctic waters. The Coast Guard says it has turned its investigation over to the U.S. Department of Justice.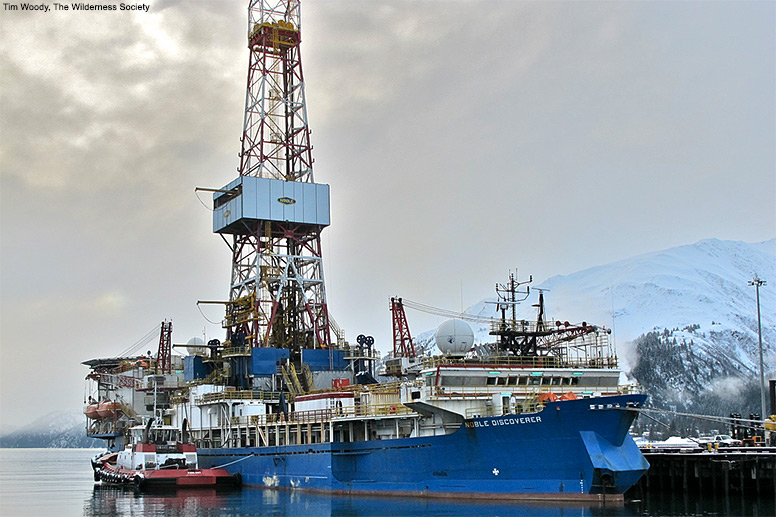 Noble Discover sits at port in Seward, Alaska.
---
February 27, 2013
Shell announces that it will not explore for oil in the U.S. Arctic Ocean in 2013.