Orange County, California, Poll Workers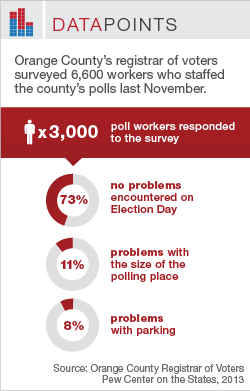 Return to Election Data Dispatches.
Since 2009, the Orange County registrar of voters has been conducting customer service surveys, including surveys of poll workers.
Of the 6,600 workers who staffed the county's polls last November, nearly 3,000 responded to the survey. Seventy-three percent said they encountered no problems on Election Day. Of those that did encounter problems, the two most common were said the size of the polling place—11 percent of respondents and parking problems—8 percent. The report notes that, compared to the June 2012 primary, respondents reported fewer problems overall.