The Stunning Beauty of Horizontal Falls Protected
The Premier of Western Australia has announced the world famous Horizontal Falls and extraordinary reefs, bays, and surrounding areas of the Kimberley region will be permanently protected.
The new 296,000 hectare Horizontal Waterfall Marine Park will safeguard what Sir David Attenborough has described as one of the great natural wonders of the world. The WA Premier Colin Barnett has also created a 16,000 hectare national park surrounding Horizontal Falls, which are a major tourism attraction.
Visitors to Horizontal Falls bear witness to this unique natural phenomenon. Massive tidal currents flow through two narrow coastal gorges in Talbot Bay, creating a stunning horizontal waterfall.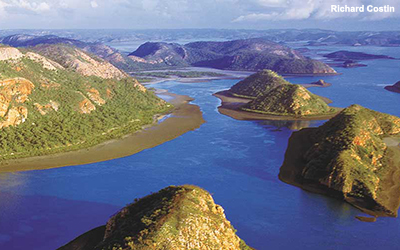 "The pieces of the puzzle to a healthy future for WA's unique natural environment are beginning to fall into place," John Carey, director of the Pew Environment Group's Kimberley Conservation Project said.
"New marine parks long the Kimberley coast will allow fish and marine life to recover and rebuild, protecting our coral reefs for everyone to enjoy. Protecting places such as Eighty Mile Beach and Horizontal Falls will help to keep the rugged landscapes of the Kimberley intact and remain a healthy part of our natural heritage."
The pieces of the puzzle to a healthy future for WA's unique natural environment are beginning to fall into place

.

John Carey, director, Kimberley Conservation Project

The Horizontal Waterfall Marine Park is immediately to the south of the Camden Sound Marine Park that was established last year and will form the third section of the burgeoning Great Kimberley Marine Park.
Today's announcement is the third in a series of marine parks created by the West Australian Government since the beginning of 2012. This important and growing marine park will cover some of the most spectacular sea and landscapes in Australia's Outback, including an intricate maze of sandstone coast and islands with coral reefs, mangroves and sea grass. For the waters of the Kimberley region, is a step closer to the legacy the Premier has promised to create – a Great Kimberley Marine Park.
The new protected areas are a welcome step forward for the Kimberley's long-term health, however there is still work to be done. Only five percent of the Kimberley Coast is currently protected. That is why the Kimberley Conservation campaign, an alliance of conservation groups led by the Pew Environment Group remains focused on urging the WA Government to take further steps to safeguard this important region.
The campaign is running adverts across Western Australia to alert everyone to the value of creating a Great Kimberley Marine Park. Such a park will leave a lasting legacy that future generations will be able to enjoy.
View a map of the new Horizontal Falls Marine Park: