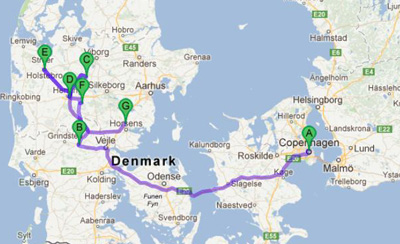 Laura Rogers' travel route through Denmark: (a) Copenhagen; (b) Billund; (c) Karup; (d) Herning; (e) Holstebro; (f) Ikast; (g) Horsens
The country has completely phased out the use of antibiotics for growth promotion, and all other antibiotic uses in animals require a veterinarian's prescription. Even with these strict rules, Denmark continues to be one of the world's largest exporters of pork, demonstrating that policies limiting antibiotic use can benefit public health without harming the bottom line of farmers.
Laura Rogers, project director for the Pew Campaign on Human Health and Industrial Farming, is in Denmark this week meeting with farmers, government officials and public health experts to learn how the United States can adapt the country's successful model. Laura is accompanied by CEO Steve McDonnell, co-founder Chris Ely, and vice president of quality assurance Diane Kull of Applegate, one of the largest organic and natural meat brands in the U.S. Follow the trip by reading Laura's updates below.
---
Pew, Applegate Tour Denmark Organic Farms, Slaughterhouses on Final Leg of Trip
November 16, 2012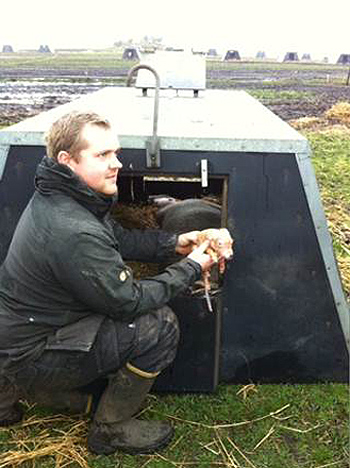 Farmer Rasmus Henneberg with a piglet that was just born.
As the last day of our trip approaches, we start out early so we can fit in the two remaining organic farms and two slaughterhouses we want to make sure we visit while in Denmark. The first stop is Rasmus Henneberg's 400-head sow farm that produces about 7,000 weaners (baby pigs) each year. The sows live outside for their entire lives, giving birth to about two litters per year. Because it is an organic farm, the piglets stay with their mothers for seven weeks; at conventional farms, it's 31 to 35 days.

When I ask about antibiotic usage on his farm, Rasmus is ready. He says he medicates roughly two percent of his livestock per year. He even hands us a chart showing his near-zero usage of the drugs. I am impressed by how diligent he is at keeping track of any antibiotics administered to his pigs; this is for his veterinarian but also for government accountability because Denmark law today requires pig producers to report the amount of antibiotics used for livestock on a monthly basis to ensure the drugs are only being used to treat sick animals.

Next, we take a short ride to the organic farm of Gert Ladegaard. He actually purchases his hogs from Rasmus. He runs what's known as a finisher farm, meaning he raises his pigs from when they are weaned until they go to slaughter. In total, he sells some 7,000 pigs per year. Like Rasmus, he guesses he might need to give antibiotics to two percent of his animals, attributing their health to their late weaning combined with a diet of wheat, barley and soy and full access to fresh air and sunshine.

We end our tour with visits to two slaughterhouses – one in Herning and one in Horsens. The facilities are 100 percent transparent about their operations, and our tour guide shows us all aspects of the process from stunning to packaging.

The country is particularly stringent in its control of bacteria in the slaughterhouses. For example, they work hard to contain the foodborne illness Salmonella. In fact, Denmark is a leading country in combatting it, and the occurrence of the bacteria in fresh pork is among the lowest in the world.

As we head to Copenhagen for the long flight home, I ponder my most significant takeaway from the trip. I decide it's the need for the U.S. government to mirror Denmark's data collection and antibiotic usage in food animal production. Earlier in the trip, an official from the Danish Ministry of Food, Agriculture and Fisheries said it best: "what you all [in the United States] need is more data. Not because you don't know if you have a problem with overuse in your agriculture, because you do. But you need the data to know where you are so you can figure out where to be."

Sage advice. The remark is also timely; the U.S. Congress must reauthorize the Animal Drug User Fee Act by October 2013 or it will expire. Four years ago, a provision was added to the law that required drug manufacturers to report total sales of antibiotics in food animals – a small but important step forward. But total sales are just one piece of the puzzle. We need additional provisions in the law that compel drug companies and feed mills to report how antibiotics are actually used in food animals because access to these data is vital to public health. If we have the political will as a nation to require this critical information, we'll be much closer to protecting life-saving antibiotics that we need to be able to count on when we get sick and need them most. We'll also be closer to the high standard set here in Denmark.

Be sure to check back for our photo gallery from the trip!
| | | |
| --- | --- | --- |
| | | |
| Organic breeding sows live outside their entire lives. | | Organic farmer Gert Ladegaard (center) talks with visitors to his farm. |
---
Pew, Applegate Visit Large Organic Farm in Tinghojvej, Denmark
November 15, 2012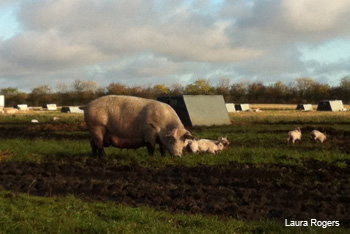 Nielli and Tommy Simmelsgaard's hogs are born outside and live in the fields for the first five weeks of their lives.
This morning we set out from our hotel in Billund to a free-range pig farm operated by Nielli and Tommy Simmelsgaard in the small town of Tinghojvej.
In total, Nielli and Tommy raise 26,000 pigs, which is very different from Kaj's smaller farm we visited yesterday. These hogs are born outside and live in the fields for the first five weeks of their lives. Even after the animals are weaned and moved to group housing, they have access to fresh air and sunshine.
Neilli and her husband operate the farm with just four employees. Their products are high-end and sold in grocery stores throughout Denmark. In addition to pigs, they also grow potatoes on the farm, as well as wheat and barley, which help make Denmark's world famous beers.
When I ask about how often Nielli gives her pigs antibiotics, she, like Kaj, is thrown off by the question because, by Denmark law, they only administer antibiotics to sick animals and with a veterinary prescription. Nielli guesses that two to three percent of her livestock get sick and require treatment with antibiotics. She believes the need to use antibiotics is so low because her animals live outside and have developed a strong immune system.
Nielli keeps her hogs healthy by furnishing housing with straw bedding and feeding them a diet of wheat, barley and soy. Aside from the occasional predatory bird with an appetite for piglets, she said the biggest problem she has faced in the past few months is rain. Denmark's autumn has been unusually rainy, but she's quick to clarify, "The pigs don't dislike the rain. It's the people who do. Our fields are muddy and it's difficult to work and drive."
While free-range farming in Denmark bans antibiotic treatment of entire herds, she is not bothered by this rule. Nielli said quite candidly, "Treatment of a herd or entire group is quite stupid. They aren't all sick at the same time, why would veterinarians give them medicine all at the same time?"
It's a good question given the importance of antibiotics in human and animal medicine. Any use of an antibiotic (judicious or injudicious) can reduce the future effectiveness of the drugs. This is why we need to use them only when they are medically necessary and the reason Denmark carefully restricts use in animal agriculture. Yet in the U.S., up to 70 percent of all antibiotics sold go to mostly healthy farm animals. We can learn a thing or two from Denmark!
Next up? Slaughterhouses, which we'll be visiting today and tomorrow.
---
Pew, Applegate Learn about Antibiotic Usage at Jyderup Pig Farm
November 14, 2012

After spending two days learning from leaders in government, industry and academics, the Applegate team and I headed 75 kilometers to a pig farm in the Jyderup region. The farmer, Kaj Munck, is a friend of the Pew Campaign on Human Health and Industrial Farming. We met him in 2009 on our first learning tour of Denmark. He has since made several trips to the United States, including participating in a Congressional briefing, meeting with U.S. Food and Drug Administration leaders and sharing his farming expertise with members of the Practical Farmers of Iowa.
We spent five hours on Kaj's farm, where he showed us all aspects of his farrow to finish operation, which means his operation raises pigs from birth until they go to market.
When asked how much antibiotics he uses, Kaj almost waves our question off as unimportant. He treats about five percent of his 12,000 animals with antibiotics per year. Antibiotic use for any reason other than for treatment of a diagnosed disease was voluntarily ended here in 1998 and then fully banned in 2000. He prefers farming without the drugs explaining that, "If you give too much medicine [antibiotics], you have the resistance problem waiting around the corner."
He should know. When he bought his farm in 1988, he inherited pigs that suffered from various illnesses and ailments. So he made a plan with his veterinarian: he would use antibiotics sparingly, while improving the feed and living conditions on his farm. Today, Kaj runs what is called a "closed operation," meaning he brings no animals into his system from the outside. He says this is the best way for him to guarantee that his farm and pigs stay free of disease.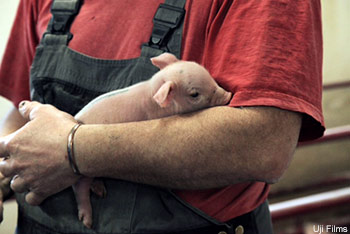 Pigs raised on Kaj's farm are only given antibiotics when the animals are sick, not for growth promotion or to compensate for overcrowding and unsanitary conditions.
Kaj is fiercely proud of the healthy animals he raises and the farm he built that blends with the countryside. "It's important to be a good neighbor," he told us. The country of Denmark has indeed been a good neighbor to the rest of the world, trailblazing the way forward for both animal and public health.
Denmark is also a strong example of transparency for agricultural practices. The country collects detailed data on antibiotic use and can decipher, down to the individual farm, which drugs are being used and for what purpose. Kaj is happy to share details on his farming practices, showing us what he feeds his animals and what medicines he uses to treat them if they are sick. This stands in stark contrast to the United States, where neither the public nor public health professionals have access to detailed data on industrial agriculture's use of antibiotics.
I'm signing off for today as I contemplate the differing practices between our country and Denmark. Tomorrow we're set to visit two organic pig farms and a slaughter house. Stay tuned…
---