International Policy: United Nations General Assembly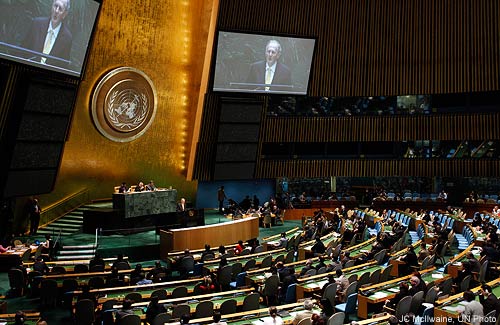 Today, 13 percent of the world's land areas are protected, but less than one percent of global marine areas are, leaving these ecosystems exposed and vulnerable to threats. Further, there is almost no protection of marine ecosystems and biodiversity occurring in deeper waters on the continental shelves and in the international waters of the high seas.
It is crucial that international leaders cooperate to ensure stronger conservation measures are implemented and enforced to guarantee the long term sustainability of marine species and the health of ocean ecosystems. The United Nations General Assembly (UNGA) plays a crucial role in ensuring the sustainability of marine fisheries, particularly for those in areas beyond national jurisdiction.
Comprised of all 193 Members, the UNGA is the main representative and policymaking organ of the United Nations. Through its Plenary and Committee work, the Assembly considers a number of resolutions relating to Oceans and the Law of the Sea, sustainable fisheries and other issues concerning the conservation of marine biodiversity and ecosystems. Additionally, it oversees the work of a number of processes designed to facilitate multilateral discussions on ocean issues.
The Pew Environment Group has official observer status at the UN, where we offer fact-based, nonpartisan scientific research and expertise in order to aid decision makers in designing and adopting management mechanisms and policy decisions that will ensure sustainability. The Pew Environment Group works with government representatives within the UN to achieve successes for marine conservation and looks to the UN to provide international coordination and oversight for strengthened high seas governance.
Helpful Resources