Pennington County, South Dakota Election Costs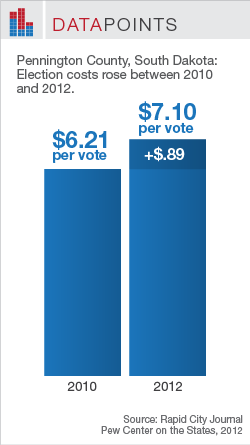 Return to Election Data Dispatches.
In Pennington County, South Dakota, election costs rose between 2010 and 2012. The change in cost, a jump from $6.21 per vote in a 2010 election to $7.10 per vote in the 2012 June election, may be partly attributable to an increase in absentee voting. In 2012, the county spent $12,385 on mailing and collecting absentee ballots, 38 percent more than in 2010.
The total cost of the 2012 election was $90,660. The county spent about half of the total cost on paying election workers and another $13,000 on testing and printing ballots.