The federal law that sets conservation requirements for ocean fisheries, the Magnuson-Stevens Fishery Conservation and Management Act (MSA) has not only made a positive impact on U.S. fish populations; it has also made a difference to some of the country's most successful chefs and restaurant owners.
Recipes for Success
Americans love seafood. In a typical year, we consume nearly 5 billion pounds of it, an average of 16 pounds of fish and shellfish per person. Unfortunately, 86 percent of the seafood currently consumed in the United States comes from other nations. Historic overfishing has left us with a legacy of severely depleted fish populations in many regions of the country. For the restaurant industry and consumers, that translates to tough seafood choices—or no choice at all when the fish are gone.

That is why chefs from coast to coast are excited about the 2011 Status of U.S. Fisheries report from the National Oceanic and Atmospheric Administration (NOAA), which shows that solid gains were realized last year because of responsible management under the MSA. With customers increasingly demanding fresh, locally caught seafood, improvements in the health of three fish stocks—Mid-Atlantic summer flounder, Gulf of Mexico red snapper, and Alaskan snow crab—directly benefit U.S. businesses.

To thank Congress for its long-standing support of the MSA and to celebrate the progress in bringing fish populations back to healthy levels, the celebrity chefs have shared some of their favorite recipes. Try them out, visit their restaurants, and enjoy the benefits of strong, successful conservation.
Chef John Besh's Crispy Seared Red Snapper with a Light Tomato Sauce
John Besh has set the benchmark for fine dining in New Orleans with nine restaurants (August, Besh Steak, Lüke, Lüke San Antonio, La Provence, American Sector, Soda Shop, Domenica, and Borgne). Chef Besh's talent and drive have earned him kudos from Food & Wine as one of the Top 10 Best New Chefs in America, and he received the James Beard Award for Best Chef of the Southeast in 2006. Besh has also written two cookbooks,My New Orleans andMy Family Table.
Ingredients
6 skin-on, scaled red snapper fillets, each about 6 ounces
Olive oil
Salt
Freshly ground black pepper
1 12-ounce can diced tomatoes
1 teaspoon minced garlic
1 teaspoon crushed red pepper flakes
2/3 cup white wine
½ cup cream
4 tablespoons butter
½ teaspoon pimentón (Spanish paprika)
Leaves from 1 sprig fresh thyme
Technique
Adjust an oven rack to the center position and preheat the oven to 400 degrees. With a sharp knife, score the fleshy side of each fillet a few times.

Heat a large, heavy skillet over medium-high heat, then coat the pan with a thin film of olive oil. Pat the fillets dry with a paper towel and season with salt and pepper. Place the fish pieces in the pan, skin side down, and sear until the flesh begins to turn opaque, about 5 minutes.

Place the fillets, skin side up, on a lightly oiled baking sheet and slide into the oven. Bake for 5 minutes while you make the tomato sauce.

In the same skillet in which you cooked the fish, add the tomatoes, garlic, and red pepper flakes. Stir for a minute over medium heat, then pour in the white wine. Cook for another minute, stir in the cream, and reduce the liquid by half. Add the butter, pimentón, and thyme. Season with salt and pepper. Remove the fillets from the oven to individual plates, and top with the sauce to serve.

Makes 6 servings.
Download the recipe and learn more about red snapper here.
Chef Kerry Heffernan's Fluke (Summer Flounder) Crudo with Citrus
Kerry Heffernan is the executive chef of South Gate on Central Park South in New York. He attended the Culinary Institute of America and honed his skills at several restaurants, including Eleven Madison, which received the James Beard Foundation's Award for Outstanding Service in America and Wine Spectator's Award of Excellence, and was named Esquire's "Best New Restaurant." Chef Heffernan is also an avid saltwater fly fisherman.
Ingredients
1 pound skinless fluke fillet
Several pieces of skinned fluke fin (optional)
1 Meyer lemon
1 blood orange
1 lime
¼ cup best quality olive oil
1 small bunch chives
1 sprig fresh dill
1 sprig tarragon
1 sprig Thai basil
2 sprigs lemon verbena
1 teaspoon chili flakes or 1 fresh hot chili, finely diced
1 tablespoon sea salt
1 cup cooked fiddlehead ferns (or cooked 1-inch asparagus pieces)

Note: You may use just one citrus fruit or pieces of all three. Likewise, not all herbs need be used.
Technique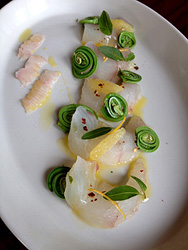 Slice the fish at 45 degrees, against the grain (sushi style) into pieces ¼ to ½ inch thick. Arrange slices attractively on 4 serving plates, then place in a freezer for 15 minutes.

Zest several strips of the citrus fruit (or fruits) you have chosen and set them aside. Remove the remaining citrus skin, separate into segments, then peel the membrane and remove the seeds.

Mince each of the chives, dill, tarragon, basil, and Thai basil separately. Remove lemon verbena leaves from stems. Then have fun by combining the fish and fiddleheads (or asparagus) with your own variety of citrus segments and zest, drizzles of olive oil, and sprinkles of herbs, chili, and salt. I would suggest beginning slowly to appreciate the taste and texture of this extraordinary fish, and then increased the combinations to suit your taste.
Makes 4 appetizer-size servings.
Download the recipe and learn more about summer flounder here.
Chef Kerry Heffernan's Sage Basted Snappers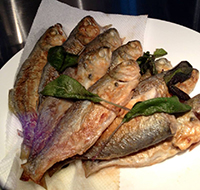 Ingredients
Baby bluefish: 4 or so per person, 10 inches each. Gut, scale, rinse well, and dry.
Technique
Lightly coat in four (wondra is best)
Heat 2 to 3 oz. oil in heavy bottomed skillet
Season fish add to pan in one layer, brown on one side, turn and after a minute add 2 oz whole butter and 3 sprigs of sage, as butter browns (turns noisette in french!) baste the browning butter over top of the fish, remove to paper towels and serve immediately with a good squeeze of fresh lemon.

Fisherman's dockside breakfast!
Chef Barton Seaver's Baked Fluke (Summer Flounder) with Ginger-Raisin Crust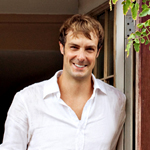 Barton Seaver is a chef, author, and National Geographic Fellow. A graduate of the Culinary Institute of America and executive chef at some of the most celebrated restaurants in his native Washington, D.C., Chef Seaver has been honored as a "Seafood Champion" by the Seafood Choices Alliance and as "Rising Culinary Star of the Year" by the Restaurant Association of Metropolitan Washington. He was also named Esquire's Chef of the Year in 2009. His first book,For Cod & Country, features healthful, planet-friendly recipes.
Ingredients
2 ½ tablespoons butter
¼ cup raisins, chopped into a paste
3 tablespoons panko (Japanese-style bread crumbs)
1 tablespoon peeled and grated fresh ginger
2 teaspoons ground mace
Grated zest of 1 orange
4 pieces fluke fillet, about 5 ounces each
Technique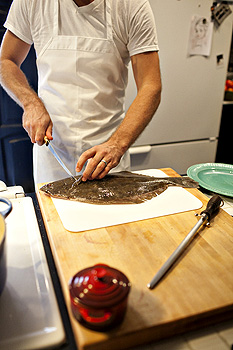 Preheat the oven to 300 degrees.

For the coating, melt 2 tablespoons of the butter and combine it with the raisin paste in a small bowl. Add the panko, ginger, mace, and orange zest and mix well. You should have a thick, slightly sticky paste.

Pat the fluke as dry as possible, then press the breading paste into the top of the fish and gently massage it so that it sticks.

Heat a large, ovenproof sauté pan over medium-high heat. Melt the remaining ½ tablespoon butter in the pan, then place the fluke in the butter with the breading side down. Cook, without moving the fish, until the coating begins to brown around the edges, about 4 minutes. Transfer the whole pan into the oven and cook for 8 minutes, depending on the thickness of the fillets. This will ensure that the breading continues to cook evenly and becomes very crispy while protecting the fish and keeping it moist.

Once the fluke is done, it will begin to flake apart if slight pressure is applied to the side. Using a spatula, gently turn the fish out of the pan and onto the serving plates with the breaded side facing up.

Makes 4 servings.
Download the recipe and learn more about summer flounder here.
Chef Susan Spicer's Sautéed Red Snapper With Cucumbers, Pineapple, and Chilies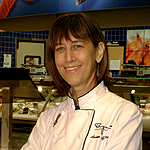 Susan Spicer has been a fixture of New Orleans fine cuisine for more than three decades, operating restaurants and specialty food markets including Bayona, MONDO, and Wild Flour Breads. She has earned multiple distinctions, including induction into the James Beard Who's Who of Food and Beverage in America, and has attracted national praise for her restaurants. Chef Spicer was featured in the 2009 finale of "Top Chef," and she has written a cookbook,Crescent City Cooking: Unforgettable Recipes From Susan Spicer's New Orleans.
Ingredients
1 medium cucumber, peeled
½ pineapple, peeled, cored, and cut into ¼-inch dice
Juice of 1 lime
2 tablespoons sugar
2 tablespoons fish sauce
½ teaspoon minced fresh ginger
2 teaspoons minced or grated lemongrass (fresh or frozen)
2 fresh Thai chilies or ½ teaspoon sambal oelek (red chili paste)
4 pieces red snapper fillet, about 6 ounces each
Salt
Pepper
2 teaspoons canola oil
2 tablespoons chopped fresh herbs, such as cilantro, basil, mint, or a combination
Technique
Cut peeled cucumber lengthwise into four pieces, then remove the seeds, slicing lengthwise with a small knife. Cut crosswise into ¼-inch slices and place in a bowl with the diced pineapple.

Mix the lime juice, sugar, fish sauce, ginger, lemongrass, and chilies or sambal oelek in a small bowl, stirring until sugar is dissolved. Pour over the cucumbers and pineapple, stirring to mix.

Pat the red snapper fillets dry, then season with salt and pepper. Heat oil in a sauté pan and, when it is almost smoking, place the fish in the pan. Lower heat to medium and cook about 4 minutes on the first side, then turn and finish cooking, about 2 minutes.

Transfer fish to plates and top with the cucumber-pineapple sauce. Sprinkle with herbs.

If desired, serve with rice mixed with chopped scallions.

Makes 4 servings.
Download the recipe and learn more about red snapper here.
Chef Jim Watkins' Creamy Snow Crab Soup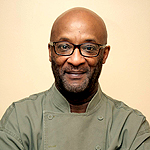 Jim Watkins, who has 25 years of experience as an accomplished chef, restaurateur, and food consultant, was founding chef of Cafe Flora, a landmark Seattle restaurant, winning further acclaim there at Plenty and Jimmy's Table. Today, Chef Watkins is director of award-winning food services at Bastyr University in Washington state, the nation's largest university for multi-disciplinary natural health arts and sciences.
Ingredients
1 cup peeled, diced red potatoes
4 tablespoons unsalted butter
1 medium onion, minced
2 cups diced tomatoes, with liquid
4 cups vegetable stock
1 cup heavy cream
½ pound snow crab meat
¼ pound snow crab claw meat
Salt
Freshly ground black pepper
Nutmeg (optional)
Technique
Cook the potatoes in boiling, lightly salted water just until tender. Drain and set aside.

Melt 2 tablespoons of the butter in a large pot over medium heat. Add the onion. Cook until soft, about 7 minutes, stirring occasionally. Add the tomatoes and liquid, potatoes, broth, and cream. Simmer slowly for 15 minutes.

Add the crab and crab claw meat, then puree with an immersion blender or transfer to a standing blender and puree thoroughly. (Be very careful when blending hot liquids in a standing blender—do not fill the blender more than halfway, and cover the lid with a towel. The heat will push the lid off, and you'll be wearing crab soup instead of enjoying it.)

Return the soup to the pot and add the remaining butter. Boil for 10 minutes. Add salt and pepper to taste. Add a pinch of nutmeg for elegance, if desired. Serve immediately with a few crostini.
Makes 4 servings.
Download the recipe and learn more about snow crab from Alaska here.
Chef David Burke's Fluke Crudo With Grilled Pineapple, Pickled Mango Relish, Avocado, and Orange Tea Vinaigrette
(Makes 4 appetizer-sized servings)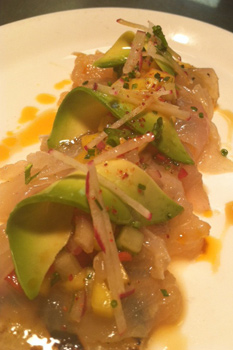 Ingredients
2 tablespoons honey
1 ounce loose chamomile tea
1 small star anise
1 1/2 teaspoons pink peppercorn
Zest and juice of 1 orange
1 tablespoon lemon juice
1 cup mirin (Japanese rice wine)
1 cup rice wine vinegar
1/2 cup sugar
1 teaspoon whole mustard seed
2 cups finely diced mango
1 cup finely diced red onion
1 cup finely diced red bell pepper
2 tablespoons chopped cilantro
2 jalapenos, peeled, seeded and finely diced
Salt and pepper
4 round 1/2-inch slices of fresh pineapple, peeled and cored
3 ounces sushi grade fluke, cut into 4 slices
1 avocado, halved, pitted, peel,ed and cut into 1/4-inch slices
Piment d'Espelette (powdered Basque chili pepper)
Sea salt
2 French breakfast radishes, julienned
1 spring onion, julienned
Technique
Orange tea vinaigrette (may be prepared days in advance): Boil the honey in a heavy 1-quart saucepan until it darkens. Add the chamomile tea, star anise, pink peppercorn, orange zest and juice, lemon juice, 1/2 cup of the mirin, and 1/2 cup of the rice wine vinegar. Simmer for 10 minutes and then let steep for 4 hours. Strain through a fine-mesh strainer. Only a portion will be used; the rest may be stored in the refrigerator, in a tightly closed jar, for several weeks.
Pickled mango relish (may be prepared a day in advance): Combine 1/2 cup of the mirin, 1/2 cup of the rice wine vinegar, sugar, and mustard seed in a heavy 2-quart saucepan. Bring to a simmer, pour over the diced mango and set in an ice bath. When cool, add the red onion, red bell pepper, cilantro, and jalapenos. Season with salt and pepper to taste. May be stored in the refrigerator, overnight, in a tightly closed jar.
Grilled pineapple: Cook the pineapple slices on a grill or under a broiler, turning once, until both sides are browned but not burned, then set aside to cool.
Final assembly: Toss the fluke slices with 1/4 cup of the orange tea vinaigrette. Arrange each pineapple slice on a plate and top with a slice of fluke. Spoon on some mango relish and top with sliced avocado. Season with Espelette and sea salt. Garnish with radish and spring onion.
Chef Jeffrey Paige's Pan-Seared Scallops with Mesclun Greens, Balsamic Vinaigrette, Crushed Pistachios, Tomatoes and Crumbled Bleu Cheese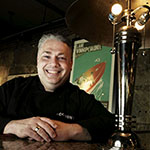 In 2000, Chef Jeffrey Paige opened Cotton, an American Bistro, in Manchester, NH's historic millyard district. The restaurant opened to critical acclaim being named "One of the Top 10 Neighborhood Restaurants in the Northeast" by Bon Appetite Magazine, labeled "a hip bistro" by the New York Times, a not-to-be missed restaurant in New England by National Geographic Traveler Magazine and Best Overall Restaurant in New Hampshire by New Hampshire Magazine.
Serves 4-6
Ingredients
1 – 7 ounce package organic spring salad mix
½ recipe Balsamic Vinaigrette (recipe below)
½ cup shelled pistachio nuts, crushed
8 each grape or cherry tomatoes, cut into quarters lengthwise
1 - 4 ounce container crumbled bleu cheese
2 lbs. U 20-30 count fresh dry-pack sea scallops
1 Tablespoon vegetable oil
tt kosher salt and freshly ground black pepper
Technique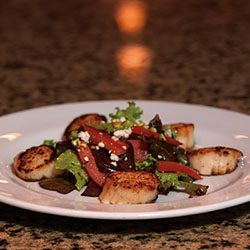 Heat the vegetable oil in large sauté pan over high heat.

Season the scallops with kosher salt and freshly ground black pepper. Carefully add the scallops, being careful not to over crowd the pan, cooking until bottoms begin to caramelize, 3-4 minutes. Flip the scallops and cook an additional 2-3 minutes.

While the scallops are cooking, combine the spring salad mix, pistachio nuts, tomatoes and crumbled bleu cheese in a large mixing bowl. Add the dressing and gently toss.

Evenly divide the salad mixture amongst the serving plates. Place the hot scallops around the salad and serve immediately.
Ingredients for Balsamic Vinaigrette
Yields 1.75 cups
1 cup soybean salad oil
1 tablespoon Dijon mustard
½ cup balsamic vinegar
¼ cup granular sugar
¼ teaspoon kosher salt
Pinch freshly ground black pepper
Technique
Combine all of the ingredients in a food processor or a blender.

Pulse just until the ingredients become emulsified.

Refrigerate until service. Will keep up to 5 days refrigerated.
Chef Adam Close's She Crab Soup
Nashville native Adam Close began his career in the restaurant industry as a line cook while working toward a degree in criminal justice from the University of Tennessee. The fast-paced environment of the restaurant industry attracted Close to the kitchen, and as he sharpened his skills, his passion for cooking emerged. Today, he is executive chef of Blossom in Charleston, SC.
Serves 10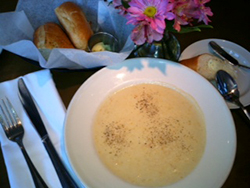 Ingredients
6 oz. butter
3 C celery, small dice
1 C onion, small dice
2 1/2 C all-purpose flour
3 C clam juice
1 qt whole milk
2 C heavy cream
1/2 C sherry
1 T lemon juice
1/2 T Worcestershire sauce
1/4 t cayenne pepper
1/4 t white pepper
1 T Kosher salt
1 bay leaf
1/4 lb. crab roe, cleaned and picked of shells
1/2 lb. domestic lump blue crab meat, clean and picked of shells
Technique
In a medium sized heavy bottom stock pot over medium heat, melt butter and gently sweat the vegetables until translucent.
Add flour and stir to combine well. Reduce heat to low and cook flour for 3-5 minutes.
Add remaining ingredients excluding only the crab meat and roe.
Continue to cook on low heat for 20-30 minutes stirring occasionally and noting that the soup will thicken as the cold liquids come up to temperature. Do not let the soup come to a boil.
After 30 minutes, add the crab meat and roe. Adjust seasonings as needed.
Chef Mark Usewicz's Catalan Style Monkfish and Clam Stew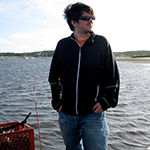 Mark Usewicz is the chef and co-owner of Mermaid's Garden, a Brooklyn-based sustainable seafood consultancy. His culinary education began at La Varenne Ecole de Cuisine in Paris. He followed culinary school with a stage at the renowned Michelin three-starred Restaurant Lucas Carton, where he had the extraordinary privilege to train under world class Chef Alain Senderens, one of the founding fathers of Nouvelle Cuisine. He spent 10 years cooking in Boston, starting out at Casablanca, then helmed by James Beard award-winning chef Ana Sortun. When he took the reins of his own kitchen at The Independent, Mat Schafer of the Boston Herald called him a "rising star." Mark left Massachusetts for New York, landing in Brooklyn, where he was the Executive Chef at the historic Montauk Club and Palo Santo Comedor y Bar de Vino in Park Slope.
Ingredients
1 pound monkfish, cut into 2" pieces
24 little neck clams
1/4 cup extra virgin olive oil
1 tbsp. parsley, chopped
3 garlic cloves, chopped fine
3/4 cup dry sherry
1 cup yellow onion, chopped
2 tomatoes, grated on a box grater
1 1/2 pounds potatoes, peeled and cut in 1/4" slices
2 cups fish or chicken stock or 1 cup clam juice mixed with 1 cup water
1 slice bread (baguette), fried in oil until golden brown
12 almonds, roasted until golden brown
1 orange, zest of
Flour for dredging
Salt and pepper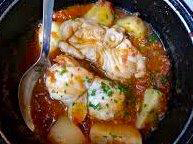 Technique
Make a picada by grinding the bread, orange zest, almonds, and a few drops of olive oil in a mortar and pestle or a food processor until it is a thick paste.
Season the fish with salt and pepper. Dredge the fish in flour and shake off the excess. Heat a dutch oven or heavy pot over medium-high heat. Add a tablespoon of oil to the pan and add the fish from the pan and add the remaining oil, garlic, and onions, and cok for 5 minutes and then add the tomatoes and season with salt. Cook until the tomatoes dry out and darken in color.
Add the sherry to the pan and reduce by half. Then ad the potatoes, stock, and fish. Cover and cook for 8 minutes over medium heat.
Add the clams and parsley to the pan and cook covered until all the clams have opened. Stir the picada into the pan and season to taste with salt and pepper.
Chef Jason Weiner's Squid a la Plancha with Romesco and Sea Beans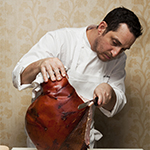 Jason Weiner is the executive chef and proprietor of Almond, an American bistro with locations in Manhattan and Bridgehampton, New York. Weiner serves hearty, seasonal dishes that reflect farm-to-table roots and highlight local ingredients. Weiners success as a chef and restaurateur can be largely attributed to his extensive experience at many of the countrys top kitchens.
Ingredients
For the saffron aioli:
2 large egg yolks
1 garlic glove, minced
Pinch of saffron threads
Salt
1 cup plus 3 tablespoons mild olive oil
A squeeze of fresh lemon juice
To make the aioli: In a mixer fitted with a whisk attachment, combine the egg yolks, garlic clove, saffron and a pinch of salt. Whisk at high speed while adding the oil drop by drop. As the mixture thickens, increase the oil to a very thin trickle until it is used up and the aioli is thick and wobbly. Adjust the seasoning with a squeeze of lemon juice and more salt, if needed. You'll end up with more sauce than you need.
For the Romesco sauce:
4 medium-size ripe tomatoes (1-3/4 lb. total), cored
2 tbsp. plus 1/3 cup extra-virgin olive oil
2 cups day-old bread, diced
1/2 cup slivered almonds (toasted)
2 canned piquillo peppers (seeded and drained)
1 tsp. kosher salt; more to taste
1 tsp. chile flakes
2 to 3 tbsp. sherry vinegar
Heat the oven to 375°F. Put the tomatoes and one half of the garlic head in a baking pan. Drizzle about 1 Tbs. of the olive oil into the cored tomato wells and on top of the garlic half. Roast until the tomatoes and garlic are well caramelized but not burnt, about 90 minutes. Toss the bread with 1 Tbs. of oil. Toast it in the oven for a couple minutes till until golden brown. From the remaining half head of garlic, coarsely chop 1 Tbs. garlic and put it in a food processor.
When the tomatoes and garlic are caramelized, let them cool. Pinch off the tomato skins (discard them) and squeeze out the garlic pulp. Put the tomatoes and garlic pulp in the processor. Add the salt, the remaining 1/3 cup olive oil, the bread, the vinegar, the piquillos, the almonds, and the chile flakes. Pulse to incorporate. Add salt to taste. Process the romesco until it comes together as a sauce but not so much as to lose its coarse, nutty texture. If it seems too thick, add 1 or 2 Tbs. red wine. If it's too thin, add bread, pulsing a few more times. You'll end up with more sauce than you need.
For the chickpeas:
1 can chickpeas (drained)
1 tbsp. olive oil
1 tbsp. ground cumin
1 tsp. salt
Toss all ingredients and spread on a cookie sheet. Toast in a preheated 375 oven for five minutes.

For the Squid:

2# Fresh Squid Cleaned and Rinsed
1 Bunch Basil (rough chopped, stems and all)
1 Tbs. Olive Oil
Toss ingredients together and stored wrapped and chilled until ready to cook.
For the Sea Beans:
1/2 lb. Sea Beans (blanched and shocked)
1 tbs. olive oil
1/2 tsp. chile flakes

Cooking and Assembly:

½ Avocado Diced

Heat a large heavy bottomed pan(preferably cast iron) till it smokes. Meanwhile, put about 2 or 3 tbs of the romesco and 1 tbs of saffron aioli on 4 dinner plates. Put the squid in the hot pan and cook on high heat till it caramelizes. Don't shake the pan, as this will inhibit the process. Remove the squid and allow it to cool slightly. In the meantime, quickly stir fry the sea beans with olive oil in the same pan. Add the chile flakes at the very end. Scatter the sea beans on the four plates. Now slice the squid as pictured and lay it on top of the sea beans. Now garnish with the chickpeas and diced avocado.
Chef Mary Sue Milliken's Grilled Fish Tacos with Cucumber Citrus Salsa
Mary Sue Milliken is co-chef/owner of the popular, critically acclaimed Border Grill restaurants in Downtown LA, Santa Monica, Las Vegas and coming soon to Los Angeles International Airport. She is also co-chef/owner of the gourmet taco truck phenomenon, the Border Grill Truck. A pioneer of world cuisine since the creation of City Café and CITY Restaurant in Los Angeles in the 1980's, Mary Sue is a preeminent ambassador of modern Mexican cuisine, setting the standard for gourmet Mexican fare for over two decades.
Serves 4
Ingredients
1 1/2 pounds Pacific Coast Lingcod fillet*
Extra virgin olive oil, for drizzling
Salt and freshly ground black pepper, to taste
12 4- to 6-inch corn tortillas, warmed**
6 lettuce leaves, torn in half
Cucumber Citrus Salsa (see recipe)
Border Guacamole (see recipe)
24 thin radish slices
Technique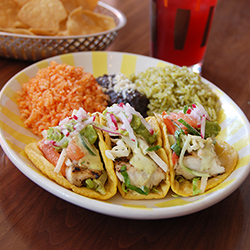 Preheat a medium-hot grill, broiler oven, or pan on the stovetop over medium-high heat. Drizzle the fish with olive oil, season with salt and pepper, and cook until barely done, for 2 to 5 minutes per side, depending on the thickness. Remove the fish from the grill or pan, let cool slightly, and then pull apart into large flakes.

Place the warm tortillas on a work surface. Line each with a piece of lettuce and top with chunks of fish. Top each with a very generous spoonful of Cucumber Citrus Salsa with lots of juice. Finish with a dollop of Border Guacamole and a couple radish slices and serve immediately.

* Wild-caught, Pacific Coast Lingcod is a "Good Alternative" for sustainable seafood according to the Monterey Bay Aquarium Seafood Watch. For more info about sustainable seafood choices, go to seafoodwatch.com.

** To warm, dip corn tortillas in water, shaking off excess. Toast, in batches, in a nonstick pan over moderate heat, about 1 minute per side. Wrap in towel to keep warm.
Cucumber Citrus Salsa
Makes about 3 cups

1 orange
1 lime
1/2 pink grapefruit
2 pickling or Persian cucumbers, cut into julienne (about 2/3 cup)
1/2 small jicama, peeled and cut into julienne (about 1/2 cup)
1/8 head green cabbage, cut into julienne (about 1/3 cup)
1/2 small red onion, cut into julienne (about 1/4 cup)
2 serrano chiles, stemmed and sliced into thin rounds
1/2 bunch cilantro, chopped (about 1/3 cup)
2 tablespoons extra virgin olive oil, preferably Spanish
2 tablespoons freshly squeezed lime juice
1 teaspoon salt
1/2 teaspoon freshly ground black pepper

Slice ends off orange, lime, and grapefruit and stand upright on a counter. Cut away peel and membrane, exposing fruit. Working over a bowl to catch the juices, separate the citrus sections by slicing with a knife between membranes. Remove and discard seeds. Cut the citrus segments into small dice and add to the bowl with all the juices. Stir in remaining ingredients thoroughly, cover, and let sit in refrigerator 5 to 10 minutes for flavors to combine.

Border Guacamole

Makes 3 cups, or 6 appetizer servings

5 ripe California avocados, preferably Hass
6 tablespoons chopped fresh cilantro
1 medium red onion, diced
4 jalapeno chiles, stemmed, seeded, and finely diced
3 tablespoons freshly squeezed lime juice
1 1/2 teaspoons salt
1/2 teaspoon freshly ground black pepper

Cut the avocados into quarters. Remove the seeds, peel, and place in a mixing bowl. Mash with a potato masher or fork until chunky. Add the remaining ingredients and combine with a fork. Serve immediately.
Chef Nico Romo's Poached Summer Flounder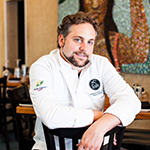 Chef Nico Romo is the youngest ever to be awarded the coveted title Master Chef of France – joining an elite assembly regarded as the most highly skilled in techniques and traditions of the French culinary art. Originally from Lyon, France, Chef Romo graduated from the Helene Boucher Culinary Art School in Vénissieux at age 19. After refining his skills with Master Chef Patrick Henriroux at La Pyramide Restaurant in Vienne, France, he moved to the United States and opened restaurants from Tennessee and Georgia to South Carolina, where he now resides and shares his cuisine at Fish Innovative Cuisine in Charleston. He prides his restaurants on their French cuisine with Asian touches, as well as his locally harvested ingredients.
Serves 1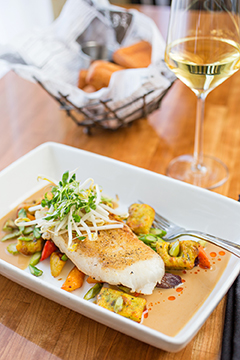 Ingredients
4 tablespoons butter
1 teaspoon Sriracha sauce
1 teaspoon lime juice
1 ounce parsley, chopped
6 ounces summer flounder
Salt and pepper to taste
1 vacuum bag
4 ounces green beans
1 small carrot, sliced
1 cup chicken stock
1 teaspoon ground ginger
1 ounce maple syrup
Technique
Melt the butter with the Sriracha, the lime juice and chopped parsley. Season the flounder with salt and pepper then place it in the vacuum bag with the butter sauce. Seal the vacuum bag, and cook the flounder in boiling water or a steamer for 10 minutes.

Meanwhile, sauté the green beans and carrots in chicken stock with the remaining butter, ground ginger, maple syrup, salt and pepper to taste. Place the flounder in the bowl and surround with vegetables. Top with the remaining sauces.
Chef Nico Romo's Scup Bouillabaisse
Servings: 1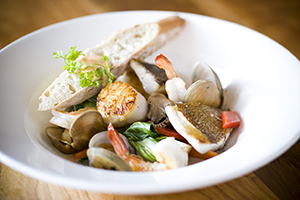 Ingredients
For the broth:
½ onion, diced
½ cup white wine
½ t powdered saffron
¼ cup ginger, chopped
¼ cup garlic, chopped
¼ t black pepper, freshly ground
½ pc lemon grass, chopped
1 sprig Kaffir lime
1 celery stalk, chopped
1 lime, juiced
2 t salt
a couple fish bones
Technique
Mix all the ingredients together.
Cook for 25 minutes and bring to simmer.
Skim.
Pass through chinois.
For the vegetable:
¼ red pepper
⅔ cup white wine
½ celery
½ fennel
¼ t black pepper, freshly ground
1 fingerling potato
1 pc baby bok choy
1 tomato
3 oyster mushrooms
For the Bouillabaisse:
4 oz. mid-Atlantic scup
4 oz. sea scallops
4 oz. shrimp
4 pc soft shell/steamer clams
¼ cup olive oil
½ shallots, thinly slice
½ cloves garlic, crushed
1 pc sliced French baguette bread
Technique
Heat olive oil in a large (6-qt) saucepan. Sear scallops, fish, shrimp, then remove them from the pan.

In the same pan drop the clams with the garlic and shallots, then add the broth and bring to boil.

Add vegetable in the broth. Cook all together until the vegetable are crunchy and your clams are cooked.

Sauté for one minute then add crushed garlic and sweet red pepper.
Add tomato, celery, and fennel.

Stir the vegetables into the oil with a wooden spoon until well coated. Then add another 1/4 cup of olive oil.

Cook until the onion is soft and golden but not brown.

Place a thick slice of crusty French bread, plain or slightly toasted.
Chef Nico Romo's Blue King Crab Rangoon
Serves 24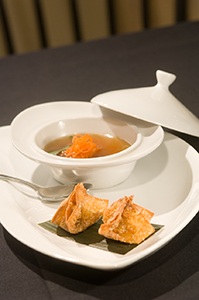 Ingredients
1 pack Boursin cheese
1 lb. lump Blue King crabmeat
1 pack, 20 pieces of Wonton wrappers
½ gallon of frying oil
6 oz. plum sauce
2 shallots
1 oz. chives
2 oz. rice wine vinegar
Technique
Combine Boursin cheese and lump crab meat.

Place small dollop inside the wonton wrap and seal.

Heat frying oil to 350 degrees F. Deep fry the wontons until they are deep golden brown.

Top with the mixture of plum sauce, rice wine vinegar, chives and chopped shallots.
Chef Jason Hippen's Red Grouper with Spring Vegetables, Chive Flowers, and Lemon Beurre Blanc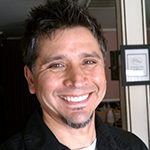 A graduate of the Academy of Culinary Arts in Mays Landing, Jason has worked and Trailed from the Atlantic to the Pacific in top kitchens including Morimoto, Marea, Whisknladle and Addison at the Grand Del Mar was also opening Sous Chef for 2 restaurant projects in Atlantic City, Red Square and Buddakan.

With passion, dedication and philosophy, it led him to appreciate local and sustainable offerings of the Jersey Shore, where the "main ingredient" driven style cooking with classical & modern technique he studied while working or traveling in Europe, California and Asia. With experience in several top kitchens, world travel and a culinary heritage from his Thai mother, Chef Jason will bring his vision of clean, fragrant & delicate cuisine using the best local and sustainable ingredients from around the world.
Ingredients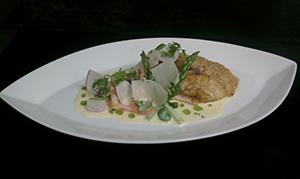 7 oz red grouper skinned
1 small celery root, shaved thin
3-5 ea. standard size green asparagus spears peeled, ends removed
1 oz breakfast radish
Spring heirloom carrots or baby carrots
2 oz spring peas
Chives with flowers
Juice of 1 whole lemon
1 cup white wine
2 Thyme sprigs
1 Whole shallot sliced thin
3 Tablespoons of heavy cream
1/2 cup unsalted cold butter cubed
Kosher salt & white pepper to taste

Technique
For the lemon beurre blanc:
Lightly simmer wine, shallots and thyme sprigs in a non reactive pot until almost dry.Add heavy cream and simmer till cream coats the back of a spoon. Whisk in butter cubes till emulsified and rich. Squeeze in lemon juice and season to taste. Strain and keep warm.
For the spring vegetables:
Boil a pot of water and season with salt. Peel carrots, harvest peas from pod and cut breakfast radish in half. Peel Asparagus, remove ends. Blanch spring vegetables till tender crisp. Remove from water and add to beurre blanc.
For the red grouper:
Season fish with salt.

Heat a sauté pan with canola oil medium high heat and lightly sear fish for 3 minutes. Flip and cook for 1 minute then turn off heat.

Place spring vegetables & sauce on plate. Top with red grouper filet.

Mix chopped chives and celery root with lemon juice, season. Garnish with chive flowers and celery root salad. Enjoy a taste of spring sustainability.
Chef Gary Giberson's Pan Seared Speck Wrapped Summer Flounder with Casino Butter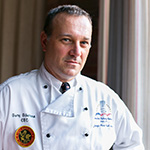 Gary Giberson, a professional chef, is a leader in sustainable dining. He joined The Lawrenceville School as Executive Chef in 1998, and began to develop the school's sustainable dining program in 2003. In 2007 he founded the food service company Sustainable Fare LLC, with a focus on integrated sustainable food systems. Gary has earned the Certified Executive Chef designation from the American Culinary Federation and is certified by the State of New Jersey as a Master Composter. He is a member of Slow Food USA and a Terra Madre U.S. Delegate (2006, 2008), a Board Member of Fair Food, and New Jersey Farm to School.
Serves 4
Ingredients
4 – 6 to 8 oz. filets of Summer Flounder Filets skin removed
4 slices of speck
Flour to dust filets
Salt & Pepper to season
2 tablespoons olive oil
For the Casino Butter:
1 large garlic clove minced
½ cup of Sweet Red Pepper diced small
½ cup green pepper diced small
½ cup onion diced small
6 tablespoons sweet unsalted butter
½ cup dry white wine
Dash crushed red pepper flakes
½ teaspoon fresh oregano minced
Technique
Pre-heat oven to 350` season filets with salt and pepper and wrap with speck.

Over high heat in a non stick fry pan, add olive oil and brown filet on all sides. Remove from pan and place on cookie sheet.

Place filets in oven and continue to cook until fish filets are cooked thru. About (4 to 5 minutes depending on thickness of filet)

Add garlic, onion, red and green pepper and pepper flakes to pan and sauté until onions are translucent. ( About 3 minutes)

Add white wine and deglaze pan allowing the wine to reduce. Finish sauce by adding butter to the pan by the tablespoon and whisking in the butter on a low flame.

Add oregano and taste sauce for seasoning and adjust if needed.

Place fish on warm plates and top with casino butter sauce.