The Rise of Non-Precinct Place Voting
Recent data from the Census Bureau show that people are increasingly voting outside the traditional polling place, a shift that greatly impacts how election officials prepare and pay for elections.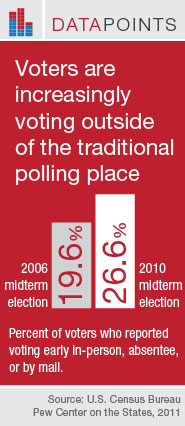 In 2010, the Census's Current Population Survey reported:
18.2 percent of respondents voted absentee or by mail
8.4 percent voted early in-person, and
73.4 percent voted on Election Day.
This compares with the last midterm election in 2006, which found:
13.8 percent of respondents voted by mail
5.8 percent early, and
80.4 percent on Election Day.
Additionally, six states saw an increase of more than 10 percentage points in voters returning their ballots by mail from 2006 to 2010: Arizona, Colorado, Montana, North Dakota, Ohio, and Washington. In-person early voting grew by more than 10 percentage points in four states during this time frame: Georgia, Nevada, New Mexico and North Carolina.