Pew Praises Designation of Nevada and Utah Desert National Monuments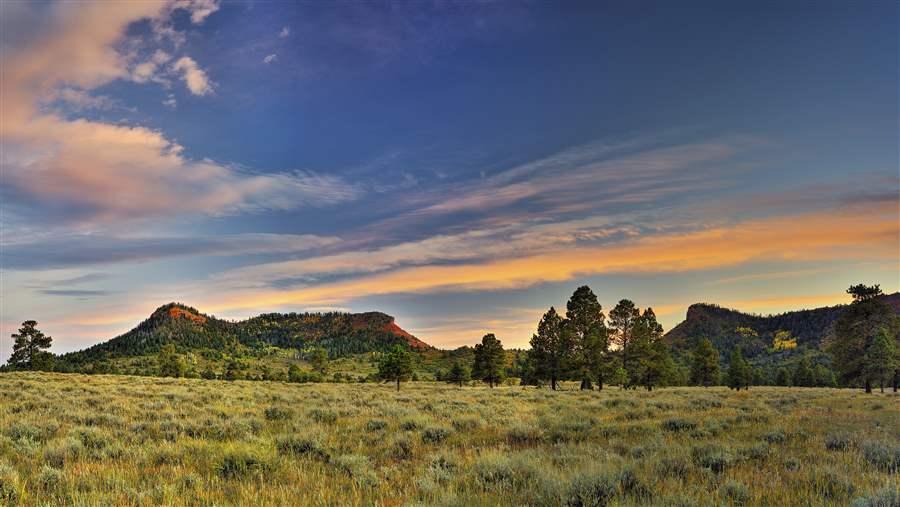 Bears Ears is home to sinuous canyons, towering red-rock formations, arches, pinyon-juniper forests, colorful mesas, and desert rivers. These features help to create a scenic and ecological treasure that supports a host of plant and animal species.
© Tim Peterson/Grand Canyon Trust
WASHINGTON—The Pew Charitable Trusts praised the Obama administration's designation today of two new national monuments: Bears Ears in southern Utah and Gold Butte in southeastern Nevada. The Bears Ears area features canyons, towering red-rock formations, arches, pinyon-juniper forests, colorful mesas, and desert rivers. Gold Butte comprises rugged Mojave Desert mountains, Joshua trees, yucca forests, and dramatic sandstone outcroppings.
Tom Wathen, Pew's vice president for the environment, released the following statement:
"President Barack Obama's designation of national monuments in southern Utah and southeastern Nevada marks a significant addition to an already notable legacy of public lands protected by his administration.
"The Bears Ears region of southern Utah is deeply sacred land to the 30 tribes that joined together to ask for its protection. It's an expansive, sweeping landscape, a largely intact example of three ecological zones—rising from Comb Wash at a lower elevation to Cedar Mesa and Grand Gulch, and up to the higher ponderosa pine forest of Bears Ears itself. The region is full of incredible cultural sites, including cliff dwellings, underground pit houses, shrines, and rock art panels.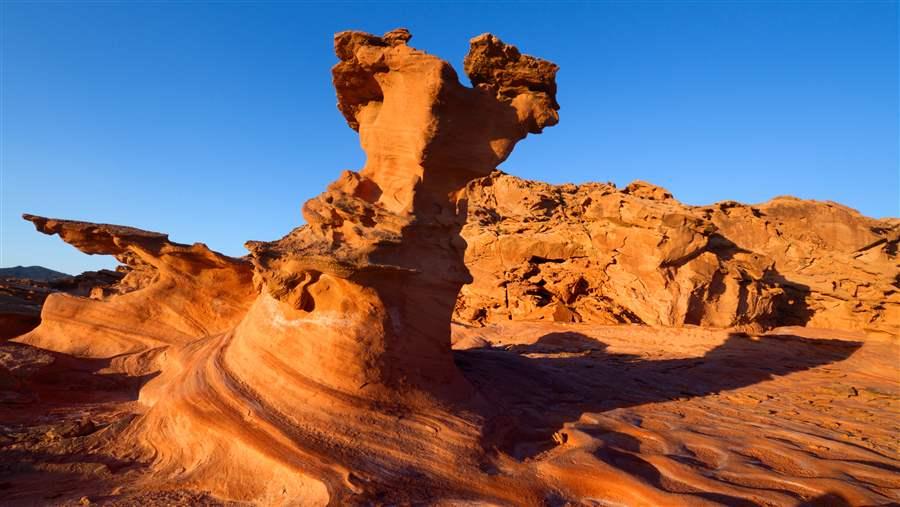 Red sandstone formations known as hobgoblins—sculpted by wind and water over eons—rival the best of the southwestern deserts.
© Getty Images
"Gold Butte, which has been called Nevada's piece of the Grand Canyon, is a treasure-trove of cultural, historic, and natural wonders. Native American petroglyphs and shelters dating back more than 12,000 years are found throughout the area. Its dramatic geologic formations—slot canyons and alcoves, stunning red rock, and countless canyons and washes—rival the most spectacular of the southwestern deserts.
"Preserving special places like Bears Ears and Gold Butte boosts local communities by encouraging tourism, increasing expenditures at local businesses, and creating a desirable place for people to live and work. Now that these areas are national monuments, future generations are assured of opportunities to experience the great outdoors through hiking, hunting, birding, camping, off-road-vehicle riding on designated trails, and traditional tribal uses.
"Conservation of Bears Ears and Gold Butte was achieved through the Antiquities Act of 1906. Presidents may use the Antiquities Act—one of our nation's bedrock preservation tools—to preserve natural, historical, and cultural landmarks for future generations. Republican and Democratic presidents alike, including Theodore Roosevelt, Harry Truman, and George W. Bush, have relied on it to safeguard our nation's heritage.
"The Antiquities Act was enacted by Congress 110 years ago to protect America's cultural and natural resources, and it is just as important as a land conservation tool today.
"We commend President Obama for listening to the views of the tribes, local community members, and Americans from coast to coast who wanted to see these spectacular landscapes passed down to those who come after us."
The Pew Charitable Trusts is driven by the power of knowledge to solve today's most challenging problems. Learn more at pewtrusts.org.