Pew Awards Author Paul Greenberg the 2014 Fellowship in Marine Conservation
Paul Greenberg—an award-winning journalist and author of the New York Times bestseller, Four Fish: The Future of the Last Wild Food—has been awarded a 2014 Pew fellowship in marine conservation to prepare a book focusing on the human demand for Omega 3 fatty acids found in seafood and its impact on the sustainability of the world's oceans.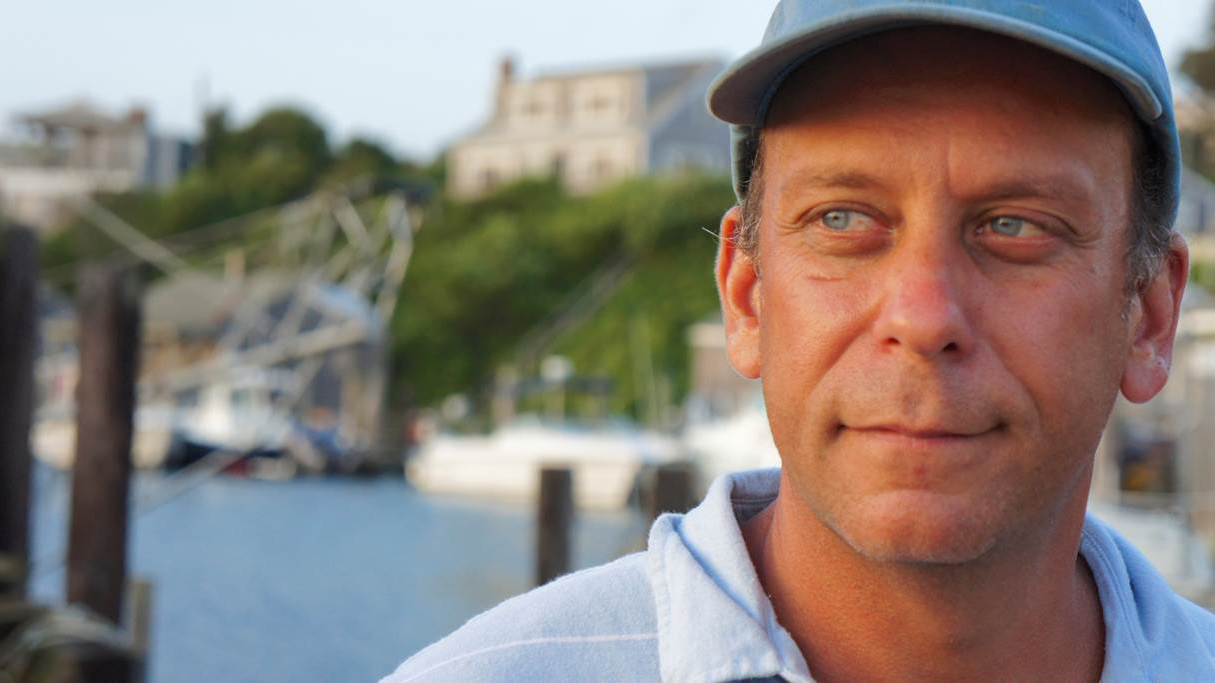 © Justin Schein
The Pew Fellows Program in Marine Conservation awards recipients US $150,000 for a three-year project to address conservation challenges facing our oceans. Greenberg's project will support research for his new book, which will look at the ocean's most elemental life forms – including krill and forage fish—and trace the way they convey essential nutrients for our food. He will also examine the threats facing these crucial organisms from humans.
"There is a growing desire in the world to have a more informed relationship with our food and to do what's best for the environment," said Greenberg. "My hope is that my new book will build links between our demand for fish and the complete dismantling of the very bottom rungs of the marine food web."
Omega-3 fatty acids are recognized as beneficial to human health. People typically obtain these nutrients from eating fish and/or taking dietary supplements made primarily from menhaden, krill, and other forage fish. However, the abundance of these small species is also essential to well-functioning marine ecosystems. Greenberg's book is intended to increase public understanding of marine food webs and the threats they face from overfishing, depletion of forage species, ocean acidification, and a warming climate.
"Sustainability of our oceans is a growing global priority, as well as a concern for food and nutrition," said Joshua S. Reichert, executive vice president and head of environment initiatives for The Pew Charitable Trusts. "Greenberg's study will address our relationship with the ocean's smallest organisms, the very foundation of the food web for people as well as thousands of animals including whales, seals, and fish."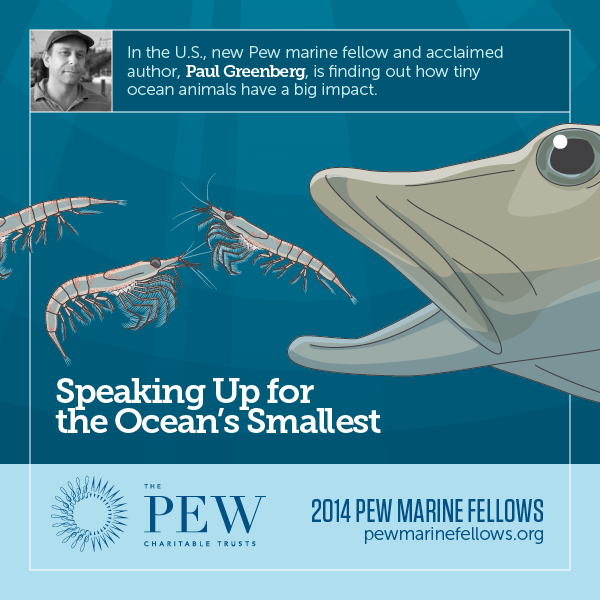 Speaking up for the Ocean's smallest
Paul Greenberg's project will result in a new book about the intersection of nutrition and ocean sustainability.
Greenberg won the James Beard award for Writing and Literature for his book Four Fish: The Future of the Last Wild Food and his next book American Catch: The Fight for Our Local Seafood will be released in June. A regular contributor to the New York Times, he lectures widely on seafood and ocean sustainability. Greenberg also has been awarded a National Endowment for the Arts Literature Fellowship, a W. K. Kellogg Foundation Food and Society Policy Fellowship, a marine conservation fellowship at the Blue Ocean Institute, and writing residencies at New York's South Street Seaport Museum and Italy's Liguria Study Center. He currently lives next door to Manhattan's Ground Zero with his family where he maintains a terrace vegetable garden and a one-bottle-a-year winery.
The Pew Fellows Program in Marine Conservation has awarded 135 fellowships to individuals from 31 countries. The fellowships fund projects that address critical challenges in ocean conservation. Through a rigorous nomination and review process, a committee of international ocean experts each year selects five marine fellows based on the strengths of their proposed projects, including their potential to protect ocean environments. Novel and timely projects led by outstanding professionals are chosen annually, targeting individuals in mid-career. The program is managed by The Pew Charitable Trusts in Washington, D.C. The four other recipients in 2014 are:
More information about each of the 2014 Pew marine fellows, including photographs and graphics, is available at www.pewmarinefellows.org.