Global Clean Energy Investment a Record $263 Billion in 2011
Global clean energy finance and investment grew to $263 billion in 2011, a 6.5 percent increase over the previous year, according to new research released by The Pew Charitable Trusts. Among Group of Twenty (G-20) nations, the United States reclaimed the top spot from China, which led the global clean energy race since 2009. Germany, Italy, the United Kingdom, and India were also among the nations that most successfully attracted private investments last year.
"Clean energy investment, excluding research and development, has grown by 600 percent since 2004, on the basis of effective national policies that create market certainty," said Phyllis Cuttino, director of Pew's Clean Energy Program. "This increase was due in part to the number of countries that have implemented effective national policies to support the clean energy market. In the United States, which attracted $48 billion last year, investors took advantage of the country's stimulus programs before they expired at the end of 2011, as well as the production tax credit for electricity from renewable energy, which is to end this December."
Explore Pew Environment Group's interactive map.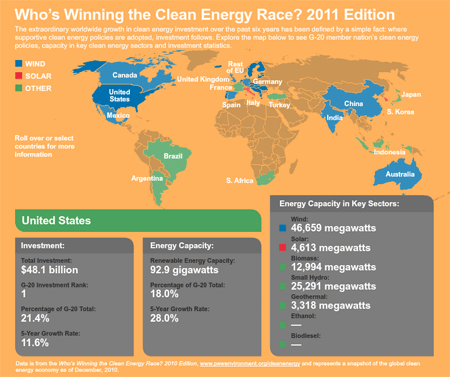 Among renewable technologies, solar increased globally by 44 percent, attracting $128 billion and accounting for more than half of all clean energy investment among members of the G-20. Dramatic price declines, with the cost of solar modules dropping by half in the past 12 months, fueled the activity. Wind prices also were lower in 2011.
The combination of falling prices and growing investments accelerated installation of clean energy generating capacity by a record 83.5 gigawatts (GW) in 2011. Almost 30 GW of new solar and 43 GW of wind power were deployed. Renewable power generating capacity, at 565 GW globally, was nearly 50 percent more than installed nuclear generating capacity in 2010.
"The clean energy sector received its trillionth dollar of private investment just before the end of 2011, demonstrating significant growth over the past eight years," said Michael Liebreich, CEO of Bloomberg New Energy Finance, Pew's research partner. "Solar installations drove most of the activity last year as the falling price of photovoltaic modules, now 75 percent lower than three years ago, more than compensated for weakening clean energy support mechanisms in a number of parts of the world."
China attracted $45.5 billion in clean energy investment, which spurred deployment of 20 GW of wind power, the most of any nation. Germany ranked third among the G-20 with $30.6 billion and 7.4 GW of solar power installed.
Italy received $28 billion in clean energy financing last year, an increase of 38.4 percent from 2010, enabling deployment of a record of nearly 8 GW of solar generating capacity. Over the last five years, no G-20 country has experienced higher growth rates than Italy, which led the world with investment levels relative to the size of its economy.
India's clean energy sector continued to flourish in 2011, with investment up 54 percent to $10.2 billion. India's "National Solar Mission," with a goal of 20 GW of power installed by 2020, helped drive the sevenfold jump in this type of energy, to $4.2 billion. Wind received $4.6 billion, and an additional 2.8 GW of capacity was installed during the year.
Who's Winning the Clean Energy Race? examines how nations are faring in the increasingly stiff competition for private investment among the world's leading economies. Investment in G-20 countries accounted for more than 95 percent of the global total. Amounts are listed in U.S. dollars.
Other key findings from the report include:
Led by 42 percent growth in the United States and 15 percent in Brazil, investment in the Americas region grew by more than 21 percent to $63.1 billion, faster than any other region.
The clean energy sector in the Asia/Oceania region increased more than 10 percent to $75 billion. Relatively flat investment in China was mitigated by sharp gains in India, Japan, and Indonesia, which were among the fastest-growing clean energy markets in the world.
The clean energy sector in the European region grew by a modest 4 percent but remains the leading destination for such investment, at $99.3 billion. Significant investment growth in Italy, the United Kingdom, and Spain helped to offset declines in other European Union member states. Germany and Italy continue to lead the world in deployment of small, distributed solar photovoltaic power installations, accounting for more than 50 percent of worldwide solar capacity additions, and 38 percent of G-20 solar technology investments.
The United States remains the leader in venture capital financing, an important measure of energy innovation, attracting $6 billion, or 70 percent of the G-20 total. Germany and China were distant followers, with $635 million and $458 million, respectively, in venture capital investments.
Read the entire report, including country profiles and interactive graphics, at www.PewEnvironment.org/CleanEnergy.
Press releases (PDFs):