Bahamas Acts to Protect Sharks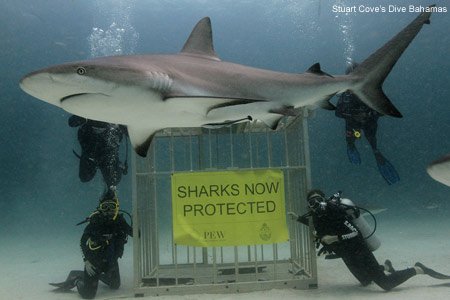 Sharks in The Bahamas can breathe more easily after the nation's government announced today that all commercial shark fishing in the approximately 630,000 square kilometers (243,244 square miles) of the country's waters is now prohibited.

"2011 is fast becoming the year of the shark," said Jill Hepp, manager of global shark conservation for the Pew Environment Group. "Today's announcement permanently protects more than 40 shark species in Bahamian waters. We applaud the people and government of The Bahamas for being bold leaders in marine conservation."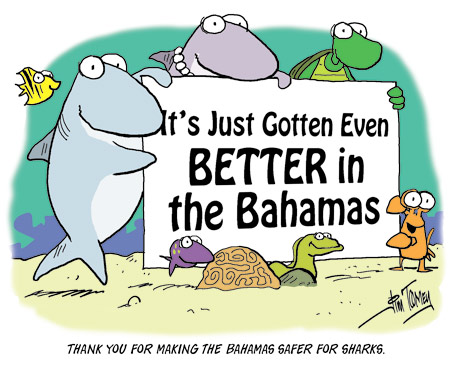 The island nation joins Palau, the Maldives and Honduras in prohibiting the commercial fishing of sharks. Together, this adds up to almost 2.4 million square kilometers (926,645 square miles) of ocean, where these animals can now swim safely. The Bahamian sanctuary was created by adding an amendment to the Fisheries Resources (Jurisdiction and Conservation) Act (Chapter 244) to prohibit commercial shark fishing along with the sale, importation and export of shark products.

"The Bahamas' prohibition on longline fishing gear 20 years ago protected the marine resources of The Bahamas and ensured that our shark populations would remain healthy," said Eric Carey, executive director of The Bahamas National Trust (BNT). "But there were no specific laws in The Bahamas for sharks, the crown jewels of ocean health. The new regulations signed this morning by Minister Cartwright, ensure that that sharks can continue to thrive for generations in our waters, one of the world's best places to see sharks."
The new sanctuary is the result of a partnership between the Pew Environment Group and BNT, which began just as a major Bahamian seafood company announced its intention to catch sharks and export their fins. Globally, commercial fisheries kill up to 73 million sharks annually (threatening the future existence of many species)—mainly for their fins. The collaboration between the Pew Environment Group and BNT produced popular public service announcements and a supportive petition signed by more than 5,000 Bahamians. Staff also coordinated outreach trips to support shark protections by Pierre-Yves Cousteau (son of Jacques Cousteau), scientist and artist Guy Harvey, and Sherman's Lagoon cartoonist Jim Toomey.
"We congratulate the Right Honorable Hubert Ingraham, the Bahamian Prime Minister, and Lawrence S. Cartwright, Minister of Agriculture and Marine Resources, for acting to save sharks, the ocean's apex predator," said Hepp.
Listen to an audio recording of the July 5 press briefing.
Find Out More:
In this first video, produced in April 2011, experts illustrate the importance of healthy shark populations to the Bahamas, known as the shark diving capital of the world.
Here, Bahamian children and a representative from The Bahamas National Trust spell out just how valuable sharks are to the local economy.
Map of the new shark sanctuary in The Bahamas: