Global Clean Energy Investment Reached Record $243 Billion in 2010
Global clean energy finance and investment grew significantly in 2010 to $243 billion, a 30 percent increase from the previous year. China, Germany, Italy and India were among the nations that most successfully attracted private investments, according to new research released by The Pew Charitable Trusts.
China continued to solidify its position as the world's clean energy powerhouse. Its record $54.4 billion in investments in 2010 represents a 39 percent increase from 2009. Germany was second in the G-20, up from third last year, after experiencing a 100 percent increase in investment to $41.2 billion.
Explore Pew Environment Group's interactive map.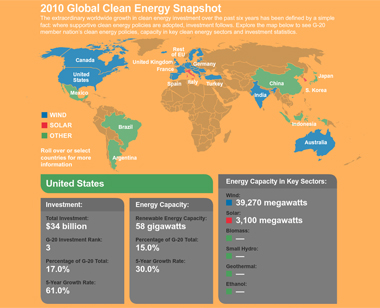 "The clean energy sector is emerging as one of the most dynamic and competitive in the world, witnessing 630 percent growth in finance and investments since 2004," said Phyllis Cuttino, director of Pew's Clean Energy Program. "Countries like China, Germany and India were attractive to financers because they have national policies that support renewable energy standards, carbon reduction targets and/or incentives for investment and production and that create long-term certainty for investors."
The United States, which had maintained the top spot until 2008, fell another rung in 2010 to third with $34 billion. The United Kingdom experienced the largest decline among the G-20, falling from fifth to 13th. The report suggests that uncertainty surrounding clean energy policies in these countries is causing investors to look elsewhere for opportunities.
Italy attracted $13.9 billion in clean energy financing last year, improving its global standing to fourth, from eighth in 2009. Italy is the first country to achieve grid parity, or cost-competitiveness, for solar energy. For the first time, India joined the top 10 ranking, attracting $4 billion, a 25 percent increase.
Wind power continued to be the favored technology for investors at $95 billion. However, the solar sector experienced significant growth in 2010, with investments growing 53 percent to a record $79 billion and more than 17 gigawatts of new generating capacity globally. Germany accounted for 45 percent of global solar investments.
"Looking at global trends, the solar sector experienced the strongest growth among the various technologies, led by small-scale residential projects," said Michael Liebreich, CEO of Bloomberg New Energy Finance. "Declining prices and important government support helped the solar sector achieve 40 percent of total clean energy investment in 2010."
With underlying data compiled by Pew's research partner Bloomberg New Energy Finance, Who's Winning the Clean Energy Race? 2010 Edition examines how nations are faring in the increasingly stiff competition for private investment among the world's leading economies, known collectively as the Group of Twenty (G-20). Investments in the G-20 countries accounted for more than 90 percent of the global total.
Other key findings from the report include:
Regionally, Europe remained the leading recipient, attracting $94.4 billion, led by Germany ($41.2 billion) and Italy ($13.9 billion).
The Asia/Oceania region, led by China, continued its sharp rise, attracting $82.8 billion, a 33 percent increase over the previous year.
The Americas also saw investment grow 35 percent, but as a region it remains a distant third, attracting $65.8 billion.
Investments in small-scale, residential solar grew by 100 percent to $56.4 billion in the G-20. Germany accounts for nearly half the total, followed by Japan, France, Italy and the United States.
Installed generating capacity increased to 388 gigawatts from wind, small-hydro, biomass, solar, geothermal and marine, with China accounting for more than 25 percent of the global total.
Excluding research and development funding ($35 billion), investment totaled $198 billion.
Increasing 15 percent to $118 billion, asset financing accounted for the majority of private investment in G-20 countries.
Public market financing grew 27 percent to $15.9 billion, as companies launched public stock offerings to raise capital for expansion.
Venture capital/private equity investments in clean energy increased 26 percent to $8.1 billion. The U.S. led with $6 billion, three-quarters of the G-20 total.
Read the entire report, including country profiles, interactive graphics and video at www.PewEnvironment.org/CleanEnergy.
Associated Report: Who's Winning the Clean Energy Race? 2010 Edition (PDF)