Webinar: Flooding Threatens Public Schools Across the Country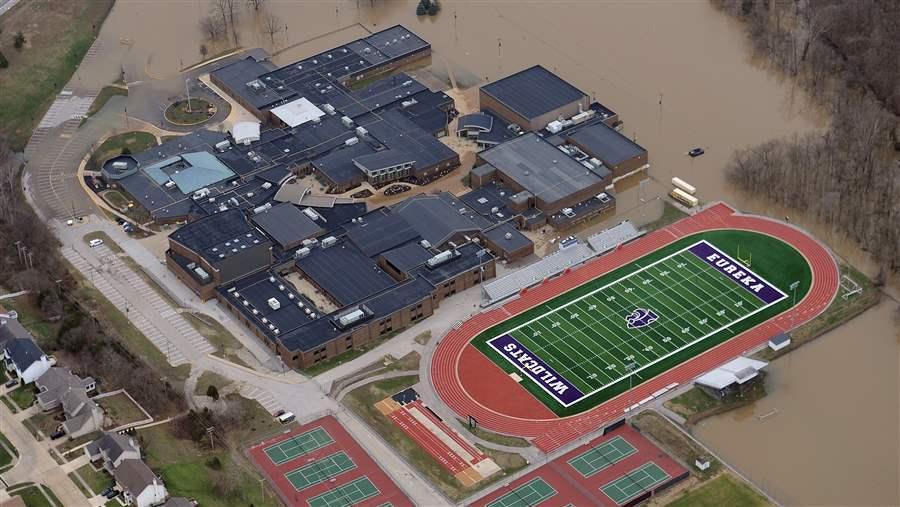 Floodwaters surround a high school in Eureka, Missouri, in December 2015, when the Mississippi, Missouri, and Meramec rivers crested at record levels after days of rainfall.
© Michael B. Thomas/Getty Images
Please join The Pew Charitable Trusts for an online briefing of research examining the flood risk faced by public schools. Flooding is the most common and costly natural disaster in the United States and affects nearly every facet of a community's infrastructure. To learn more about the impact of flooding on schools, Pew's flood-prepared communities initiative and research partner ICF evaluated public school data to develop a composite flood risk score at the county level for schools in all 50 states. They also analyzed the factors that influence a school's flood risk and explained how these differ across regions and what policymakers can do to help reduce this risk to their schools.
Speakers include:
Laura Lightbody, director of Pew's flood-prepared communities initiative
Dr. Judsen Bruzgul, senior manager, ICF
Jonathan E. Westcott, civil/coastal engineer, FEMA Building Science Branch
Date:
Tuesday, August 1, 2017