Shark Attack Survivor: Michelle 'Micki' Glenn, 51, DeFuniak Springs, Florida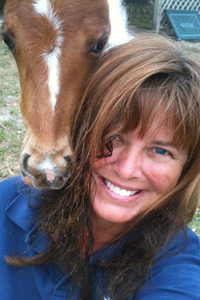 In 2002, Michelle Glenn was snorkeling on French Cay in Turks & Caicos when a seven-foot reef shark suddenly approached and slid up her body. Glenn gazed into the shark's eye, mere inches from her face. Abruptly, the shark turned and swam away. But before Glenn could exhale in relief, she felt a surge of water. The shark's jaws clamped around the entire upper right side of her body, thrashing her like a rag doll and ripping 64 square inches from her upper back, half her armpit, her entire triceps and most of her biceps. The predator severed an artery and all three nerves to her right arm. Her husband -- an orthopedic trauma surgeon --- and other medical personnel on a nearby boat leaped into action to stem the massive bleeding. But given their remote location, it would take seven agonizing hours to reach a hospital – a journey that took her from dinghy to police boat, ambulance, Coast Guard jet and helicopter.
Glenn nearly lost her arm but doctors worked long hours to save it. Today her right hand remains paralyzed. But she resumed diving two years after the attack. She has a deep abiding love for sharks, and feels that when we enter the water, we enter their environment and should respect them for what they are: an amazing link at the top of nature's food chain, vital to the health of our planet. More of Glenn's story may be found at More Magazine and in Laurence Gonzales' new book, Surviving Survival.