Shark Attack Survivor: Krishna Thompson, 46, Long Island, New York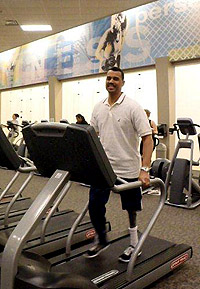 Krishna Thompson lost his leg in 2001 after a struggle with a bull shark in the Bahamas. He and his wife were celebrating their 10th wedding anniversary when Thompson set out alone on an early morning swim. The shark dragged him underwater and ripped away most of his leg. Breathless and bleeding profusely, Thompson made his way to shore, where passersby helped him. He was rushed to the hospital, near death, and doctors amputated his leg.

After a long recovery, the Wall Street banker walks with a prosthesis, swims, works out at the gym, and occasionally plays basketball. His deadly encounter made him realize the urgency of having children, and today he is the father of a son, Chad, 4 and daughter, Indira, 9. Aside from his shark conservation work for the Pew Environment Group, Thompson is a motivational speaker, counsels other amputees, does promotional work for a prosthetics company, and promotes the importance of blood donations.