Shark Attack Survivor: Al Brenneka, 54, Fort Lauderdale, Florida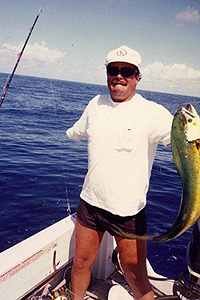 Al Brenneka lost an arm in 1976 to a lemon shark while surfing at a South Florida beach. He found that few people could empathize with his situation and turned to counseling other survivors in 1986. About a decade later, he started a website for shark attack survivors to share their experiences, www.sharkattacksurvivors.com, which also logs shark attack incidents and keeps a news archive.

After initially hunting sharks in revenge for his attack, he learned more about their plight and became an advocate for protection. Brenneka, who works in the computer industry, regularly tags sharks for research purposes and maintains a website for worldwide shark information, www.sharkyear.com. He is also invited to speak at events on the plight of the ocean's top predator. Although Brenneka gave up surfing, he still enjoys diving and fishing.
Click to here to learn more about other shark attack survivors.