Os Ministros das Pescas da UE permitem a sobrepesca por mais um ano
Os novos limites de captura são superiores aos recomendados pelos pareceres científicos, apesar de se aproximar o prazo de 2020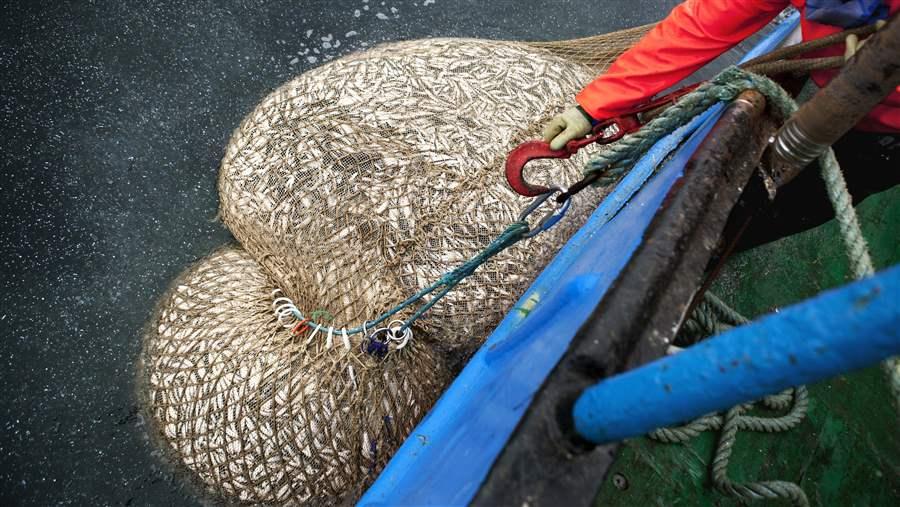 Um pescador na Polónia prepara-se para puxar redes da água. Apesar de um compromisso juridicamente vinculativo no sentido de acabar com a sobrepesca até 2020, os ministros das pescas da UE continuam a estabelecer limites de pesca superiores aos recomendados pelos pareceres científicos.
© Corey Arnold
Embora o panorama político europeu esteja a passar por transformações históricas, um dos problemas mais fáceis de resolver da região, a sobrepesca, está a revelar-se persistente. Nos últimos anos, os ministros das pescas europeus estabeleceram cerca de metade dos limites de pesca da região acima dos níveis recomendados pelos cientistas. E este ano não foi exceção. Este padrão não prenuncia nada de bom para o compromisso assumido pelos estados-membros da União Europeia no sentido de acabar com a sobrepesca de todas as unidades populacionais de peixe, o que prometeram fazer até 2020 no âmbito da reforma de 2013 da Política Comum de Pescas (PCP) da UE.
O compromisso juridicamente vinculativo foi uma das mais aplaudidas reformas da PCP de 2013, que, até então, se considerava geralmente não estar a conseguir gerir eficazmente as unidades populacionais de peixe. A alteração vincula os ministros das pescas a terminar a sobrepesca «até 2015 nos casos onde seja possível» e até 2020, o mais tardar, aplicando ajustamentos «progressivos e incrementais» aos limites de pesca.
Essa linguagem, codificada por fim na lei da UE, reflete décadas de compromissos assumidos pelos estados-membros através de acordos nas Nações Unidas. Os ministros das pescas dos 28 estados-membros da UE juntaram-se a membros do Parlamento Europeu e funcionários da Comissão Europeia para aplaudir as revisões da PCP como um grande passo em frente.
Mas, passados quatro anos, é evidente que os ministros não fizeram progressos suficientes rumo ao objetivo final. Com o prazo mais «suave» de 2015 ultrapassado há muito, dispõem apenas de mais três ciclos anuais de decisões sobre os limites de pesca para alcançarem o prazo final de acabar com a sobrepesca até 2020. Então o que decidiram os ministros este ano?
Escrevi anteriormente acerca do processo desnecessariamente opaco e politizado através do qual os ministros decidem os limites de captura, em sessões noturnas à porta fechada. Este processo torna incrivelmente difícil à opinião pública compreender os números, ou a forma como foram acordados.
A ciência ignorada em mais de metade das decisões
Para lançar um pouco mais de luz sobre este processo, a The Pew Charitable Trusts publicou recentemente uma análise que sumariza as decisões deste ano. O documento é o resultado de um meticuloso processo, através do qual utilizámos informações disponíveis ao público para comparar os limites que os ministros acordaram em dezembro com os pareceres científicos.
As conclusões são desanimadoras. A nossa análise concluiu que, ao todo, 54 por cento dos limites estabelecidos pelo Conselho das Pescas excediam os níveis máximos de pesca recomendados pelos cientistas, o que representa apenas uma redução marginal relativamente à proporção do ano anterior. Para muitas unidades populacionais, o Conselho conhecia as taxas de pesca que proporcionariam o rendimento máximo sustentável, o modelo chave da PCP para o estabelecimento de quotas. Nesses casos, os ministros nem por isso deixaram de estabelecer 45 por cento de limites acima do recomendado pelos pareceres científicos — o que não representa praticamente qualquer progresso relativamente aos 46 por cento do ano anterior para esses limites de captura.
Isto indubitavelmente não corresponde às alterações «progressivas e incrementais» exigidas pela PCP. E isto significa que os estados-membros da UE continuam a perder os benefícios de acabar com a sobrepesca, os quais estão estimados em mais de 80 mil milhões de dólares por ano a nível global. Tal como aconteceu em anos recentes, a Comissão Europeia e diversos ministros emitiram comunicados de imprensa otimistas após as decisões deste ano, com uma retórica confiante acerca dos progressos que contradiz os dados científicos. O fosso entre essas declarações públicas e a realidade corre o risco de se tornar inultrapassável à medida que nos aproximamos de 2020.
Os ministros têm de agir, e de modo decisivo, para acabar com a sobrepesca.
O ciclo de tomada de decisões para estabelecer os limites de pesca para 2018 começa quase imediatamente. A Comissão apresenta normalmente relatórios sobre o estado das unidades populacionais de peixe e o progresso na definição de limites de pesca sustentáveis. De acordo com o Tratado de Lisboa, os eurodeputados não têm um papel formal no estabelecimento dos limites de pesca anuais, mas têm um papel vital em garantir que todas as leis de pesca satisfazem os requisitos da PCP. Os eurodeputados desempenham também um papel formal na determinação, com o Conselho, de planos plurianuais para a gestão das unidades populacionais de peixe regionais. Estas importantes ferramentas destinam-se a combater o foco nos objetivos de curto prazo que os ministros exibem habitualmente nas suas decisões anuais sobre os limites de captura.
Os ministros das pescas da UE continuam a atrasar o progresso no sentido de acabar com a sobrepesca e estão a adiar decisões cruciais para os últimos anos antes de 2020. Ainda há esperança de que a UE cumpra os objetivos definidos na PCP. Os próximos indicadores acerca de como isso poderá produzir-se surgirão na comunicação da Comissão deste verão e na atenção prestada pelos eurodeputados às conclusões enquanto negoceiam o próximo plano plurianual para as unidades populacionais de peixe do Mar do Norte. A Pew encoraja a Comissão, os eurodeputados e os ministros a tomarem as medidas adequadas, antes que o tempo se esgote.
Andrew Clayton orienta os esforços da The Pew Charitable Trusts para acabar com a sobrepesca no noroeste da Europa.