How to Turn a Retirement Plan Law for Private Sector Workers Into Reality
At a California forum, experts and officials discuss implementing the state's new Secure Choice Act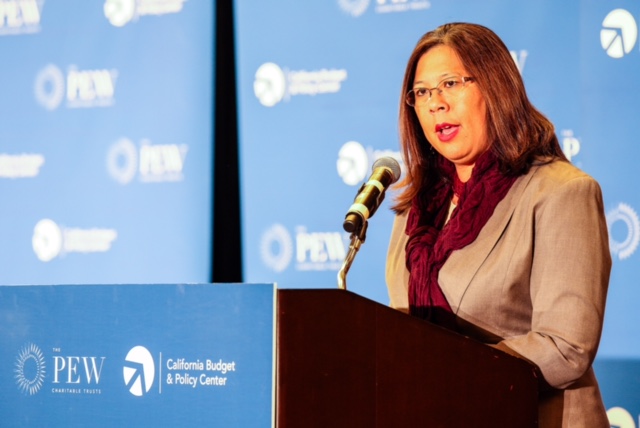 California's Controller Betty Yee gives the keynote address at the Future of Retirement Savings in Sacramento, California.
event.
The Pew Charitable Trusts
"Nearly half of California workers are on track to retire with incomes below 200 percent of the federal poverty level, which is about $22,000 a year," California State Controller Betty T. Yee told a group of retirement experts, state officials, and stakeholders at a Nov. 17 forum sponsored by The Pew Charitable Trusts and the California Budget & Policy Center.
That alarming data point set the stage for a robust discussion on how to implement a law passed by the California Legislature in September that mandates a state-run retirement program, known as Secure Choice, for private sector workers. Although Pew did not take a position on the legislation, we are working to bring together diverse stakeholders to ensure that Secure Choice is implemented in a way that is beneficial to employees, employers, and taxpayers. The forum was planned to help advance this goal.
Secure Choice aims to help low- and middle-income full-time workers save for retirement and will affect more than 6 million employees and approximately 285,000 employers in California. Most Americans save for retirement through an employer-based plan such as a 401(k). But many Americans do not have access to a retirement plan at their workplace. Research by Pew's retirement savings project provides detailed analysis on which workers do not. Today, about half of U.S. households are at risk of not achieving a secure retirement, with a disproportionate share in California, according to Boston College researchers.
But enacting the Secure Choice legislation is only the first step toward expanding access to retirement savings in California. The real work lies ahead—specifically, making sure the program is effectively implemented and that employees can save for retirement without placing undue burdens on employers. A communications strategy for the plan that fully explains how the program works is also critical to the successful implementation of Secure Choice.
Although four other states have passed similar laws, none will be on the scale of California's—in a state with the sixth largest economy in the world. "California's Secure Choice will represent the largest expansion of retirement coverage since Social Security," Yee told an audience of over 100 in Sacramento.
And given California's size and economic power, "many other policymakers in states around the country will be looking to learn lessons based on how implementation goes here," said Travis Plunkett, director of Pew's family and economic security portfolio.
The outline
The law requires all private sector businesses with five or more employees to enroll workers in the Secure Choice retirement savings program if they don't already offer retirement benefits, though the workers can opt out. Secure Choice will be overseen by a state board but probably administered by private companies. The retirement accounts will be portable, which will allow workers to keep contributing to the same account if they change jobs within the state. The program also doesn't require a waiting period before workers are fully vested in their accounts.
Secure Choice will require several years to create and fully implement. Once the plan's architecture is in place, businesses with more than 100 employees will be the first required to offer retirement plan options. "Realistically, for smaller employers, we're looking at five years until they have to enroll their workers or offer a plan," said Ruth Holton-Hodson, senior policy adviser to California Treasurer John Chiang, who is overseeing early implementation of Secure Choice.
How Secure Choice will affect employees
Event participants made the case that workers will like having the option of Secure Choice. Research shows that a vast majority of them will participate if given the opportunity.
Marisabel Torres of the National Council of La Raza, which represents Latino interests, said: "There is a culture of savings with immigrants. They do understand the importance of long term and independence." And although many of California's immigrants don't have access to retirement accounts, "the desire is there," she said.
Workers love an automatic enrollment retirement program, added David John, a policy adviser with AARP. "Support for such programs is … in the upper 90th percentile."
Some forum participants raised concerns about how to communicate the mechanics and benefits of Secure Choice to a population that is not financially sophisticated. "It's key that the plan is in an understandable form," said John, and that enrollment is simple. Providing information on mobile and digital platforms and in several languages will be necessary for many lower-income workers, millennials, and first-time employees who do not have access to the internet or speak English as a first language.
Speakers raised concerns about employees needing to access funds quickly—and what events would qualify for early withdrawals. AARP's John suggested creating separate "sidecar" savings accounts with liquid funds that employees could use for financial emergencies. Workers would be enrolled in both accounts automatically and at the same time.
How Secure Choice will affect employers
Overall, participants believed many small employers will consider a retirement plan an attractive option for luring future employees. But they also expressed concerns that some small businesses will not have the capacity to manage a plan that a human resources department at larger company could handle. Covering the costs of managing a retirement plan might also be prohibitive for small companies with narrow profit margins.
The California Chamber of Commerce originally opposed the Secure Choice legislation but changed its position to neutral. The chamber has concerns about employers being saddled with potential liability from investment losses. "Employees will ask, 'Where is my money?' though the plan requires employee investments to be handled by an outside party," said Marti Fisher, a policy advocate with the chamber. Educating employees therefore will be crucial, she said, as will the need to involve employers in the rule-making process.
Despite questions about specific details, forum participants agreed that something has to be done to boost retirement security for California's underserved populations.
"Who's going to take care of these people? We already see government and nonprofits straining with existing means," said Nari Rhee, manager of the Retirement Security Program at the University of California, Berkeley. Without policy intervention, the burden would fall to communities and the state. "There's a moral imperative as well. If you spend your life working, you should be able to retire with dignity," Rhee said.
John Scott directs the retirement savings project for The Pew Charitable Trusts.