Martyn D. Goulding, Ph.D.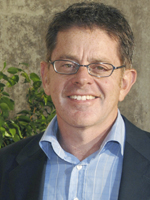 Title

Department

Institution

Address

10010 North Torrey Pines Road

City, State, ZIP

Phone

(858) 453-4100 x1558

Email

Website

http://www.salk.edu/faculty/goulding.html

Research field

Award year
Research
The work in my lab focuses on how interneurons, responsible for communication between nerve cells in the spinal cord, and motor neurons, which cause muscles to contract, are generated in the embryonic spinal cord. Knowing more about how these cells form will further understanding of how to regenerate and reconnect the many types of nerve cells that are necessary for moving our muscles. We study a family of genes known as the Pax genes. They have discovered that one of its members, Pax-3, determines which cells will become part of the spinal cord. A significant indication of the gene's importance has been the identification of Pax-3 mutations in a human disorder called Waardenburg Syndrome. Further knowledge of how Pax-3 functions should provide important insights into other birth defects, including exencephaly and spina bifida.