Pew Launches Efforts to Protect, Restore Oyster and Seagrass Habitats
Conservation of East Coast, Gulf of Mexico ecosystems offers benefits far beyond shore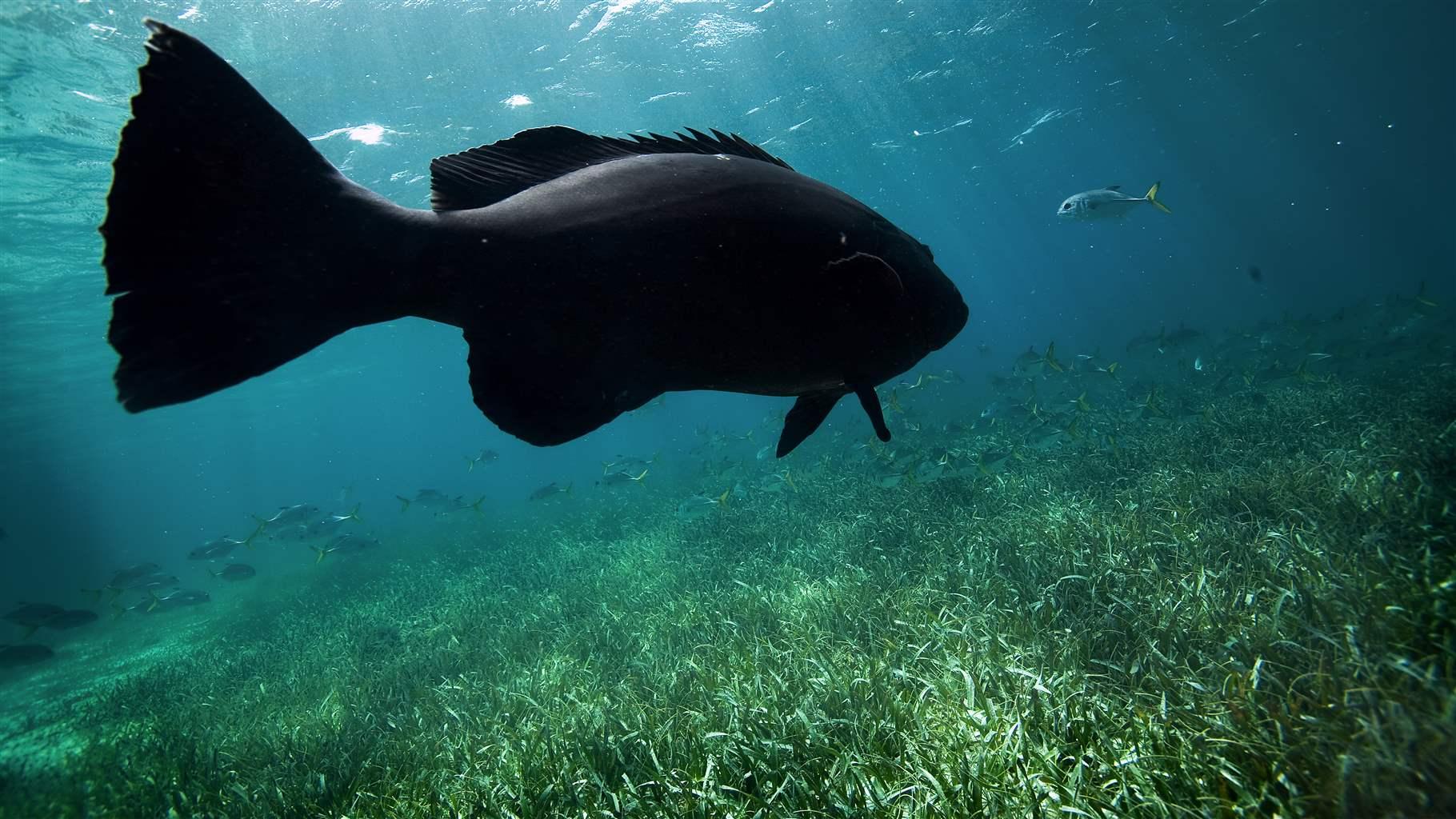 Over the past decade, The Pew Charitable Trusts' U.S. marine conservation team has advocated for an ecosystem-based perspective in fisheries management—one founded on science and on advancing the public interest.
The choices that federal and state leaders make in managing America's ocean resources ripple through the food web, from the coast and out to sea. Recognizing that, stakeholders from around the country have requested Pew's help over the years to solve important challenges closer to shore. So as we continue to work with regional fishery managers nationwide to support effective marine conservation, we are excited to join partners in a new body of work focused on protecting and restoring valuable and vulnerable oyster and seagrass habitats at the edges of the Atlantic Ocean and Gulf of Mexico.
One native Atlantic species, the eastern oyster, helps illustrate the problem and the opportunity. Oysters and their reefs are a foundation of estuarine ecosystems, where they improve water quality, provide habitat for other species, stabilize shorelines, and reduce erosion. While the population is estimated at under 10 percent of its historic size from Maine to Florida, a rebound is possible, with some states showing progress in recovering oysters in recent years. Replicating and building on these successes while investing in science and policy changes would drive a broader recovery, resulting in cleaner water, more jobs, stronger shorelines, and a more abundant local food source.
Seagrass, another vital habitat, is found in nearly every coastal state but has been declining for decades—and in many areas may not survive without protection. Critical as a nursery habitat for many valuable fish and wildlife species and playing a key role in maintaining water quality, seagrass also serves as a buffer against climate change, severe weather, and erosion. Some states have developed effective plans to conserve and expand underwater seagrass meadows, and Pew wants to help others build on those successes. A large-scale recovery of seagrass would improve fisheries, support wildlife, and strengthen sustainable jobs and coastal economies.
Done effectively, this work would benefit nearshore ecosystems and others offshore, and would add to advances in science-based marine conservation policy across the country over the past 10 years. State and federal marine resource managers have taken the lead, applying the latest science to improve policies that aim to secure a healthy, sustainable future for ocean ecosystems. Among the species to benefit from those protections are menhaden, Atlantic herring, and other vital prey species, as well as prized predators like red snapper, Atlantic bluefin tuna, grouper, and reef fish.
Solutions for seagrass and oyster protection and restoration are likely to vary from state to state. Pew plans to work with long-standing and new partners already engaged in coastal conservation efforts to help us determine the best ways to contribute, now and in the coming years. We look forward to advancing durable, ecosystem-based solutions to some of the country's most pressing marine conservation issues.
Joseph Gordon directs campaigns for The Pew Charitable Trusts' U.S. oceans program along the Atlantic coast; Holly Binns directs the program in the Gulf of Mexico and U.S. Caribbean; Leda Cunningham manages Pew's work to protect ocean life in the South Atlantic, from North Carolina to eastern Florida; and Thomas Wheatley manages the program in the Gulf of Mexico.