Victor E. Velculescu, M.D., Ph.D.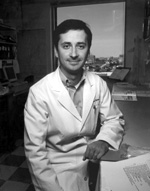 Title

Department

Institution

Address

1550 Orleans St., Rm 144
1650 Orleans Street

City, State, ZIP

Phone

(410) 955-7033

Email

Website

http://humangenetics.jhmi.edu/index.php/faculty/victor-velculescu.html

Research field

Award year
Research
Over the past several years, we have developed approaches, including high-throughput genomic sequencing, serial analysis of gene expression (SAGE), and a novel method called digital karyotyping, to elucidate the genetic and gene expression differences important in neoplasia. Using these approaches, we have begun to systematically examine the colorectal cancer genome, starting with gene families involved in signal transduction. Members of these gene families have been implicated in human cancer, and the encoded enzymes represent attractive therapeutic targets. These efforts have recently identified frequent activating mutations in protein and lipid kinases (Bardelli et al, 2003; Samuels et al, 2004) and inactivating mutations in protein phosphatases not previously linked to neoplasia (Wang et al, 2004). For example, genetic alterations in phosphatidylinositol 3-kinase PIK3CA are found in 30 percent of colon, brain and breast tumors, making this one of the most highly mutated oncogenes yet identified in human cancer. The identification of such genetic alterations provides insight into the pathogenesis of cancer and opens up novel possibilities for diagnostic and therapeutic intervention.