Wyoming Conserves Habitat Where the Deer and the Antelope (Still) Play
State is a leader in protecting wildlife migration but should build on its progress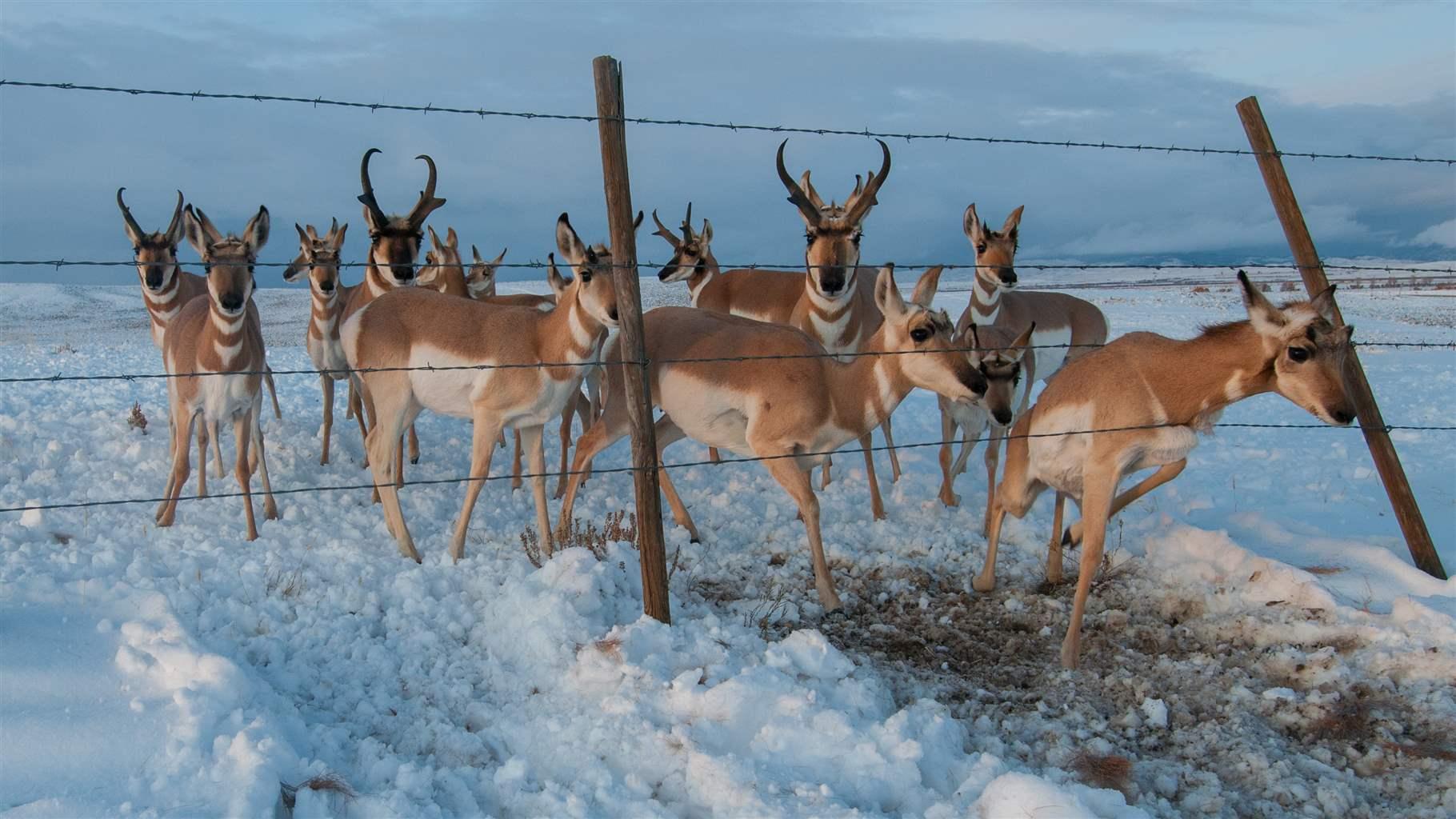 Driving on Interstate 80 across southern Wyoming in the winter or early spring, one could easily conclude that pronghorn antelope—which graze on both sides of the highway—outnumber the state's inhabitants. And that conclusion wouldn't be far off: Wyoming is home to roughly half of the world's pronghorn population, and as recently as a decade ago, numbers of the fleet-footed ungulates probably did surpass the state's human population of roughly 547,000.
But the Cowboy State, like many parts of the Intermountain West, has attracted more residents in recent years, and that growth has resulted in increasing threats to wildlife habitat in the form of development, fences, roads, and traffic. Fortunately, Wyoming, which has long valued big game, is at the forefront among states in advancing science and policy to conserve wildlife and habitats.
By fitting more pronghorn with GPS-enabled collars—whose cost has declined—scientists are gaining new understanding of how migratory big game species such as mule deer, pronghorn, and elk use habitats. This science is informing conservation policy as data gleaned from seasonal herd movements reveals ancient migratory routes that are crucial to accessing food sources, rearing young, and evading predators.
In 2008, the U.S. Forest Service officially designated "the Path of the Pronghorn" to conserve one of the state's largest herds, which summers in and around Grand Teton National Park but migrates up to 170 miles to the south to winter near the town of Rock Springs. In 2016, this initiative, along with other new migration discoveries, led the Wyoming Game and Fish Commission to adopt a statewide Ungulate Migration Corridor Strategy.
This policy expanded the Wyoming Game and Fish Department's definition of vital habitat to include migration bottlenecks and stopover areas. It also directed the department to designate ungulate migration corridors in a similar manner to how it designates seasonal wildlife range. By early 2019, the agency identified five migrations—most of them by mule deer—and officially designated three of the pathways. The policy called for risk assessments of each designated corridor and directed the department to recommend conservation measures as part of federal land use planning processes and project-level analyses.
Under pressure from industry representatives who thought the policy went too far, and from conservation groups that favored stronger measures, Wyoming Governor Mark Gordon in the spring of 2019 announced the formation of a working group aimed at revising the Ungulate Migration Corridor Strategy. The group included representatives from the mining and agriculture industries, the sporting/recreation and conservation communities, county governments, and the Game and Fish Commission, which oversees the Game and Fish Department. The group submitted consensus recommendations to the administration in September 2019, and a public comment period concluded in mid-October.
Gov. Gordon released a draft in December and engaged in a listening tour before issuing a final executive order in mid-February. The directive outlines a science-based approach for identifying potential migration corridors and represents a renewed commitment to conserving migratory habitat over the long term by restricting development in bottlenecks, high-use areas, and stopover habitat.
Sportsmen and conservation interests were disappointed that the order covered only pronghorn and mule deer and excluded other migratory ungulates such as bighorn sheep, elk, moose, and white-tailed deer. However, the executive order included many of The Pew Charitable Trusts' recommendations, such as directing state agencies to comment on federal land use actions that affect designated corridors, establishing a timeline and process for reviewing actions on designated corridors, and unequivocally limiting disturbance in the most critical portions of migration corridors. Nonetheless, questions remain regarding the implementation of the order, such as whether a complicated, multistep process for corridor designation will work in time frames that match those of land use decisions.
Next, two identified migration corridors—for the Sublette pronghorn and Wyoming Range mule deer herds—are up for potential designation by the state. Also, area working groups will be established to evaluate the three corridors designated by the executive order: the Sublette (also known as Red Desert to Hoback); Platte Valley; and Baggs mule deer migrations.
The governor's office has stated that it might revise the executive order based on early results and evolving science on migration. While this order and Gov. Gordon's leadership signal a renewed commitment to the state's pronghorn and mule deer, it is hopefully not the final step. Pew will continue to work with its Wyoming partners and state agencies to ensure that these resources are conserved, according to the best available science, for future generations.
Matt Skroch is a manager and David Ellenberger is a senior associate with The Pew Charitable Trusts' U.S. public lands and rivers conservation team.