New Financing Options Expand Opportunities to Protect World's Coastal Wetlands
The ecosystems' benefits to people and nature should boost appeal to funders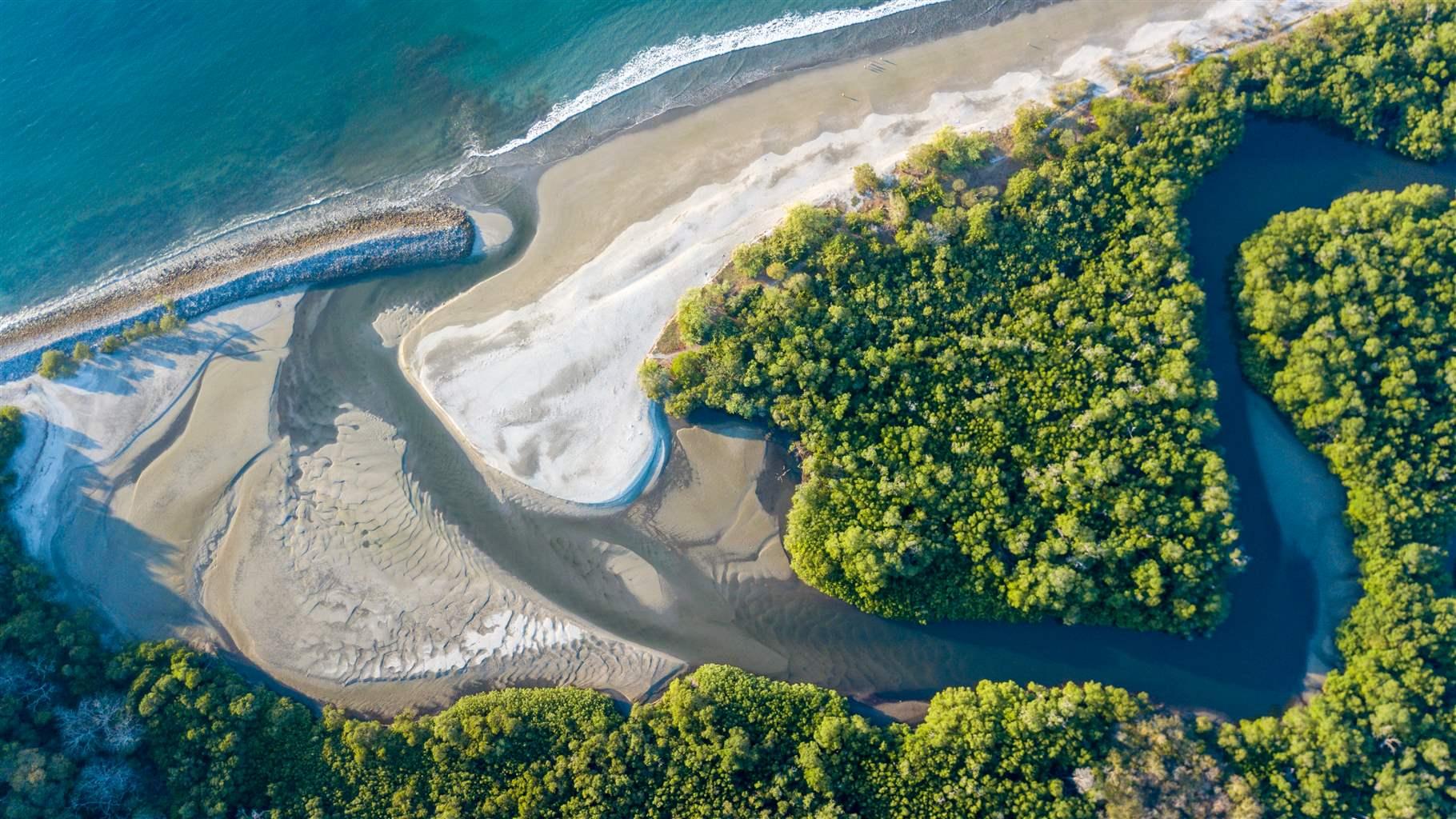 Coastal wetlands such as salt marshes, mangroves, and seagrasses play a key role in climate regulation, harboring significant carbon stocks in their soils, as well as sequestering more carbon out of the atmosphere than the same area of terrestrial forest would. Conserving and restoring mangroves globally could yield a return on investment of US$3.7 billion per year based on their carbon values alone.
And yet this may not even be their most valuable service: Mangroves, for example, reduce annual flooding for more than 18 million people globally, and the loss of these ecosystems could result in US$82 billion in losses due to flood damage.
Coastal wetlands also provide ecotourism opportunities and food, purify water, buffer runoff and river discharge, and serve as habitat for a variety of species—which in turn helps sustain local communities and traditional cultures.
Despite their many values, coastal wetlands have been lost, degraded, or heavily modified worldwide. An average of 54% to 57% of natural wetlands have been lost around the world, according to experts, with some regions seeing up to 90% loss.
Until now, investments in coastal wetland protection have been insufficient to prevent their ongoing loss and degradation. But renewed action on climate change and wider recognition of the multiple benefits these ecosystems provide have led to an emerging suite of new financing opportunities.
Leading this charge are Seychelles, Belize, and Costa Rica, all of which have recently made major commitments to conserve, manage, and restore their coastal wetlands through their updated nationally determined contributions (NDCs) to the Paris Climate Agreement. Each NDC represents the pledges a government is making to address climate change; because coastal wetlands sequester and store so much carbon, protecting them helps countries reduce their net greenhouse gas emissions.
Yet scarce financing remains one of the key barriers to ensuring coastal wetlands' protection.
Studies have shown that restoring mangroves, seagrasses, and saltmarshes to their historical levels by 2050 would cost US$27 billion to US$37 billion per year; halting the current degradation of these habitats would add more costs.
One reason for the financing shortfall to date is that many of the services coastal wetlands provide do not generate financial returns, even though they are valuable and investing in them would deliver positive returns to society. However, some coastal wetland benefits—for example, maintaining healthy natural areas for tourism and commercial fishing—can be directly correlated with economic activity.
Investors may also perceive wetlands projects as being high-risk investments; this is not helped by the relative dearth of demonstrated success stories. This is now starting to change, with coastal wetland investment projects maturing in Colombia, Kenya, and elsewhere around the world.
Additionally, regulatory and legal uncertainty, such as unclear property rights and shifting policies, can complicate the viability of projects.
Financing the protection of coastal wetlands will require that governments commit to channeling significant additional financing to biodiversity and work toward creating national biodiversity financing plans in the Convention on Biological Diversity's post-2020 framework, which is slated to be finalized in early May in Kunming, China.
Here are some of the financing mechanisms that could help fill this funding gap, and are expected to grow over time:
Domestic government budgets. This is currently the largest source of financing, especially in wealthier countries.
Natural infrastructure. As property owners, insurers, and municipal governments start to realize just how much asset protection these ecosystems provide, it becomes clearer that investing in them as "green infrastructure"—to complement built infrastructure investments—is a smart choice.
Impact investing. These private investments seek to generate positive, measurable social and environmental impacts alongside a financial return.
Green bonds and loans. These debt and lending instruments issued by public or private organizations raise capital to finance projects generating environmental impacts alongside financial returns.
Carbon markets and Payments for Ecosystem Services (PES). Carbon credit programs or other PES schemes are ways to establish a tangible financial value for services provided by coastal wetlands, including their climate mitigation value.
Philanthropy and overseas development assistance. This source is smaller in magnitude than other sources but can be more flexible, pursuing non-financial goals such as biodiversity and local livelihoods, and can support earlier stage projects than private investors would otherwise consider.
Blended financing. This mechanism uses philanthropy and public sector funding to take on some of the project risk and make investments more attractive to private investors, thereby mobilizing greater financing flows.
Countries vary widely in their track record of taking advantage of these opportunities; bright spots include the recent blended finance deal to improve the management of Turneffe Atoll Marine Reserve in Belize; Costa Rica's ongoing work to explore a PES scheme for its mangroves; and Seychelles' debt for nature swap and blue bonds issuance.
Pew is working with the research consulting firm Silvestrum Climate Associates and others to provide guidance to the governments of Belize and Seychelles on the financing instruments and strategies available to them, and to provide investors with information on investment opportunities for wetlands.
Countries can deliver real benefits to their people, nature, and the global climate by protecting coastal wetlands. A concerted effort by governments, civil society, and the private sector can help them find the financing to realize this opportunity.
Peter Edwards is an officer with The Pew Charitable Trusts' conservation science program, and Keith Lawrence is a senior officer with Pew's international conservation unit.