Repeatedly Flooded Properties Will Continue to Cost Taxpayers Billions of Dollars
Action needed from Congress to reform outdated policies and reduce flood impacts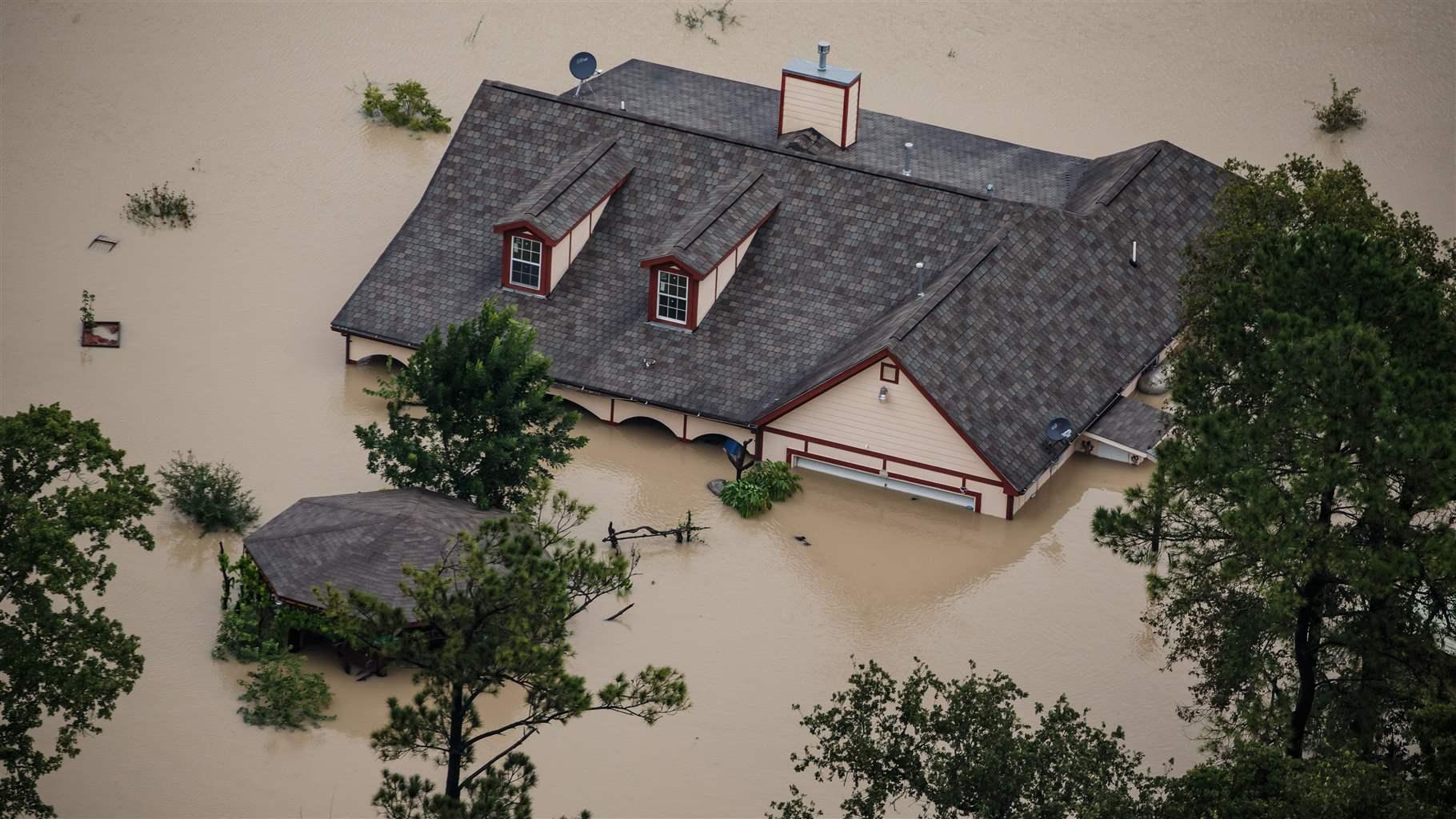 This year's hurricane season is setting a record pace for the number of named storms, affecting Americans from the Gulf Coast to the Northeast with torrential rains and flooding and causing billions of dollars in damage. These storms and growing disaster costs are the latest reminder that Congress must reform outdated federal policies and programs to limit future flood risks and impacts.
For example, even with $16 billion in debt forgiveness in 2017, shortcomings in the National Flood Insurance Program (NFIP) have saddled it with debt of roughly $20.5 billion. This means that the NFIP has borrowed more than $36 billion from the U.S. Treasury to pay claims. But, rather than reform the program to make it more efficient and effective, Congress has simply extended it over and over again with no changes since 2014.
Among the NFIP's flaws is the way it treats repetitive loss properties (RLPs)—those that have flooded and received insurance claim payments multiple times. Unlike private insurers, the NFIP lacks the legal authority to manage costs by refusing coverage to or dramatically increasing rates for properties with excessive claims.
Today, there are more than 5 million NFIP policies. Historically, RLPs comprise around 1 percent of NFIP insured properties, but over time they have accounted for more than 30% of claim payments. The NFIP has paid a cumulative $22.2 billion in claims to RLPs, an amount that surpasses the program's total debt, according to the Government Accounting Office (GAO).
From 1989 through 2018, the Federal Emergency Management Agency (FEMA) recorded nearly 229,000 RLPs, with 82 percent of them in just 14 states. These properties are not limited to the coasts, either; they exist in every state, including in large concentrations in the Midwest.
Since 1989, more than 57,000 properties have been acquired, elevated, relocated, or otherwise flood-proofed using FEMA Hazard Mitigation Assistance funding that can help states and localities to reduce flood risk. And although this funding, as well as other mitigation actions by governments at all levels, is helping to decrease RLPs, the problem is actually growing. From 2009 to 2018, FEMA documented three new RLPs for every RLP property that was mitigated. Even with increased federal resources soon to be made available through FEMA's new Building Resilient Infrastructure and Communities (BRIC) program and nearly $16 billion in Community Development Block Grant funding allocated for mitigation efforts, it is clear that money alone is not solving the problem. As GAO states, "Congress will need to consider comprehensive reform, including mitigation and structural changes to premium rates, to ensure NFIP's solvency."
Numerous bipartisan bills introduced during this session of Congress would help stop the continued growth in the number of flood-prone properties. These legislative proposals include the Repeatedly Flooded Communities Preparation Act (H.R. 5776 and S.2088), which would create partnerships between FEMA and localities participating in the NFIP to develop plans to mitigate RLPs. The State Flood Mitigation Revolving Fund Act (H.R. 1610 and S.2192) would create financing options to help address RLPs and implement community-scale mitigation projects. Additional congressional proposals would reduce or eliminate subsidies for new construction or establish new policies to deter the development of more homes in flood-prone areas, thus helping avoid future flood losses.
Congress extended the NFIP again this month with no changes for the 16th time since the devastation caused by hurricanes Harvey, Irma, and Maria three years ago. But that's the wrong move. Lawmakers should instead act on policy proposals to reduce the number of RLPs and put the NFIP on a path toward financial stability. Without such action, communities, businesses, and American taxpayers will continue to bear the brunt of the increasingly wasteful cycle of flooding, damage, and repair.
Laura Lightbody is a director and Brian Watts is a senior associate with The Pew Charitable Trusts' flood-prepared communities initiative.