Countries Restarting Economies Have Rare Chance to Solve Ocean Plastic Pollution
Duke University analysis discusses strategies to stop the flow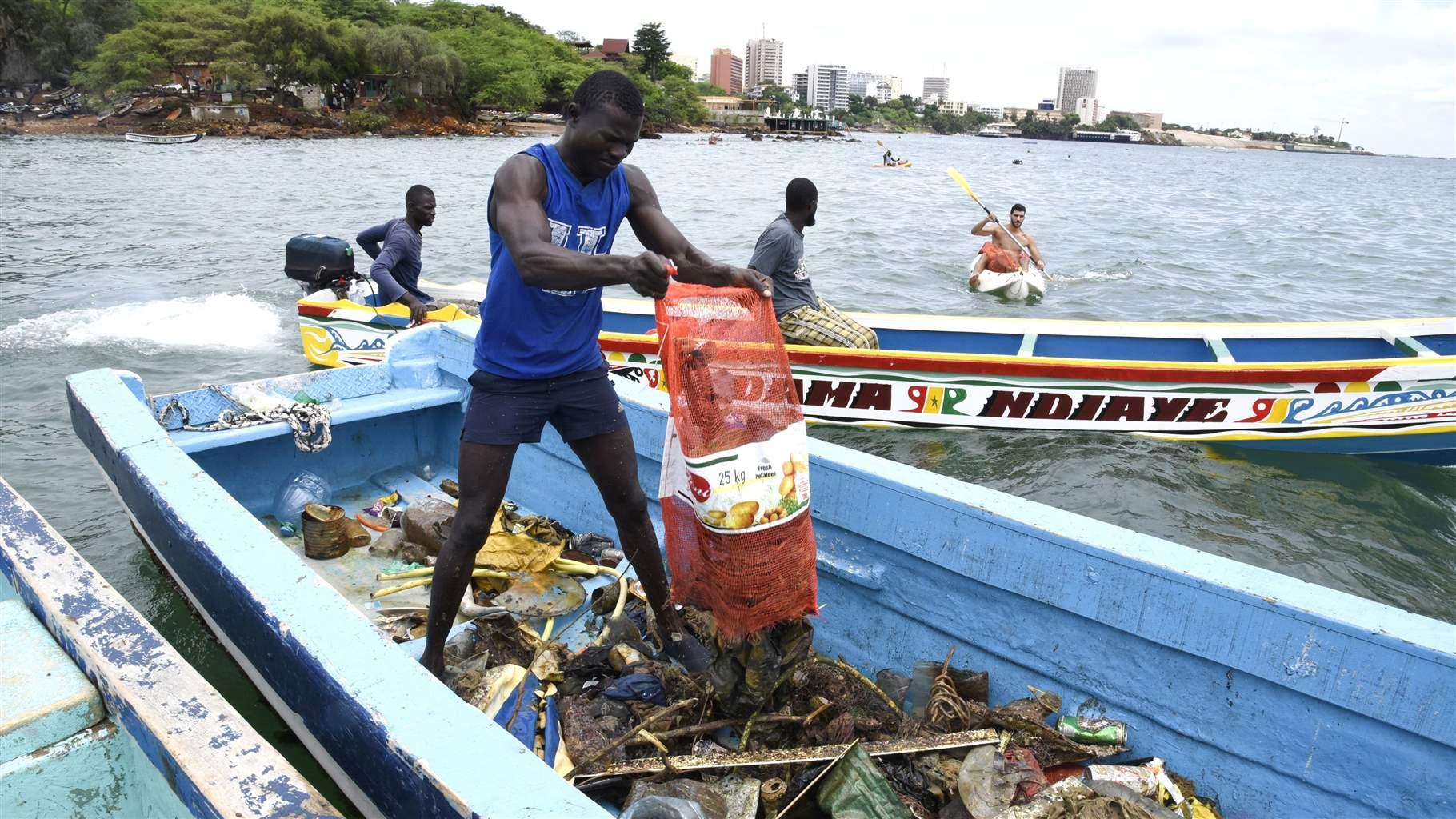 As governments, societies, and industries work toward resuming their pre-pandemic lives, they have a rare chance to launch fresh solutions to longstanding challenges. One such problem is ocean plastic pollution, the result of a decades-long—and ongoing—pouring of products, packaging, and other materials into our marine environment. Plastic pollution pervades our ocean and will threaten wildlife and the health and livelihoods of people for generations to come.
Now, throughout the world, elected and business leaders can build back an economy that generates much less plastic waste while creating new jobs and ensuring a cleaner, healthier, and a more resilient natural environment.
A new report by a team of researchers at Duke University can help achieve that. The report, "20 Years of Government Responses to the Global Plastic Pollution Problem: The Plastics Policy Inventory," which was funded by The Pew Charitable Trusts, synthesized ocean plastic pollution policies around the world and could be used by governments to inform the substance and direction of policies. This analysis also offers guarded reasons for hope: The past two decades have brought a steadily increasing number of policies—at the global, regional, national, and municipal levels—aimed at reducing the amount of plastic that ends up in the ocean.
For example, since 2000 governments have agreed to 28 global policies to curb plastic pollution—a number that is steadily rising. On the downside, many of these policies are voluntary even though scientists are consistently calling for a binding global treaty.
At the regional level, there is a similar upward trend in the number of policies, especially in Europe. Almost 62% of the regional policies the Duke team reviewed were European, with almost half of those from the Mediterranean. Most of these policies are bans, taxes, and other measures focused on single-use plastics, primarily plastic bags.
At the national level, researchers observed the same trend—a growing number of regulations banning or charging fees for plastic carrier bags enacted over the past two decades. Those measures have been established in at least 43 countries around the world, with over half the policies originating in sub-Saharan Africa countries.
But to solve the ocean plastic problem much more must be done, and soon. Plastic production and consumption—and the already-large flow of plastic into our ocean—are projected to continue growing in the coming years.
New policies should address multiple stages of plastic product lifecycles and encompass the different sources of plastic waste, including microplastics. Again, there's reason to hope: The Duke team found that the adoption of policies addressing multiple stages of the plastic product lifecycle jumped from only 25% from 2000 to 2005 to 59% by 2018.
Duke's plastics policy inventory is a complement to Pew's forthcoming report—produced in partnership with SYSTEMIQ, the University of Oxford, the University of Leeds, the Ellen MacArthur Foundation, and Common Seas—which will lay out potential solutions to the mounting problem. This report aims to inform government and industry actions to address the plastic pollution challenge. It will also carry the important message that by working together countries can significantly reduce the amount of plastic entering the ocean.
Policymakers, companies, and civil society should seize this once-in-a-lifetime opportunity to reset the global economy so that humanity can generate less waste, reuse and recycle materials more, and progressively eliminate avoidable plastic that can't be reused or recycled.
Winnie Lau is a senior officer and Sarah Baulch is a senior associate with The Pew Charitable Trusts' preventing ocean plastics project.