National Monuments Offer President a Chance to Build a Conservation Legacy
White House should use the Antiquities Act to protect, not dismantle, American treasures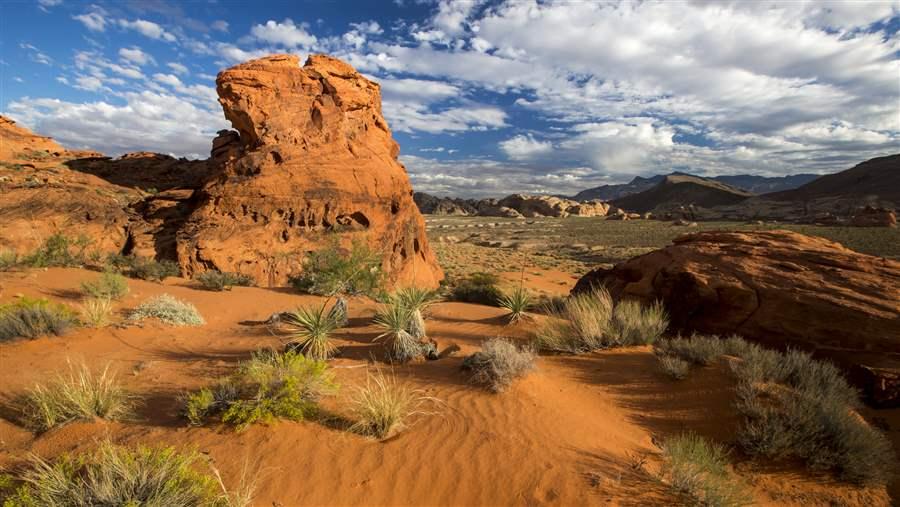 Gold Butte in Southern Nevada is among the national monuments still at risk for a reduction in size or change in management.
© Bob Wick/Bureau of Land Management
In April, President Donald Trump directed the Department of the Interior to review 27 national monuments, designated since 1996, for possible reduction or elimination. During the 120-day review, the department announced that it would recommend no changes for six of them. Interior Secretary Ryan Zinke was expected to publicly reveal in late August his recommendations for the remaining 21 national monuments under review. But on the day he conveyed those recommendations privately to the administration, his only public hint at their substance was to state that he didn't propose elimination of any monuments. Reports broke over the weekend indicating that Secretary Zinke recommended changes to several designated protected areas that could lead to substantial alterations, such as vastly reducing boundaries, scaling back protections, or allowing significant development or extractive activities within monument borders.
During the secretary's review period, Americans submitted nearly 3 million comments on these special places, with nearly all advocating that the monuments remain unchanged. Secretary Zinke acknowledged this strong show of support in the summary he delivered to President Trump, writing that the comments were "overwhelmingly in favor of maintaining existing monuments." Now the president has an opportunity not only to honor public opinion but also to join the long tradition of American leaders who set aside unique places for the enrichment, enjoyment, and education of future generations.
All the national monuments reviewed were designated under the Antiquities Act, which was enacted in 1906 to safeguard national treasures on land and in the ocean, not to remove protections. Whether these monuments were designated 100 years ago, 50 years ago, or last year, the need to conserve them and other iconic landscapes, areas of vast marine biodiversity, and sacred homelands of ancient peoples has not diminished. Sixteen presidents—eight from each major political party—have used the act to designate monuments, and the vast majority of Americans support maintaining them.
Before submitting his report to the president last month, Secretary Zinke publicly recommended that the administration maintain the current size and scope of Craters of the Moon, Hanford Reach, Upper Missouri Breaks, Canyons of the Ancients, Sand to Snow, and the 1 million-plus acre Grand Canyon-Parashant national monuments. These monuments deserve protection for their archaeological artifacts, beauty, and biodiversity as well as the recreational opportunities they afford, including hunting and fishing.
The other national monuments reviewed are equally deserving of conservation. They contain extraordinary historic, scientific, and sacred cultural value, and almost all were designated after lengthy public engagement processes. Further, residents and business owners in communities surrounding these monuments broadly and strongly support maintaining them as they are—sentiments that locals expressed at each of the secretary's visits to sites under review.
Some in the administration and Congress have suggested that many recently designated monuments are too large and are out of step with the history of the Antiquities Act. In fact, protecting large-scale landscapes under the Antiquities Act began in 1908, just two years after it became law. That's when President Theodore Roosevelt conserved the 800,000-plus-acre Grand Canyon National Monument, which Congress designated as a national park in 1919. Alaska's 1.38 million-acre Glacier Bay was named a national monument by President Calvin Coolidge in 1925. Coolidge designated 18 monuments—the same number Theodore Roosevelt named. Herbert Hoover used the Antiquities Act in 1933 to create what is now Death Valley National Park—nearly 850,000 acres in California near the Nevada border. Hoover in 1932 also designated nearly 243,000 acres as a second Grand Canyon National Monument, which was folded into the park by legislation signed by President Gerald Ford in 1975.
In addition to providing places for recreation and solitude, our nation's monuments protect fish and wildlife habitat. Southeast Alaska's Admiralty Island National Monument harbors one of the highest concentrations of brown bears in the world. The Northeast Canyons and Seamounts Marine National Monument, off the New England coast, contains critical habitat for sea life ranging from cold-water corals to sperm whales.
The path forward for reducing any monument is anything but certain. Any proposed shrinkages will face challenges in the courts and in Congress, and the American people will have more opportunities to express their wishes about the future of these public lands and waters.
The Antiquities Act remains one of the most powerful tools our presidents have to add to the nation's conservation, historic, and scientific legacy.
We encourage President Trump to use his powers under the Antiquities Act to safeguard other deserving places that are meaningful to Americans, rather than attempting to reduce boundaries or alter uses within existing monuments. In doing so, he will add his name to our country's proud conservation legacy and help protect it for generations to come.
Tom Wathen is a vice president of The Pew Charitable Trusts, directing its environmental work in ocean conservation and land protection.