'Quiet Recreation' on BLM Land Generates Billions of Dollars, Supports Thousands of Jobs
Camping, hiking, fishing, and hunting create economic ripple effect
WASHINGTON—Nonmotorized recreation on U.S. lands overseen by the Bureau of Land Management supports 25,000 jobs and adds $2.8 billion to the U.S. economy, according to the first study devoted to the economic contribution of "quiet recreation" visitors on BLM lands.
The report, "Quiet Recreation on BLM-Managed Lands: Economic Contribution 2014" was produced by the economic consulting firm ECONorthwest and commissioned by The Pew Charitable Trusts. The researchers found that visits to these landscapes in 11 western states—Arizona, California, Colorado, Idaho, Montana, Nevada, New Mexico, Oregon, Utah, Washington, and Wyoming, as well as Alaska—generated approximately $1.8 billion in 2014 in spending in communities within 50 miles of the recreation sites, which circulated through the state and national economies and resulted in $800 million in employees' salaries, wages, and benefits.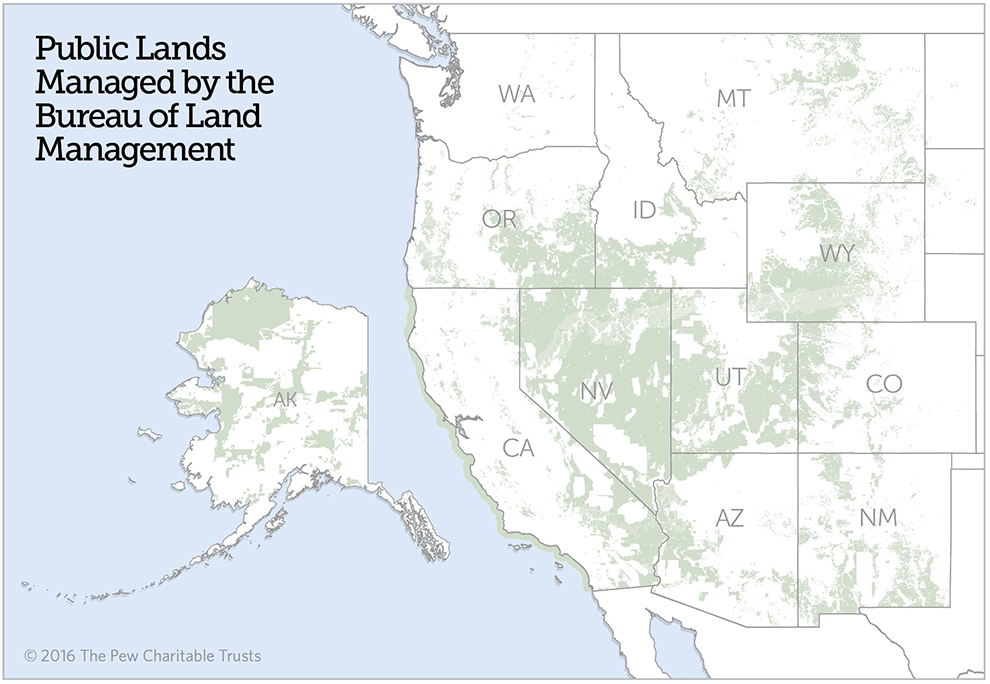 "Quiet recreation activities on public lands managed by the BLM generate significant economic benefits for individuals, rural western communities, and the nation," said Ken Rait, director of U.S. public lands initiatives at Pew. "The majority of people who visit BLM lands for recreational purposes engage in nonmotorized activities such as camping, hiking, hunting, and fishing. The spending associated with these trips creates an economic ripple effect in surrounding towns with the purchase of groceries, supplies, gas, and meals, providing important support to local businesses."
"BLM management that prioritizes protecting quiet recreation activities on public lands has an important positive impact on local economics, local businesses, and their employees," he added. "Conserving these recreational opportunities protects a critical revenue stream."
"This study is significant because it is the first ever to quantify both the amount of quiet recreation and the spending associated with quiet recreation specifically on BLM lands," said ECONorthwest's Kristin Lee, who led the research. "We found that the majority of visitors to BLM lands enjoyed nonmotorized recreation; in the process, they spent $1.8 billion in the economies of local communities—which resulted in $2.8 billion of economic output at the national level."
"This study shows that in addition to providing nonmotorized recreational opportunities enjoyed by millions of people, these lands also provide local economic opportunities and contribute billions of dollars to the U.S. economy," she added.
Kirk Richardson, director of sustainability at KEEN footwear, said he's pleased to see a study that quantifies what his business has encountered. "KEEN feels a responsibility to protect and preserve our public lands—the backbone of the outdoor industry," Richardson said. "This report shows that access to beautiful, wild, and unspoiled public lands is essential to many outdoor businesses."
Researchers calculated the local economic contribution (jobs and income) generated by spending visitors who engaged in quiet recreation on BLM lands in 11 western states and Alaska. They based their calculations on 2014 visitation data from the BLM and spending data from the National Visitor Use Monitoring Program. Other reports have examined the economic impact of nonmotorized recreation across the nation but have not considered the contributions of visitors engaged in these activities on BLM lands alone.
The Pew Charitable Trusts is driven by the power of knowledge to solve today's most challenging problems. Learn more at www.pewtrusts.org.