More Universal Use of Electronic Health Records Is Improving Patient Care
Pew has helped strengthen health IT with initiatives to promote data sharing and safety
More Universal Use of Electronic Health Records Is Improving Patient Care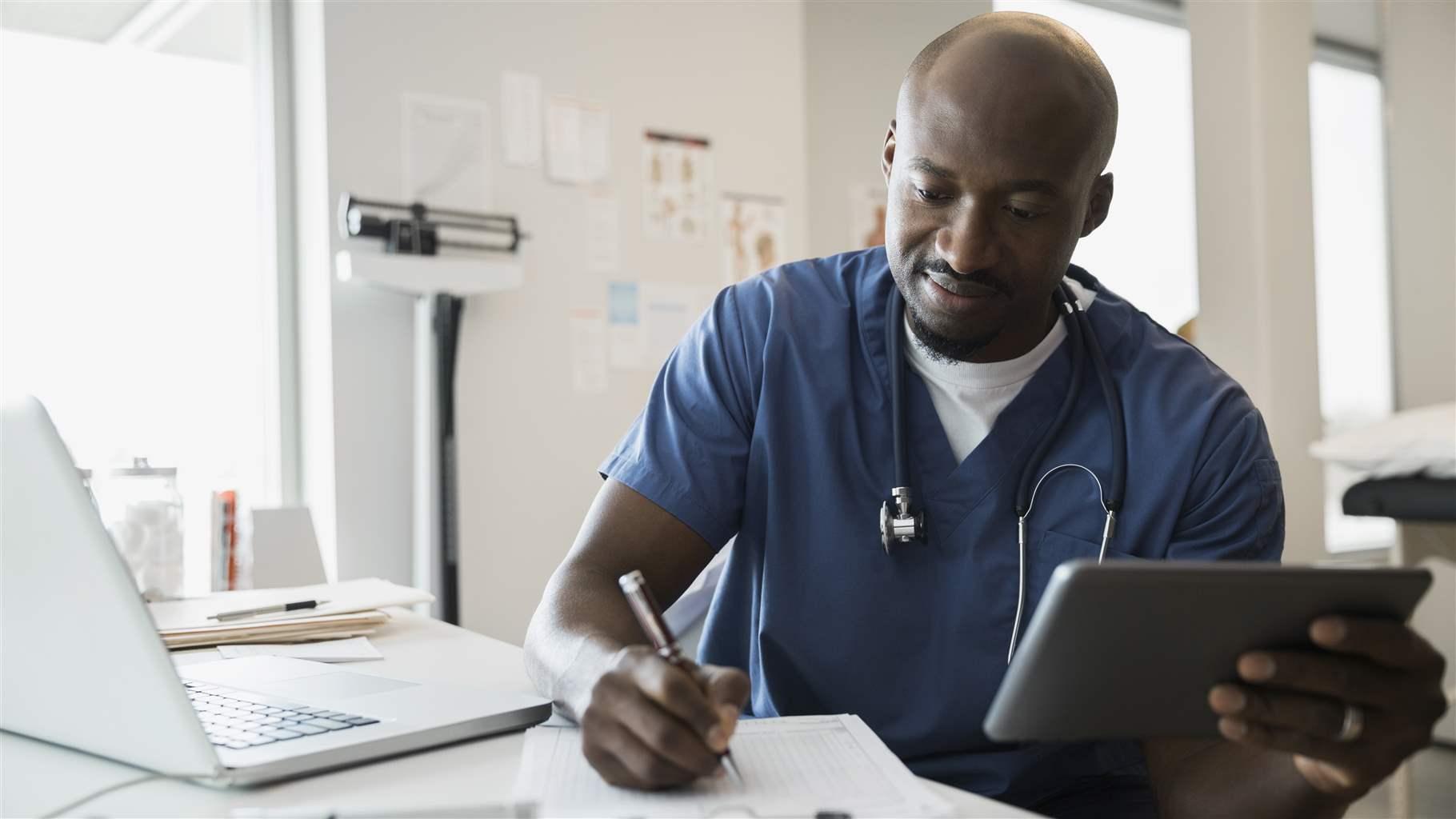 Anyone who has tried and failed to share information across devices on competing software platforms knows firsthand the critical importance of interoperability. When different technologies speak different languages, vital data can get lost in translation. These issues are especially challenging in health care, where doctors, hospitals, and insurers use hundreds of distinct products to manage patients' electronic health records (EHRs).
Patient safety is also vital. When health care providers struggle to navigate complex EHR software, it can lead to data entry mistakes that delay care, increase costs, lead to the wrong treatment, or otherwise harm those receiving care.
The Pew Charitable Trusts launched its health information technology project in 2016 to help improve the interoperability and safety of EHR systems and, ultimately, the quality of care that patients receive. Working with government officials, tech leaders, health care providers, insurers, academics, and advocates, Pew conducted research, provided technical assistance, and advocated for policies to make EHRs better for patients and health care providers. Now, as Pew shifts its focus to improving public health data, we are taking stock of the successes that the project and its partners have garnered over the past six years.
Health data is easier to share
New policies and standards have not only made it easier for health care providers to access patient records more easily and accurately, but have also helped patients obtain their own information.
Informed by research that Pew commissioned, the Office of the National Coordinator for Health Information Technology (ONC)—the federal agency that regulates EHRs—in 2021 updated the U.S. Core Data for Interoperability, a set of information that all EHR systems must be able to share with each other. Among the updates made in 2021, ONC included data on social determinants of health, which can help improve care for patients who face socioeconomic challenges.
The research also supported ONC's effort to standardize patient addresses, a critical piece of information in EHRs. Small differences in data—for example, using "Street" in one record and "St." in another—can make it harder for health care providers to access patients' medical histories from different facilities. Standardizing addresses can help health care providers match tens of thousands of additional patient records each day. Fortunately, ONC is officially standardizing addresses for EHRs through Project US@, an effort focused exclusively on this issue.
To further improve patient matching, Pew commissioned research on the use of biometrics, such as facial images and fingerprints, to verify patient identities and link records across different facilities.
Urged by Pew and others, ONC and the Centers for Medicare and Medicaid Services (CMS) also required software developers and health care providers to use application programming interfaces (APIs) to improve interoperability. Just as travel websites use APIs to aggregate data from various airlines and hotels, EHR systems can use them to gather data from different facilities. The technology can also enable patients to share their medical records with caregivers, which then helps clinicians make the right treatment decisions.
Previously, when patients wanted to see their medical records, they often had to pay their provider for a copy. Now, with Pew's encouragement, ONC requires health care providers, health IT developers, and health information exchanges to give patients access to the information in their EHRs. The office also mandates that authorized health care providers can access their patients' records held in other health facilities. This will improve care for every patient, especially those who see multiple doctors.
Health care providers, EHR developers, and regulators can better protect patients
Pew worked to improve patient safety by advocating for policies that will better enable regulators, health care providers, and patients to track potentially harmful products and ensure that EHRs themselves are not contributing to medical errors.
First, building on the efforts of its medical devices project, Pew worked with the American National Standards Institute to formally recommend that regulators require that insurance forms include a unique identifier for implanted medical devices such as artificial hips and cardiac stents. Once the recommendation is fully implemented, the resulting data will help the U.S. Food and Drug Administration, clinicians, hospitals, and patients better understand the long-term safety of medical implants. This will help protect millions of people from potentially harmful devices and save billions of dollars; between 2004 and 2014, problems with just seven cardiac implants cost Medicare $1.5 billion and patients $140 million.
Second, Pew worked to shine a light on patient harm arising from EHR-related mistakes. For example, complicated record-keeping systems can cause health care providers to inadvertently order the wrong drug, miss test results, or make other mistakes that put patients at risk.
In 2016, Congress directed ONC to assess and report on the impact that EHRs have on patient safety. In turn, ONC developed a survey of doctors, nurses, and other health care providers that can identify the strengths and weaknesses of EHR products, encourage EHR developers to improve their products, and help hospitals and doctor's offices make more informed decisions about which tools to use.
In addition, CMS now includes multiple EHR-related patient safety measures in its hospital and physician payment programs, and the Joint Commission—an organization that accredits 80% of U.S. hospitals—is incorporating health IT safety best practices into its program.
Next steps
As the COVID-19 pandemic demonstrated, the health system's patchwork IT infrastructure and policies can endanger public health. Pew is building on the accomplishments of its health IT project to improve electronic data sharing between health care providers and state public health agencies.
This is already yielding benefits. In November 2021, CMS finalized policies that will require health care providers who treat Medicare patients to share more health data with public health agencies. And in August 2022, the agency encouraged hospitals to take similar action. Now, it's up to state regulators and ONC to further increase the sharing of data that is essential to prevent the spread of disease, curb chronic illness, and enable everyone to be as healthy as possible.
Of course, there's more work to do on health IT—and strong public support for it—which is why Pew is grateful to the many talented and passionate people who continue to work to strengthen EHRs to improve patient care and reduce costs.
Kathy Talkington directs The Pew Charitable Trusts' work on public health issues.