4 Key Priorities for Fighting Superbugs in 2021
Pandemic offers lessons for combating antibiotic resistance, underscores need for greater public health preparedness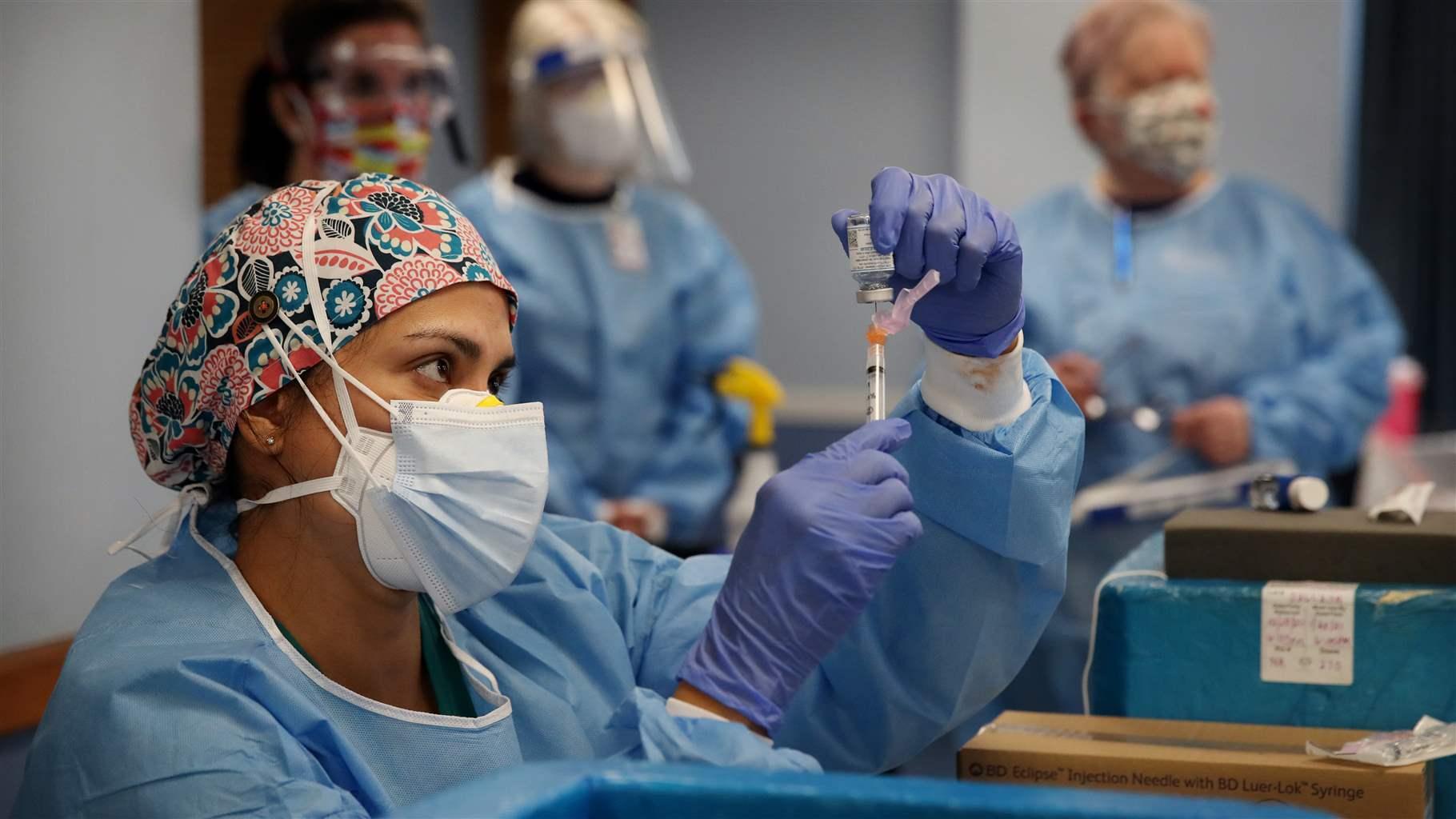 This page was updated on February 11, 2021, to include more detail on how Congress can support antibiotic development.
Over the past year, COVID-19 has taken a grave toll in lives as well as on medical and health care systems worldwide. The pandemic has laid bare the importance of public health readiness and the myriad consequences when such a crisis strikes an unprepared population.
Even as the world is working to defeat COVID-19, another global health threat is lurking: antibiotic resistance. In the United States in recent years, there has been bipartisan momentum to prioritize the fight against superbugs that do not respond to available antibiotics, and now—more than ever—progress must not slow.
Policymakers and other stakeholders must learn from the pandemic and not hesitate in putting those insights to work. Among the many takeaways of the fight against the novel coronavirus are these four principles, which should serve as bedrocks for combating antibiotic resistance in 2021 and beyond:
1. Collaborate to accelerate innovation.
The rapid development of at least two COVID-19 vaccines demonstrated how medical innovation can accelerate when public and private organizations work together toward a shared goal. Before 2020, the fastest a vaccine had been developed and made broadly available for use was four years—to fight mumps in the 1960s. The two COVID-19 vaccines authorized last year were both joint ventures, one developed by Pfizer and BioNTech and the other co-developed by Moderna and the National Institutes of Health. Both were made available to the public less than a year after the virus was identified.
Collaboration alone may not solve public health challenges, but it is essential to fast-track progress in the fight against antibiotic resistance, much as it has been fast-tracked in the fight against COVID-19. For example, multistakeholder approaches to developing urgently needed new antibiotics have produced some promising advances in recent years.
The July 2020 announcement of the AMR Action Fund, a collaboration involving more than 20 member organizations, offers an encouraging example of how stakeholders are coming together to push innovation forward. The partnership committed nearly $1 billion to support clinical research into new antibiotics and pooled resources from member companies to provide technical support to biotech companies developing new antibiotics.
Additionally, information-sharing initiatives, such as Pew's open-access Shared Platform for Antibiotic Research and Knowledge(SPARK), are encouraging increased scientific collaboration to help researchers expedite the search for new types of antibiotics that can defeat the most dangerous superbugs. Similar data-sharing tools have successfully been used to catalyze drug discovery in other research areas such as cancer, neglected tropical diseases, and tuberculosis.
These types of joint efforts must continue and expand in 2021. The more data and resources the scientific community can pool, the more it improves the chances of successfully combating existing and new strains of antibiotic-resistant bacteria.
2. Prioritize funding for antibiotics development.
The race to develop a COVID-19 vaccine illustrated the decisive impact that significant, long-term investment can have by laying the groundwork for developing new treatments when they are urgently needed. The U.S. government's Operation Warp Speed received nearly $18 billion in 2020 to accelerate vaccine development. At least as important are the decades of public and private resources and expertise poured into establishing and advancing the underlying knowledge and technologies on which the COVID-19 vaccines were built.
Likewise, finding and developing critically needed new antibiotics requires sustained and significant investment, including economic incentives, such as in the proposed bipartisan legislation titled "The Pioneering Antimicrobial Subscriptions to End Up Surging Resistance Act," or PASTEUR Act.
Unfortunately, current market dynamics combined with scientific challenges have led to a mass exodus of major pharmaceutical companies from antibiotic research and development—and bankruptcy for many small companies. What remains is a rapidly dwindling universe with neither the expertise nor the capacity—scientific, technological, or otherwise—needed to focus aggressively on antibiotic discovery and development in a way similar to how the world addressed COVID-19.
Pew encourages the new Congress to pass the PASTEUR Act, which would help companies pursue new treatments that can combat increasingly resistant strains of bacteria—and ensure that these drugs remain available to patients after they come to market. Additionally, Congress should consider options to advance reimbursement reform, which would enable insurers to pay hospitals a fair rate for antibiotics, and also include stewardship provisions that promote the appropriate use of these drugs. Such reform would help stabilize the market and improve access to these lifesaving drugs.
3. Strengthen public health infrastructure.
Investing in public health infrastructure, before a health threat emerges, is critical to protecting patient lives. Such infrastructure includes antibiotic stewardship programs, which help slow resistance by ensuring antibiotics are being used appropriately and only when necessary.
To improve antibiotic stewardship efforts in human health care, Pew supports requiring hospitals to report antibiotic use to the Centers for Disease Control and Prevention's National Healthcare Safety Network, the nation's most widely used tracking system for health care-associated infections.
Stakeholders must also work to ensure that stewardship efforts keep up with changes in health care delivery accelerated by the pandemic. For example, telehealth visits increased by 50% during the first quarter of 2020, compared with the same period in 2019. The way that health care systems track and capture data related to antibiotics and resistance needs to keep pace with this changing telehealth landscape.
In animal agriculture, the Food and Drug Administration should implement its five-year plan for supporting antibiotic stewardship in veterinary settings as soon as possible. This includes finalizing its proposed method to make animal antibiotic sales data more useful, ensuring better transparency in its data collection, and establishing science-based duration limits for how long medically important antibiotics can be used in food animals. These all can be accomplished by the end of 2021.
Additionally, to ensure strong public health infrastructure, Congress should support federal programs that drive antibiotic development and stewardship forward. Key agencies such as CDC, FDA, the NIH, the Biomedical Advanced Research and Development Authority, and the Department of Agriculture require ongoing investment to perform essential functions such as collecting data to track resistant bacteria, improve antibiotic use, and fund antibiotic research.
4. Recognize infectious diseases as the global threats that they are.
COVID-19 has demonstrated that an infectious disease outbreak anywhere can be a threat to people everywhere. Similarly, history shows that superbugs don't respect borders, underscoring the importance of a global response to this growing danger.
Nations must work together—with urgency—to solve the problem of antibiotic resistance and ensure that preparedness matches the magnitude of this global threat. Pew is working with stakeholders worldwide to address antibiotic-resistant bacteria before problems worsen.
David Hyun, M.D., works on The Pew Charitable Trusts' antibiotic resistance project.