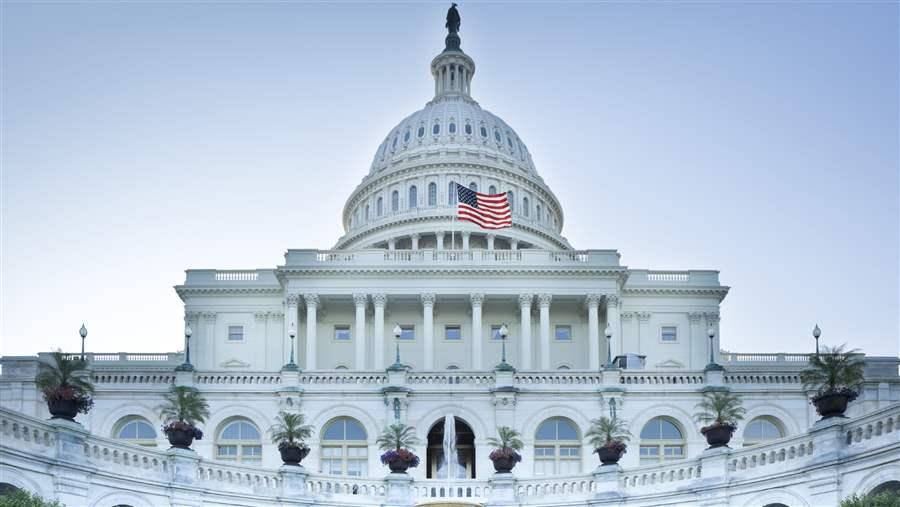 Making a difference with data-driven policymaking
By: Susan K. Urahn
In a recent interview about science for The Pew Charitable Trusts' podcast, "After the Fact," Dr. Anthony Fauci said, "Policy should not be made in a data-free zone." He was succinctly articulating an approach Pew has long worked to advance—that policy informed by data and rigorous research makes government more effective and helps it better serve the public interest.
The ability of government to function effectively and at what scale is often debated, of course, particularly during election years. But there is good news. The pandemic has increased the visibility of evidence-based policymaking as well as tools such as "data dashboards," which provide integrated views of key information at a glance for both public officials and citizens. These approaches are well-tested methods used by governors of both political parties who rely on data and evaluation to measure outcomes and determine the programs that deliver results—the ideas that are making a difference. So, over the next several weeks, we're highlighting what we call "states of innovation"—brief case studies of evidence-based policies that offer workable solutions to long-standing problems that can perhaps inspire others.
One example is criminal justice reform. Louisiana and Kansas have both implemented important reforms to their criminal justice systems. In Louisiana, a bipartisan package of bills steers people convicted of less serious crimes away from prison while strengthening alternatives to incarceration. In 2018, the number of people imprisoned in Louisiana for nonviolent offenses fell 20%, saving the state almost $18 million. Kansas in 2016 overhauled its juvenile justice system, after seeing arrests of minors decline by half over a decade without a corresponding drop in the number of young people at residential facilities. State leaders turned to evidence-based alternatives that include a focus on high-risk juveniles, limits on sending young people to facilities, and more resources for safely supervising minors at their homes.
Another example is payday loan reform. Two years ago, Ohio passed the Fairness in Lending Act. At the time, Ohio had the most expensive payday loans in the United States. But under this new legislation, monthly payments are limited to 6% of the borrower's gross monthly income. Today, a three-month loan of $400 will cost an Ohio borrower no more than $109. Before the law's passage, that same loan would have cost three times that amount.
Virginia created the Virginia Community Flood Preparedness Fund to help communities buy flood-prone properties, restore flood plains, and install living shorelines of natural plants and other materials to control erosion and protect habitat. And Wyoming is addressing the challenge of animal migration by building corridors to help wildlife safely cross major highways—and to protect drivers and their passengers.
Data-driven policymaking is not just a tool for finding new solutions for difficult challenges. When states serve their traditional role as laboratories of innovation, they increase the American people's confidence that the government they choose—no matter the size—can be effective, responsive, and in the public interest.
Susan K. Urahn is president and chief executive officer for The Pew Charitable Trusts.
Putting Budgets to the Test
The recession caused by the coronavirus has triggered a sharp decrease in tax revenue, driving job losses and, for state governments, forcing widespread spending cuts. But Utah lawmakers had a head start on trying to close their budget gap, thanks to innovative budget stress testing. Rather than waiting for downturns and crises, stress testing means that states regularly review the impact of various economic scenarios on revenue and expenditures, and make adjustments. Unlike the federal government, states must have balanced budgets, and the tests are a proven way to help legislators prepare for tough decisions and ensure long-term fiscal health.
Learn more:
How to Reduce Flood Damage—For Good
Flooding is the costliest natural disaster in the nation. And as Hurricane Laura recently demonstrated, the economic impact on states from a major storm—including property damage, job losses, and shuttered businesses—can be devastating. Hurricanes can't be stopped, but states are finding innovative ways to mitigate the harm. Texas took $800 million from a reserve fund to finance flood mitigation projects and now requires local officials to develop watershed-level flood plans. Virginia created a revolving loan program to fund community-scale and nature-based solutions, such as purchasing flood-prone properties and converting them to parks and greenways, and installing living shorelines. And New Jersey allows cities to collect fees from residents and business owners based on how much their properties contribute to storm runoff—funds that are then used to improve stormwater infrastructure.
Learn more: